Wayne Center for the Arts hosting Local Artist Exhibition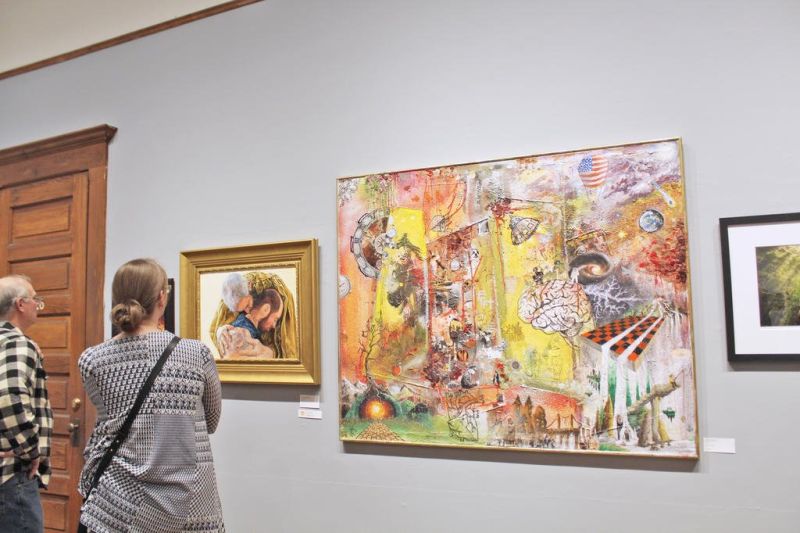 Nearly 200 people filtered through the two galleries at Wayne Center for the Arts on Jan. 10 for the opening reception of the second annual Wayne-Holmes Local Artists' Exhibition.
The juried show features the work of 28 local artists in different mediums including photography, oil, watercolor, sculpture and more. The art on display was entered by both new and returning artists who either currently live, work or formerly resided in Wayne or Holmes counties.
Prior to the beginning of the show, judges' scores determined which artwork was accepted. The winners are chosen based on the highest combined scores from the judging. Judges picked Susan Grimm's "Bob's Chevy" as Best of Show. Runner-up was Dennis Lipp's "Return of the Prodigal" while honorable mention went to Lisa Di Giacoma for "Silo 1."
The Stephen and Cheryl Shapiro Photography Award was given to Philip Joseph Kline for "Boxed In" while the Wooster Community Hospital Award for Excellence was awarded to Amy Schlabach for "Suspended." The People's Choice award is determined after the show based on popular vote and continues through the end of the exhibition on Feb. 7.
According to Wayne Center for the Arts general manager Lynn Davis, the exhibit includes mixed media, kinetic metal sculptures, encaustic painting, charcoal, colored pencil, pen and ink, and textiles.
"We are so thrilled to be able to present local artists' work for the public to enjoy," Davis said. "To provide opportunities for artists to display and sell their artwork is very important to us, and we look forward to this exhibit each year."
First-time exhibitor Jason Rakich, a freelance artist from Wooster, entered a large abstract mixed-media piece. Rakich designs websites and logos and is a graduate of the Art Institute of Pittsburgh, specializing in murals.
"I wanted to try something different," Rakich said. "A friend had a huge glass frame, and I started painting on it. His cat was playing with a bug or something and broke the glass, so I pulled out the glass and used the Styrofoam to paint on. Then I drew a brain, a heart and a clock and started working around that and added spray paint and candle wax. I added a collage by cutting out pictures and did something with 'hands of time' and 'brainstorming.' I don't usually work in abstracts; it's pretty wild."
Emily Speelman, a photographer and blogger, is a returning artist who volunteers at Brown's Bog near Shreve. She used images from the diverse plant population of the bog for her photography entries.
"For each of my series, I dedicate an entire year to getting to know an area, from the natural history and wildlife down to each plant species and when they bloom in that particular year," Speelman said. "Once I choose a location, I approach each natural area with a deep sense of curiosity, making notes on what birds I see, what plants are emerging, blooming or seeding, any signs of animals, scents, sights, anything that I find interesting or that I want to learn more about each time I visit and compile them into blog posts at www.throughthewoods.net."
Speelman explained how her research brings about her artwork. "For each area I'm learning about, I choose a view that either has a recognizable element or that I think could have some very notable changes that would be visually appealing throughout the year," she said. "I pick a spot and capture an image. Every month when I'm out walking and observing, I will stop in the same spot and capture another image, trying to visit at the same time each day."
Speelman explained how the project is a long-term effort. "After a year I have not only a concise record of observations from each location, but also a visual guide telling of the ebb and flow of the year. Each slice may show just one day of one month, but put together, a rich tapestry is woven: the quiet winter months, the remarkable quickness with which spring arrives and bursts open, summer's deep green slowly fading to yellows, fall sweeping in for a brief, bold show, all ending again in the peaceful rest of winter. We are very lucky here in Ohio to have such great seasons; each should be appreciated for all its worth."
The Wayne/Holmes Artists Exhibition is an initiative by WCA to feature the growing community of artists in the two-county region by providing opportunities for these artists to showcase their work.
"We are so excited to once again host some of the most outstanding artists residing and working in Wayne and Holmes counties," WCA executive director James Fox said.
"The third annual exhibit will be held early January of 2021. Watch for information in late spring or early summer. Applications will likely open in June with a deadline of Oct. 1," Davis said.
This year's show will be open to the public during the regular hours of WCA until Feb. 7. The show is free and open to all.
The Wayne Center for the Arts is located at 237 S. Walnut St. in Wooster.