WCA film workshop is Nov. 18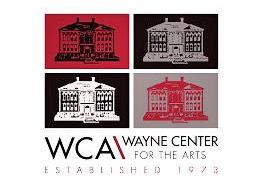 Wayne Center for the Arts will present a workshop with award-winning editor and producer Jennifer Enskat and Emmy and Film Fest award-winning cinematographer Andy Gardner from Leapyear Studios Film School.
On Nov. 18 from 9 a.m. to noon, aspiring filmmakers age 16 and older can attend a three-hour workshop with the film duo at WCA. The workshop will introduce how the industry works as participants make a micro-short film in one session. The workshop also will cover the basics of preproduction, equipment, jargon, crew positions and post-production.
"We are very excited to welcome Jennifer and Andy to WCA. This is made possible by a great collaboration with the Lyric Theater," WCA Digital Arts Program coordinator James Buckey said. "This program has the potential to inspire filmmaking in our community, something which can eventually lead to local films being premiered at the Lyric."
The entire film program at WCA is growing, thanks to support from the Ohio Arts Council through its ArtsNEXT program, which funds innovative and experimental programs. The film program, dubbed Wayne Center Studios, will grow in conjunction with the Lyric as it works toward its opening in 2024. The hope is to eventually grow the program enough to host a film festival featuring local projects and artists.
"We're looking forward to inviting other talented regional filmmaking professionals to Wooster to share their movie production knowledge and skills with local movie enthusiasts and emerging filmmakers," Carolyn Robinson of the Lyric Theater Programming Committee said.
The Lyric Theater also is providing a limited number of full scholarships for anyone with an interest in filmmaking who cannot afford the workshop. The fee is $99 for the workshop and is open to those age 16 and over. Interested students can register at www.WayneArtsCenter.org. Email Lynn@WayneArtsCenter.org to inquire about scholarships and Buckey@WayneArtsCenter.org with questions about the course.