WCA gets 'art out to kids in the community'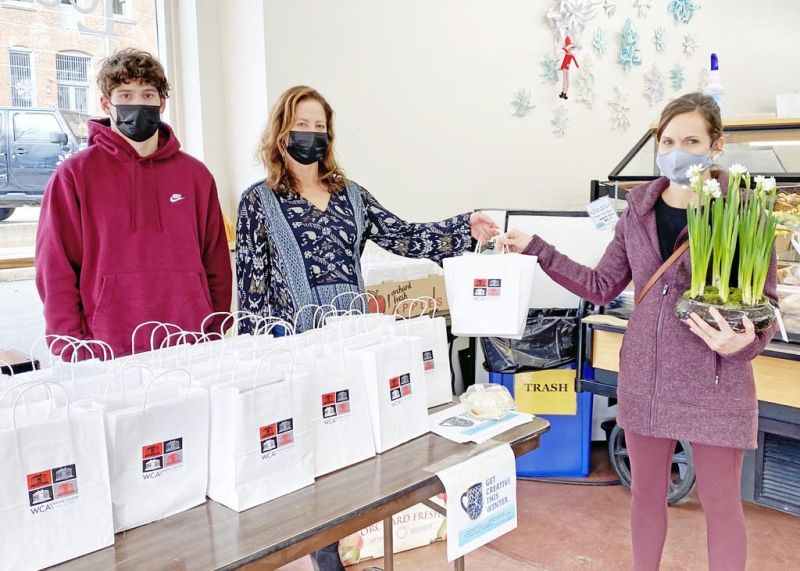 The Wayne Center for the Arts recently distributed dozens of free "snow scene painting kits" for kids at Local Roots. More than 200 kits had been assembled, and any left over from the Local Roots distribution will be shared with the YMCA and Wooster Boys and Girls Club.
In addition to several community business sponsors, sales of a Wayne Center for the Arts Christmas ornament designed by local artist Carli Moorefield helped fund the project.
The project was a monochromatic acrylic painting, meaning only one color plus black and white.
The kits contained the supplies for the project including canvas, brushes and paints.
Instructions were included with the kits, and a video was available on YouTube.
"We wanted to get art out to the kids in the community," said Emily Mariola, president of the board of the Wayne Center for the Arts.
Mariola conceived the project with Moorefield, who teaches pottery at the arts center. Adam McVicker, the pottery coordinator at the arts center, designed and assembled the kits.
"We thought this would be a great way for some families to start a new holiday tradition, especially this year," Mariola said. "We figured kids often get bored during winter break, and maybe even more so because of all the downtime due to the pandemic."
The kits were sponsored by the Wayne Center for the Arts; Local Roots; Critchfield, Critchfield and Johnston; City Square Steakhouse; Briggs Financial Group; McClintock Electric; and United Titanium.
For more information about the Wayne Center for the Arts, visit www.wayneartscenter.org or call 330-264-2787.