WCHS to feature 'Wayne County Coverlets and their Weavers'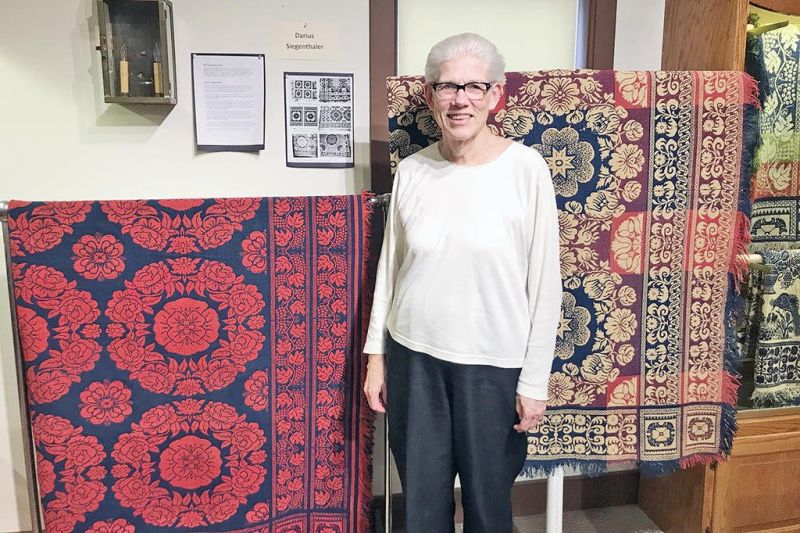 Few Wayne County residents likely know what a coverlet is, and yet fewer likely know they are living in Ohio's "coverlet corridor," the county which once held the greatest number of coverlet weavers in the state.
The Wayne County Historical Society's textile committee hopes to change that with a featured exhibit that sheds light on this little-known chapter of Wayne County history.
The exhibit, titled "Wayne County Coverlets and their Weavers," displays the wares of some of the 28 coverlet weavers who lived in Wayne County in the late 18th and 19th century and recounts the local history of this art.
The craft was brought to the area by German immigrants who were accustomed to sleeping under feather-filled sacks that were secured by heavy, blanket-like textiles called coverlets.
Created by hand on looms the size of a room, coverlets were typically made of woven cotton and wool fibers. But as noted by Dr. Virginia Gunn, textile scholar and member of the textile committee, they were objects of "both warmth and beauty," in which the wool was dyed and used to create colorful, striking patterns.
Various displays allow visitors to see the development of these designs, beginning with simpler, geometrically patterned coverlets from 1790 to the 1810s. Further on, visitors can learn how the Jacquard attachment, a device brought to Wayne County by the Meily brothers in 1833, transformed the craft of local coverlet weavers by enabling them to create far more complex designs.
Numerous examples of fancy, locally made coverlets from the mid-19th century are on display, featuring patterns of flowers, birds and even steamboats.
The historical information accompanying each item was written by Gunn, who has a master's degree in applied arts, clothing, textiles and interiors from Syracuse University and a doctorate in history from the University of Akron. Her interest in coverlets began shortly after she moved to Wooster and stumbled across a coverlet with the inscription: "P.J. Hartman, Wooster, Ohio 1839."
Recognizing the name of her new home, she purchased the textile. She said, "Then I got curious about P.J. Hartman. One thing led to the next, and [now] I have spent about 40 years studying over 300 Ohio coverlet weavers."
Many of the stories Gunn has uncovered are part of the exhibit. Some coverlets were kept in the weavers' families and given to WCHS by their direct descendants, and others bear the name of their maker within the coverlets' patterns. However, some coverlets required more sleuthing to find their origins. Interestingly the weaver of one coverlet was discovered when Gunn found an 1857 newspaper that listed the coverlet and reported that its creator, John H. Foutz, won a prize in the county fair.
In addition to featuring Wayne County as a historic hub of coverlet weaving, the exhibit also aims to help visitors understand coverlets as distinct from a similar craft: quilting.
"There is a great interest in quilts, but a lot of people really don't know the difference between a quilt and a coverlet," said Allyson Leisy, chair of the textile committee.
Quilts were stitched by women while coverlets were usually hand-woven by men.
However, these different artisans did influence each other: Elaborate coverlet designs were often adopted by quilt makers.
Leisy said, "You sometimes don't even think about the actual pattern in a quilt until you see the early coverlets and you realize that's where they got the pattern for the quilts."
To showcase these similarities and differences, the coverlet exhibit works in tandem with a display located in the WCHS Dress Shop that compares historic coverlets and quilts with similar patterns.
For those interested in learning more about early quilts and coverlets, WCHS will host a fundraising event on Sept. 29, during which participants can hear Gunn give a lecture, "Celebrating Coverlets from the Beall/Stibbs Era." Participants also will be able to tour the coverlet exhibit and dress shop and enjoy refreshments. Tickets costing $15 apiece will go on sale Sept. 2 at the Historical Society and Local Roots and also can be purchased at the door on the day of the event.
The "Wayne County Coverlets and their Weavers" exhibit will run through Oct. 29. Tours of this exhibit — as well as the society's permanent collection and entire campus — are offered on Fridays and Saturdays with $5 general admission and no charge to members and children under 14.
Previous annual exhibits have included "Ohio Light Opera Costumes," "Wayne County and WWI," and "Downton Abbey Fashions: The End of an Era," according to WCHS President Bob Everett. Visitors can anticipate a new featured exhibit on the local women's suffrage movement next March.
For more information call WCHS at 330-264-8856 between 1-4 p.m. on Tuesday and Friday or visit www.waynehistoricalohio.org.