White displays 'Pieces of Pandemic Inertia' at WCA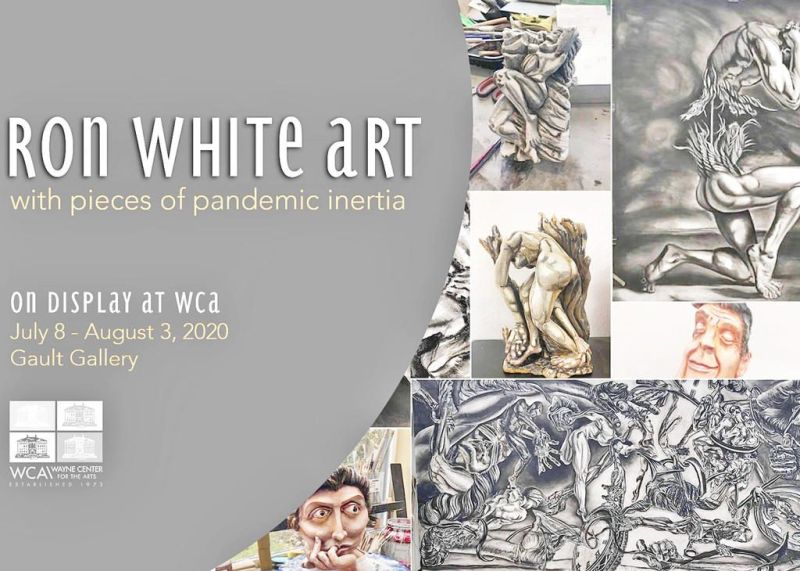 Artist Ron White's works in charcoal and sculpture have taken up residence in the Gault Gallery at Wayne Center for the Arts this month. Although this show was planned last year, the 2020 pandemic gave White plenty of time to think and create, and he emerged with a thought-provoking show depicting a variety of reactions to current events.
"I think creatives have an ability to be empathetic," White said. "These tumultuous times have caused me to express what most, I hope, are also feelings about COVID. I hope that it fills a need."
Wayne Center for the Arts is continuing a goal to make the arts accessible by offering the show both in-person and online. The physical display includes some creative display work such as a walk-through mural hung over the heads of viewers. Online visitors can check out the show in walk-through videos on the WCA Facebook page and in an online gallery on the WCA webpage.
Although planning a new exhibit during the shutdown had its challenges, White enjoyed the creative format and the timing of the show. "The show has been a stimulus for new art production," he said. "The work has helped me to get through the virtual education that I have experienced with all of my high school students."
White is a graduate of Wright State University and Kent State University with an emphasis on sculpture and education. He teaches art at Barberton High School and exhibits his award-winning pieces in charcoal, ice and clay in galleries across Northeast Ohio. He currently creates out of Summit Art Spaces on Akron and Barberton in addition to a home studio that he created out of a shipping container. His pandemic-inspired works have already won awards; other pieces also are currently on display in an Akron storefront.
"Everyone needs a beautiful distraction," White said. "I hope I can cause some beautiful distractions."
White's works will be on display in the Gault Gallery until Aug. 3. The exhibit is free and open to the public Monday through Thursday from 9 a.m. to 1 p.m. or by appointment. Visitors will be limited to accommodate social distancing; masks are strongly encouraged while in the WCA building.
For more information call 330-264-2787 or visit www.wayneartscenter.org/visit/ron-white.html.