WHS fall musical 'Grease' hits stage Nov. 16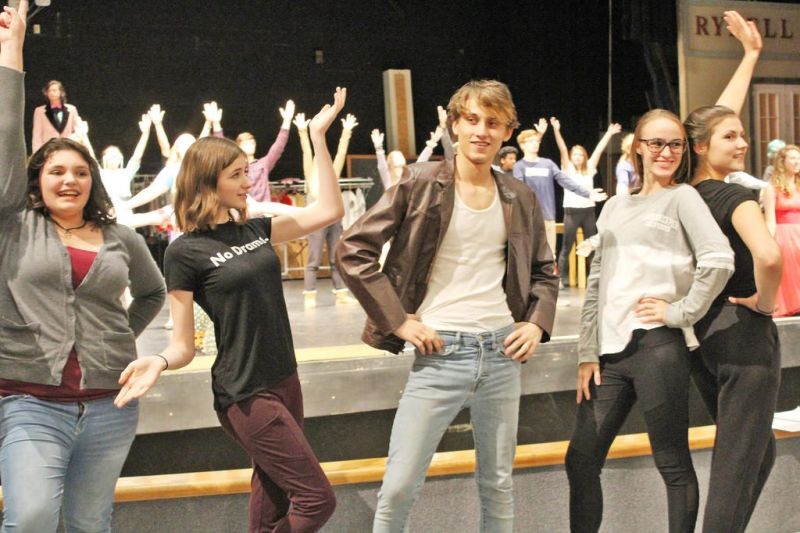 The Wooster High School Drama Club and Music Department will present their fall musical, "Grease," at the WHS Performing Arts Center on Nov. 16, 22 and 23 at 7:30 p.m. and Nov. 17 and 24 at 2 p.m.
"Grease" follows love-struck bad-boy Danny and girl-next-door Sandy with dancing and songs. It is the rock 'n' roll celebration of teen angst, fast cars and first loves, all set in the '50s.
Leading the cast will be seniors, Emma Yoder (Sandy) and Leo Riley (Danny); the Pink Ladies, Anna Nacci (Jan), Bryn Savidge (Marty), Emily Castro (Rizzo) and Grace Buchholz (Frenchy); the Burger Palace Boys, Max Mingay (Kenicke), Zeke Ntia (Doody), Stuart Courson (Roger) and Connor Anderson (Sonny); and seniors, Tyler Keating (Vince Fontaine), Abby Anderson (Cha-Cha), Madison Helms (Blanche) and Aiden Call (Eugene).
Ensemble Rydell Seniors include Avery Becker, Lydia Cooper, Mason Craft, Michaela Folks, Xavier Lubell, Callie Marburger, Jacob Nurse, Aubrey Pagniano, Rain Scheibert, Izzy Signorino and Tyler Strand Fox. Ensemble Rydell Juniors include Jensan Bauman, Rebecca DiScipio, Kaity Drown, Ashton Foreman, Naomi Fridley, Katie Griffin, Natasha Hartmann, Reagan Kasunick, Ellie Vojtkofsky and Stephanie Wolf.
Ensemble Rydell Sophomores include Madison Beer, Izabell Cain, Delaney Easterday, Olivia Fox, Sophie Garcia, Rachel Grayshock, Zack Keating, Lexxe Parsons, Luke Pomfret, Sophie Troutman and Maddy Vaughn.
Ensemble Rydell Freshmen include AJ Bennett, Daisy Carmon, Norah Carroll, Jackson Case, Casey Cloar, Emily Cloar, Daeshun Cochran, Natalie Gibson, Ethan Keating, Caleb Kostohryz, Grace Kostohryz, Abby Lake, Hannah LoGiudice, Sophie Misel, Kira Noe, Lucia Perfetti, Stella Powers, Laura Rapport, Caleb Singer-Holden, Gia Schrader, Deondre Slaughter, Haley Sleek, Anna Tefs and Emma Thompson.
Brett Hiner serves as director and is assisted by vocal music director Emily Patterson, choreographer Stephanie Musselman, assistant director Kristi Hiner and stage managers Tyler Keating and Madison Helms. Chuck Armbruster serves as set construction supervisor.
Presale tickets are available online at www.ticketpeak.com/res/whsdrama and also will be sold at the door on the days of performances. If tickets are purchased online, they will be emailed to print immediately after the online transaction. For any questions regarding ticket sales, email Steve LoGiudice at stevenlogiudice@gmail.com. Adult tickets are $12, and senior citizen and student tickets are $10 (with a $1 service fee added to each ticket purchased online).
For more information about the WHS Drama Club production of "Grease," email Brett Hiner at wstr_bhiner@woostercityschools.org or call him at 330-345-4000 ext. 3216.
"Grease" is presented by special arrangement with Samuel French Inc., a Concord Theatricals Company. The "Grease" book, music and lyrics are by Jim Jacobs and Warren Casey.
WHS is located at 144 N. Market St. in Wooster.