Wooster's Bright Life Players presenting 'The Hope Cradle'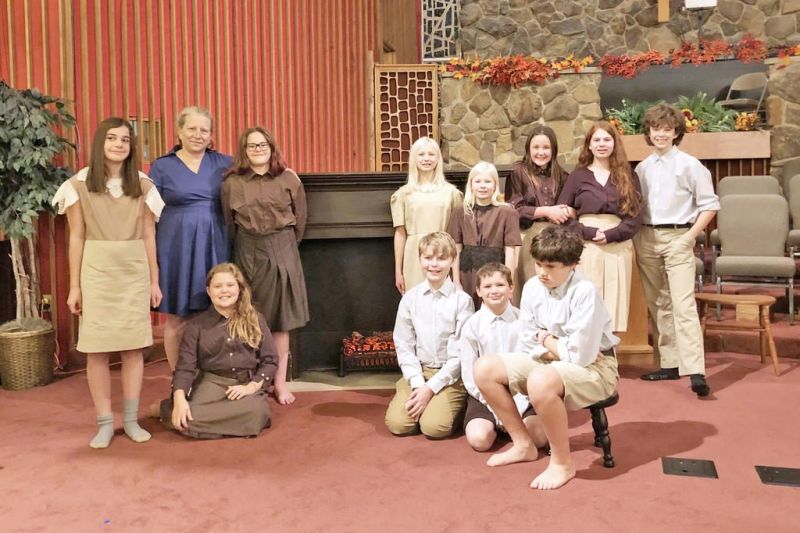 Wooster's Bright Life Players will present "The Hope Cradle" on Sundays, Dec. 8 and 15 at 2:30 p.m. and Friday and Saturday, Dec. 13 and 14 at 7 p.m. at the First Church of God, 1953 Akron Road, Wooster.
The holidays are approaching, and the members of St. Peter's Church of Riverview have to choose: either spend Christmas Eve with some local orphans or hold their traditional celebration. While many are generous with material gifts, sacrificing their time is quite another matter. Add a famous New York talent agent looking to audition the two best singers in the congregation and soon competing desires threaten to tear apart the harmonious Christmas spirit.
Set in the 1940s, this play reveals its characters' choices and convictions as they move toward what Christmas is about: compassion and hope.
Tickets are $10 for adults, $7 for youths, $30 for family four-packs and $8 each for groups of eight or more. Tickets may be purchased at the door or online at www.brightlifeplayers.org.
Net proceeds will benefit the Wooster Hope Center.
Director Margaret Leatherman first directed this play several years ago at her church. "We are not affiliated with the First Church of God," she said. "This is just a venue, but they have been so welcoming; Pastor Arnie Kauffman has been wonderful."
Leatherman said Bright Life Players was founded in 2016. "A lot of us came to believe we were spending a lot of time in the theater, but we thought maybe we should devote ourselves more to what the Lord wanted us to do," she said.
This will be the company's sixth production. It has previously done "Cheaper by the Dozen," "Littlest Angel," "Radio Days," "The Best Christmas Pageant Ever" and "Esther — The Musical."
"So that's how we came to this play. It's just such a nice story of Christmas hope and compassion," Leatherman said. "It just shows how the orphans, they didn't have much, and they were always receiving from people. And on this Christmas they just wanted to give back. They wanted the guests to come, and they would provide cookies to them. On the flip side it showed how the church people could be very set in their ways and they didn't want to give the time. They would give money and food, but they didn't want to go spend time with the orphans on Christmas Eve because they had their own plans. The play shows how the spirit of hope can bring people together."
Leatherman said the cast of about 30 players ranges in age from 10 years old to some in their 70s.
"We have been rehearsing three times a week for eight weeks, so it's a big-time commitment, especially at this busy time of year," Leatherman said. "Our biggest challenge has been competing schedules."
Joseph Bremenour is a first-time assistant director. Bremenour started his career in theater at Wooster High School and has been in several local productions.
"He's doing a super job," Leatherman said. "It's great to be able to teach young people along the way."
Lori Mae Reynolds designed the costumes, and Leatherman's husband, Ron Leatherman, designed the sets.
Kay Anderson plays Clarice Harrington, the director of the orphanage. Anderson has 15 years of experience in theater. She has performed with WaCPAC locally and has a theater degree from Texas A&M.
"My favorite part of this production is working with the kids," she said. "They are so fun."
Abigail Castellucci, 10, plays an extra orphan. She said the best thing about the play is coming to practice. "It's fun to get a break from school," she said.
Melia Brown, 11, has her first big role as Orphan Elizabeth. "At first it was kinda hard, but it gets easier as you go along," she said. "I never get nerves or stage fright; I"m very comfortable."
For more information visit www.brightlifeplayers.org or call 330-262-3691.