WSO presenting 'A Charlie Brown Christmas'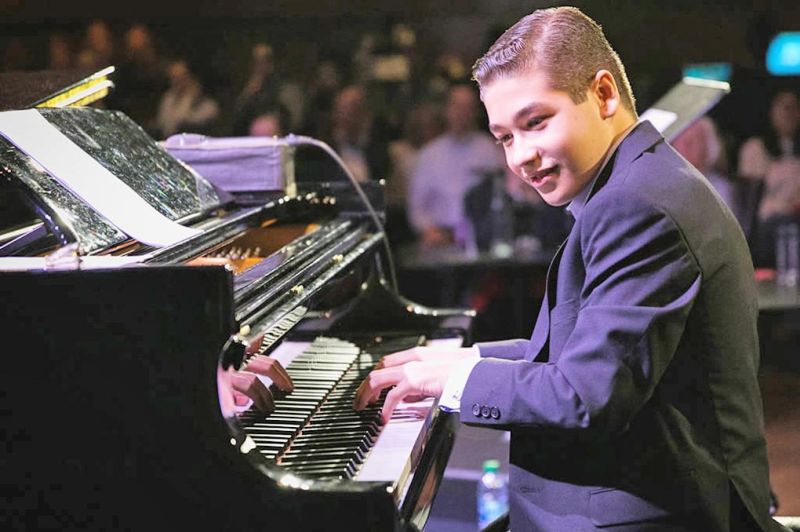 A 13-year-old piano prodigy will be featured as the Wooster Symphony Orchestra presents "A Charlie Brown Christmas" on Thursday, Dec. 5 at 7:30 p.m. in McGaw Chapel, 340 E. University St., at the College of Wooster.
The holiday event is a musical tribute — not a play — and will feature 13-year-old piano prodigy Brandon Goldberg and the other two members of his trio, bassist Ben Wolfe and drummer Donald Edwards, in a Wooster Symphony Orchestra performance of Vince Guaraldi's classic jazz soundtrack to the 1965 animated television special.
Wooster Symphony Orchestra director Jeffrey Lindberg has transcribed and arranged the music for the performance, which includes a holiday children's chorus directed by Toni Shreve, former director of the Wayne Center for the Arts children's choir, and features students from West Holmes Middle School.
"I have always wanted to do this music and take the arrangement from a jazz trio to a symphony orchestra," Lindberg said.
Lindberg said he learned about Goldberg at a performing arts convention in New York City earlier in the year. "He's very impressive," Lindberg said. "I guess he started playing by ear at age 2 or 3 and played classical music before he fell in love with jazz."
Goldberg started with classical lessons at age 5 but quickly found his passion for jazz and learned about the music and its history by listening to his favorite artists including Herbie Hancock, Bill Evans, Oscar Peterson, Charlie Parker, Miles Davis and John Coltrane.
Goldberg recently released his debut album, "Let's Play!," to rave reviews, garnering four stars from Downbeat magazine and reaching number seven on the Jazz Week charts. Goldberg performed at the 2019 Newport Jazz Festival. He also played at the Litchfield Jazz Festival, Dizzy's Club, Bravo Niagara Festival of the Arts, The Apollo Theater, the Blue Note in New York, WDNA Radio, WDNA Miami Downtown Jazz Festival and the FAENA Summer Jazz Series.
In addition Goldberg has been a featured performer with the Miami Symphony Orchestra and the Jazz Roots series and also has appeared on the Harry Connick, Jr. Show, NBC's Little Big Shots and the Steve Harvey Show.
Lindberg said the first step in preparing for the symphony was to transcribe the recording. "First I had to figure out the parts," he said.
Lindberg said this took about a day for each tune. "Then it took me a couple of days to do the orchestration," he said.
Lindberg said it made it easier because all the songs were so excellent. "It is just such great original material," he said.
Lindberg said he has sent the music to Goldberg for rehearsal as the Wooster Symphony Orchestra practices in sectionals. "We will really only have one rehearsal with Goldberg before the event," he said.
The concert will open with three holiday classic tunes not on the television show. Then the tribute will run approximately 1 1/2 hours and will not have an intermission.
The concert is sponsored by the women's committee for the Wooster Symphony Orchestra, which is dedicated to promoting the high standard of the orchestra and raising money for music scholarships, financial assistance for guest performers, advertising, and coordinating and ushering for events. The committee presents the holiday concert annually.
Tickets are $20 for adults and $10 for students and are available at Buehler's Milltown and Towne Market, the Wilson Bookstore or at the door the night of the concert.
Reserved seating for groups of 10 or more are $25 per ticket and are available by calling 330-264-9371.
For more information call Lindberg at 330-263-2047 or email jlindberg@wooster.edu.