ZaDa Modern Art Show to help fund foundation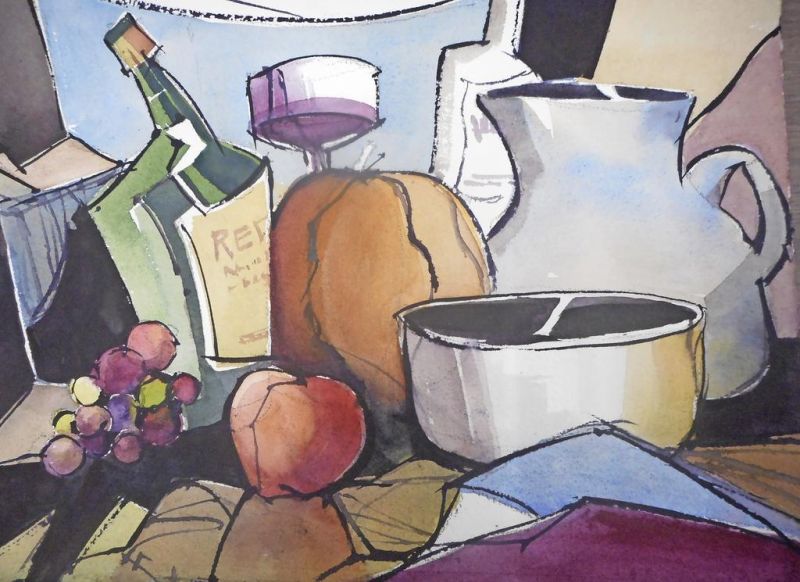 The ZaDa Modern Art Show will come to The Toolshed at Breitenbach Wine Cellars on Saturday, Nov. 11 from 3-10 p.m. The show, which showcases local artists' work for sale, is a fundraiser for the Zachary Davis Memorial Foundation. Tickets for the event are $20 at the door and include snacks, music and a glass of Breitenbach wine.
"This is the third year for the show," organizer Kathi Tustin said. "It started when Anita Davis (manager at Breitenbach Wine Cellars) and I talked for some time about having some kind of art show at the winery. I knew I could curate such a show, and it would be in memory of Zachary Davis, who was an artist and communicated through his own art."
Zachary Davis was Anita Davis' son, who passed away of an overdose in 2005. The foundation seeks to provide education about the dangers of drug use and addiction and to offer help to those who need it. The art show title combines the first two letters from the young man's first and last names.
Tustin said she has a love and desire for local artists to come up and be recognized for their work. "We have seriously world-class artists right here in our area, artists who are recognized for their work around the world. Few people are aware of this and appreciate their talent and ability. One of our artists, Sarah Dugger, has her work hung at a gallery in London. Artists like this keep raising the bar for us locally," she said.
Dugger will create a live painting on the spot at the show.
Tustin said she is frequently asked by artists how they can sell their work. "I tell them it's important to present their work in a professional way," she said. "Their art should be framed or displayed in a way that shows it off to best advantage. The ZaDa Modern Art Show helps to bring artists together in a cohesive way. It brings the arts community together."
Forty percent of money raised from art sales and a silent auction at the ZaDa show will go to the Zachary Davis Foundation.
The show will feature hor d'oeuvres by catering firm GrazeMe and entertainment by Mo'Mojo and Zac Pirillo. Silent auctions also are planned, and Tustin said several artists are creating Christmas ornaments.
"I haven't seen any of the ornaments yet," she said, "but I know they're going to be amazing."
The art featured at the show will be for sale at various price ranges, Tustin explained. "Some of the artists have made prints of their work, which will be available also."
The show features work by artists in a variety of mediums, with some pottery, paintings and pastels.
"You'll see a little of everything and all of it excellent work," Tustin said. "The work of artists in the area is at the top level. The ZaDa Art Show brings a lot of upbeat, high energy. It brings artists, art lovers and art collectors together in shared passion for local art and artists."
The show is expected to host at least 40 artists and their work including Peggy Sibilia, Jessica Haney, Michelle Piscitani May, Hannah Johnson, Ashley Byrom, Cassie Soehnlen, Patty Griffiths Perkins, William "Bill" Koch, Stephanie Space, Jessica Edwards, Therese Cook, Deb Penland, Joyce Stahl, Walt Allen, Kathryn Sauder, Zac Pirillo, Sarah Andreas, Erin Mulligan, Anne Richeson and others.
The Zachary Davis Foundation also supports youth activities that offer local children and young adults a place to express themselves and find support including YoungLife of Tuscarawas County, Big Brothers Big Sisters, YMCA Strong Kids Campaign and Dover High School's Youth to Youth Program.
The Tool Shed at Breitenbach Wine Cellars is at 5773 Old Route 39 in Dover. Learn more about the Zachary Davis Foundation at www.zachsstory.org.