A community says goodbye to iconic store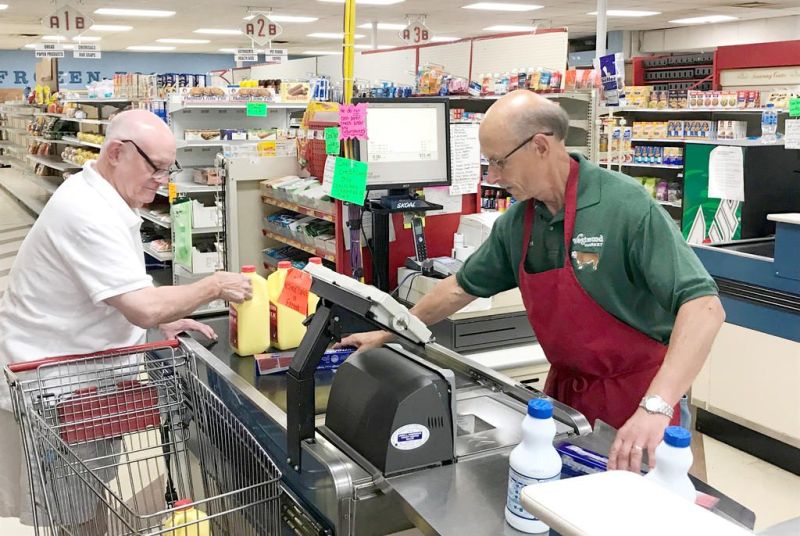 Back in a time when John F. Kennedy was residing in the White House and the Cleveland Browns were busy racking up football championships, Danny and Josette Momchilov purchased a grocery on the south side of Wooster near Triway High School on Oct. 1, 1963.
A butcher by trade, Danny Momchilov quickly built a reputation as the guy to go to for beef jerky and other meats at his new store, Momchilov's Westwood Market. The store became a staple for area families who relied on it to provide weekly meals on the table and in the lunch box.
Now, 55 years later, the family-owned store will bid adieu to the many customers who have come to know the Momchilov clan as family and friends.
Westwood Market will close its doors at the end of September, and the family's current owner, Mark Momchilov, said the time they spent serving the community will never be forgotten.
"I'm going to miss the people a lot. We've hired parents when they were kids and now their kids, and I'm getting perilously close to their grandkids," Momchilov said. "That's when you know it's time to retire. But the people and the community have been a wonderful part of what we have experienced here over the many years."
Now in retirement age, Momchilov and his wife Carol will look forward to relaxing and doing things they want to do. Momchilov is a golfer and fisherman, two things he will devote more time to as he retires.
Momchilov said he put the store on the open market at $300,000, not much for the land, building, equipment and inventory, but there were no takers. He said he doesn't see someone coming in and continuing the grocery store, meaning it appears to be the end of an era for Westwood Market.
In today's tough grocery market where huge conglomerates have taken over in offering so much for so little, Momchilov said the reality of owning a grocery store is a tough one.
"There are definitely things I will miss, but it is a lot of hard work, and it's seven days a week," Momchilov said. "We had a lot of good family times here. There are people I have gotten to know that I probably won't see again that I used to see every week. But it was time, and I am looking forward to retiring. Maybe I should feel bittersweet about it, but it is time to move on."
As another customer came though the store's checkout line and offered words of gratitude and expressed a sorrow to see the store go, Momchilov bagged the visitor's groceries. He didn't have to ask the man how he wanted his groceries bagged because he already knew that this particular man wanted his paper bag wrapped in a plastic bag.
That kind of personal service is what made Westwood Market such a thriving place over the decades.
Momchilov said people have been stopping by and chatting for a half-hour about life, about the loss of the store and sharing their memories of the family. He said in older days the market was a place where people connected, talked about their lives and built relationships. However, in today's hustle-and-bustle world, people don't have the time or the inclination to chat and get to know one another.
"Things have changed dramatically for local grocers over the past number of years," Momchilov said. "It used to be that people did all of their grocery shopping for the week at stores like this. Now they simply stop in to pick up items they need on a daily basis. It's a different world. These small groceries were what people relied on, but we're seeing these kinds of stores disappear."
Having gradually reduced his prices and reduced his stock, Momchilov, who worked for his mom and dad in high school and then took a factory job before returning in 1992 when his parents retired, watched his store dwindle over the final few days at the end of September. That allowed him to prepare for the auction on Oct. 30.
For a long time Westwood Market was the place to go for specialty items like jerky and sausage. Danny Momchilov and his sons Gipp and Cass were expert butchers who knew how to make the finest meats.
Mark Momchilov said those who have relied on the store for their meats over the years are a little despondent over the idea of finding a new butcher. "We couldn't keep jerky on the shelves, and people were not very happy to learn they would have to go elsewhere," he said. "Our meat department was the big draw, and Dad and my brothers were really great at what they did."
Everything good eventually comes to an end, and for Westwood Market that time is now. It has been a staple in its community, a grocery store that seemed more than that to those who entered through its doors for decades.