A full day of fun and unexpected charm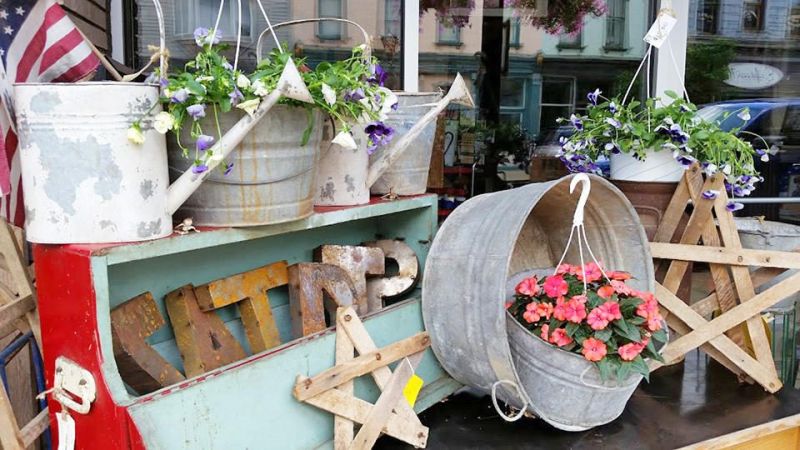 Downtown Millersburg is set for another Antiques in the Alley on Aug. 2 at 9 a.m., and this popular gathering of antiquities, hand-crafted rarities, music and fun is ready with plenty of new surprises.
Judy Lamp of Historic Downtown Millersburg said Antiques in the Alley will bring together everything that's good about the town and offer a full day of fun and unexpected charm.
"Antique vendors will cover the courthouse lawn of course," she said, "and the alleys and the parking lots. It is always a huge event. People come to this every year and are never disappointed. The really great thing is that there are the accustomed sellers who bring new and interesting things each time they come, but this year we also have some new vendors that we're very excited about. We try to keep it fresh and interesting for visitors and for local collectors and shoppers."
This year artisans will be on hand to demonstrate old-world craftsmanship. Craftspeople who will be in attendance can be seen at the Historic Downtown Millersburg Facebook page as schedules are completed. Lamp said organizers are working with several craftspeople, from weavers to carvers, in preparation for the event.
Shops in Millersburg also will be open and ready, continuing to raise the bar for anyone hunting for the unique and otherwise unavailable.
"In most stores you really don't see much that you haven't also seen somewhere else," Lamp said. "But in the Millersburg shops, you see things you'll find nowhere else. I am always truly stunned at the things I find in so many of the downtown stores. Handmade things, special items, one-of-a-kind objects you find it hard to pass up, it's all there, and everything is very different. You aren't going to visit a friend's home and find the same thing that you bought in downtown Millersburg."
Artists will offer their works, and visitors also will be able to watch as they paint and create on the spot. "That's part of why this is always so amazing," Lamp said. "Yes, there are things that are the same from year to year, but it's also always very different."
If antiques, hand-crafted items and art aren't enough, add live music through the day and a farmers' market.
"The farmers' market will be open from 8 a.m. to noon," Lamp said, "with farm-to-table produce of every kind. You're getting the best of everything: antiques, crafts, music, demonstrations, art in progress and fresh produce from area farms."
Along with the antiques, many vendors will offer repurposed furniture and other things they have created from something discarded. "They create something completely new out of something tossed away. I really can't fathom that kind of creativity," Lamp said.
Painted furniture, reimagined pots, tools and household items will be available.
Along with downtown and area restaurants for food and drinks, snacks will be available including hand-roasted nuts and caramels. Food trucks also will be available, bringing some of the best traveling food available in the area. In the evening, entertainment in local venues will continue with music, food and karaoke.
Search Facebook for Historic Downtown Millersburg for updated information as vendors are added. A link to Antiques in the Alley is found there.