A marketplace mix of art and creativity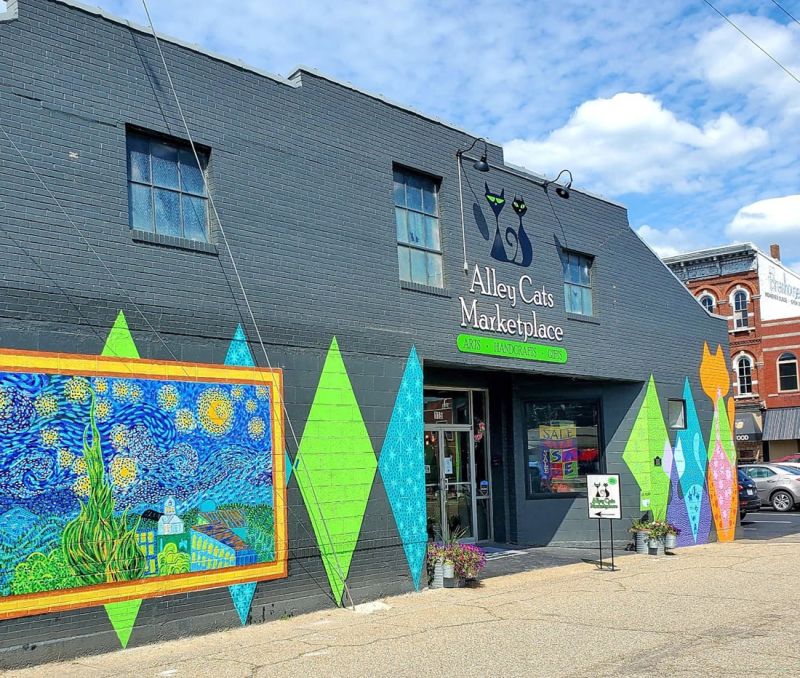 Make it a one-of-a-kind Christmas by shopping for unique items created by local artisans at Alley Cats Marketplace in New Philadelphia. Browse with friends or take a class and discover your artistic side. This distinctive marketplace is a mix of arts, crafts and other unique handiwork, including home décor, vintage records, ceramics, soaps, jewelry and boho chic clothing.
"Artists need a place to show and sell their creations," artist and owner Debbie Aubihl-Knisely said. "We opened Alley Cats in 2019 to support artists and create a unique and truly enjoyable shopping experience that we promise you'll fall in love with."
Growing up in Chicago, Knisely didn't have a lot of green space for outdoor play. Instead, she and her friends loved to run the alleys of the city and became known as the "alley cats."
"I discovered the artistry of alleys and how they invoke creativity," Knisely said. "The variety of colors and architecture inspired me and forever drew me to artists and their creations."
On a walk through the alleys of New Philadelphia, Knisely saw the old Community Hospice Browse and Buy building for sale in an alley off Broadway and knew it was the place for her creative marketplace.
Alley Cats features 70 regional artists from Carrollton to Cleveland in this nostalgic but modern atmosphere. Included is a social area always ready with a fresh pot of coffee and live musicians to welcome visitors. There's an open studio every Thursday, from 10 a.m. to 1 p.m., where artists connect, create and share their talents. Workshops and classes are also offered.
Fresh the Market is the newly opened adjacent store to Alley Cats, where 40 additional artisans offer their goods.
"Fresh the Market artisans are growers, bakers and more," Knisely said. "It's another way for us to support all kinds of creativity."
Discovering the local shops and eateries of New Philadelphia that surround Alley Cats is a great way to spend a beautiful fall day in Ohio and get ahead on some holiday shopping without shipping delays or long lines.
Alley Cats Marketplace & Fresh the Market will be hosting a Holiday Open House on Small Business Saturday taking place this year on Saturday, November 27.
You'll find Alley Cats Marketplace and Fresh the Market at 115 Allen Lane SW in New Philadelphia. For hours, events and updates, check Alley Cats on Facebook and Instagram, email info@alleycatsmarketplace.com or call 330-340-6730. This story has been underwritten by Alley Cats Marketplace.