A passion for eyewear fashion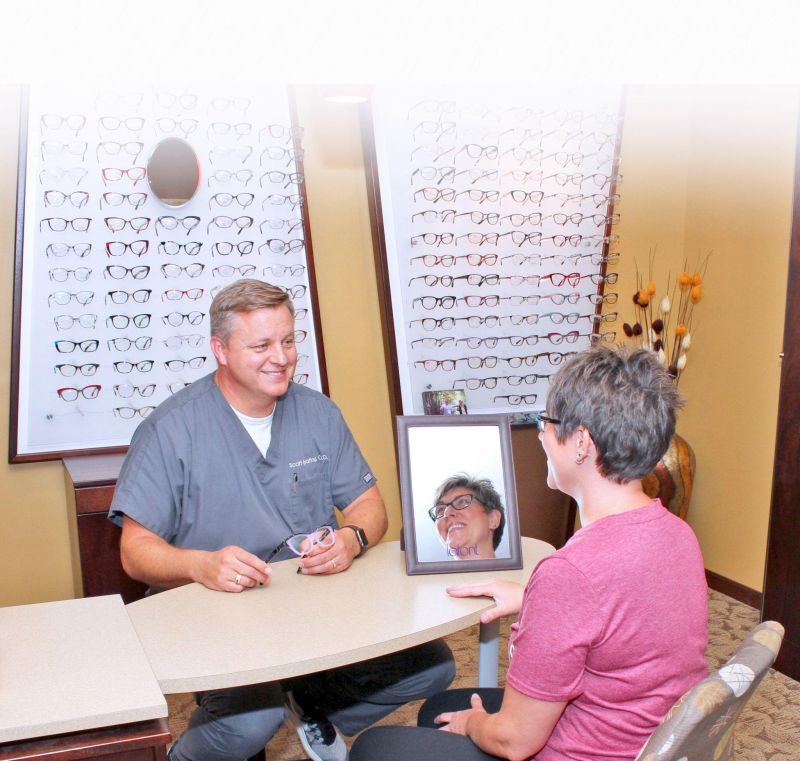 The Vision Trends fall semi-annual sale will be Friday, Nov. 2 and Saturday, Nov. 3. Everything — eyewear frames from east to west and everywhere in between including lenses — will be 35 percent off.  
Twice a year Vision Trends' owner Dr. Scott Keating travels to the International Vision Expo and Conference: east to New York City in the spring and west to Las Vegas in the fall.  
After each trip he unpacks and premieres styles scoured from around the globe. "Vendors from all over the world showcase the latest styles and trends, and the best of the best is handpicked and debuted at the spring and fall sales," Keating said. "It's all on sale."  
Vision Trends doesn't hold anything back and stocks over 1,700 frames, from the unique, to the ultra-chic, to the utilitarian.  
"We have something for everybody. Extraordinary eyewear doesn't mean expensive eyewear," Keating said.
Invision magazine named Vision Trends one of the 12 up-and-coming eyewear stores in the country for its curated collection of unique and fun eyewear.  
"I've always had a passion for unique and fun eyewear, and when I'd travel to New York, L.A. or overseas, I'd marvel at some of the frames I'd come across. I knew my patients back home would do the same," Keating said. "I've been an optometrist in Tuscarawas County for 28 years, and the selection at Vision Trends is still second to none."  
Keating recently merged his Uhrichsville office with Vision Trends. Since opening Vision Trends in 2010, he has carved out a niche.  
Visitors to the semi-annual fall sale can see the David Green collection, which uses fallen foliage to accentuate acetate frames. An elegant complexity found only in nature ensures no two pairs alike. Going green or au natural has never been trendier. Visitors can even get a feel for frames made from buffalo horn or hand-carved wood.  
While Vision Trends stocks the familiar brands and sought-after brands from far-flung places — London, Paris and Milan — the more far-out frames draw a crowd to the semi-annual sales in the spring and fall.  
For the hipsters in the crowd looking for statement frames, Vinylize is your ticket. The Budapest-based company crafts frames from recycled vinyl records. The black T-shirt set can quote Weezer and let out a collective cheer: "Woo-ee-oo, I look just like Buddy Holly."  
Nothing is held back at the semi-annual fall sale, and for anyone holding off on a new pair of sunglasses, Vision Trends carries over 300 brands including Maui Jim, Oakley and Costa Del Mar.  
"You should never hide in your glasses," Keating said. "The right eyewear enhances your personality, and people take notice. The right eyewear boosts self-esteem, and you'll feel it when people say, 'Wow.'"  
Keating, along with four certified opticians, help patients at Vision Trends discover their personality.
"In our office we help the patients find frames that complement their face shape, skin tone and hair color. We might guide them, but when our patients look in the mirror, they know 'these are the ones.'"  
See yourself at Vision Trends, 707 N. Wooster Ave., Dover. Call 330-365-2020. Hours are Monday and Tuesday from 8:30 a.m. to 6 p.m., Wednesday from 10 a.m. to 7 p.m., Thursday and Friday from 8:30 a.m. to 6:30 p.m., and Saturday from 8 a.m. to 1 p.m. The semi-annual fall sale will be Friday, Nov. 2 from 8 a.m. to 6 p.m. and Saturday, Nov. 3 from 8 a.m. to 1 p.m. (some insurances excluded). See you there: Facebook.com/VisionTrends.