A slice of history: Boyd and Wurthmann restaurant celebrates 80 years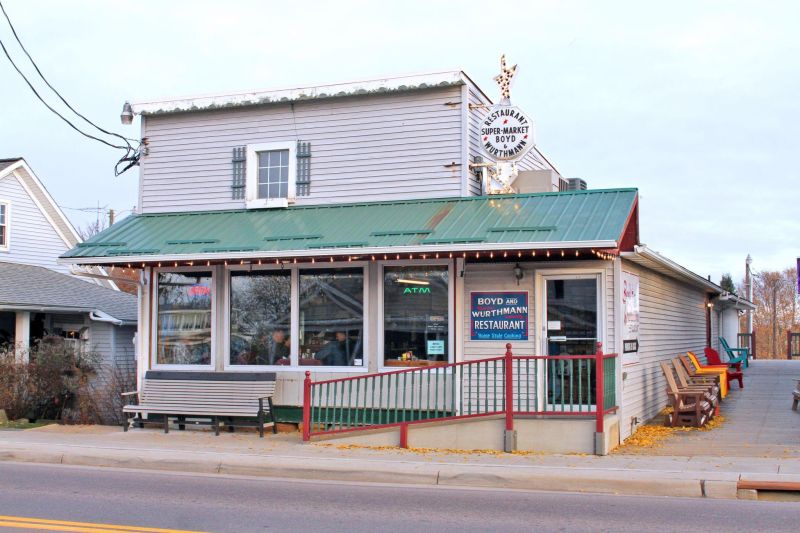 Much has changed since 1938 when the Hummel family opened what would eventually become the Boyd and Wurthmann restaurant. Back then it was Hummel's Market, a grocery store serving Berlin locals. Through the years the business went through several expansions and incarnations that saw the addition of a sandwich counter and eventually the end of the market and the birth of a restaurant that has stood the test of time.
Eight years after its founding, the Hummels sold their country market to Herman Wurthmann and Dale Boyd, who established the business' identity as a restaurant and set high standards through 40 years of ownership. Their ideals continued through the leadership of three community managers and are upheld today by Dennis Mullet and his family, who purchased the charming eatery in 2004.
The more things change, the more they stay the same, said Mullet, who likened the restaurant to a 1950s diner with modern updates.
"We still have a lot of the same décor and some of the same daily specials that the Boyds and Wurthmanns had when they started it," said Mullet, whose son-in-law and daughter, Benson and Katasha Beachy, co-manage the restaurant. "Coffee was 75 cents when we bought the place, and we continue to maintain that price."
Coffee complements from-scratch pies, prepared daily by local Amish and Mennonite bakers. The restaurant offers up to 30 varieties of pie that rotate depending on the freshest ingredients available. Among the favorites are peanut butter, butterscotch, chocolate cream, peach, grape cream, pecan and apple. On a busy Saturday, the restaurant often serves as many as 240 slices, the equivalent of 40 whole pies.
Every year Boyd and Wurthmann shares its legendary pie and coffee with its valued customers. On Monday, Dec. 17, diners will be treated to a free slice of pie, and on Tuesday, Dec. 18, they can enjoy complimentary coffee. Additionally, all who visit during the month of December are invited to write their name on the back of their guest check and enter a yearly drawing that will take place on Wednesday, Jan. 2. Prizes include 50 steak dinners (one-time only) as well as a free breakfast, dinner, coffee or pie once a week for a year.
"It's the local community that makes Boyd and Wurthmann what it is today with their continuing support," explained Mullet, a former woodworker who said his "goal is to serve God through serving people."
Now back to those mouthwatering daily specials. Mullet said regulars return for roast beef Manhattan (a roast beef sandwich smothered with mashed potatoes and gravy), traditional fried chicken, and beef and noodles. Other popular daily specials include meatloaf, Swiss steak, rivel (dumpling) soup, taco salad, fish and the weekend Prime Rib special.
Folks who are up with the roosters can sink their teeth into breakfast favorites such as eggs, bacon, biscuits and gravy, fried mush, and French toast made from homemade bread.
"We believe in cooking fresh, quality foods, made from scratch & served with a smile in generous portions. So when you visit Boyds in Berlin you're more than a guest, you're part of an ongoing tradition of community," Mullet said.
Stick-to-your-ribs comfort food is not the only draw. Known as the place "where the locals eat," Boyd and Wurthmann also is where they meet. The 110-seat restaurant boasts the original sandwich counter plus 22 tables, five booths and a round table. Mullet said many individuals come into the restaurant alone but take a seat with others at one of three tables by the front windows.
"They enjoy coffee and fellowship together as they catch up with the local news," Mullet said. "There's always a rotation of locals sitting around those tables from early in the morning to late at night."
The noon hour often sees an influx of tourists who marvel at the well-prepared food, the charming décor, and the friendly and attentive service.
"It's a down-home atmosphere," Mullet said. "We tell people there are no reservations, no hostesses. Just come on in, find a spot and savor the experience."
Boyd and Wurthmann is located at 4819 E. Main St. in downtown Berlin. Hours are Monday through Saturday from 5:30 a.m. to 7:30 p.m. The phone number is 330-893-4000, and the website is BoydAndWurthmann.com.