Amish Door opens seasonal Winter Village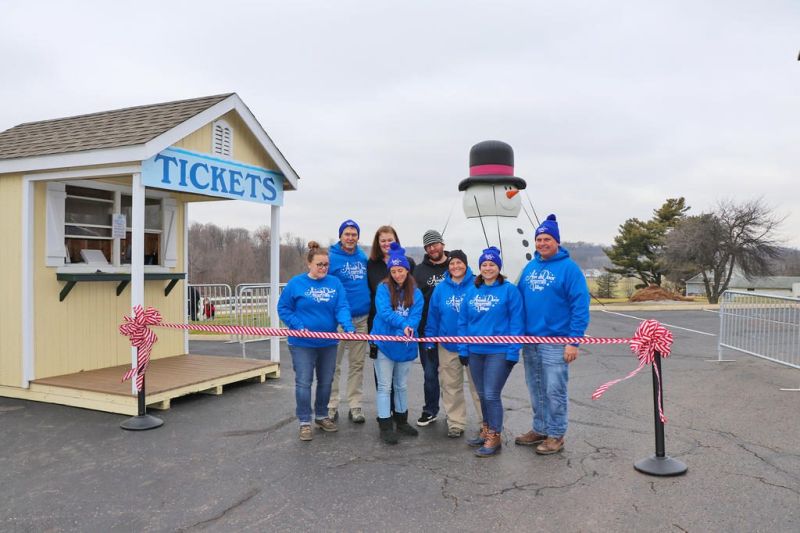 The Amish Door at Wilmot opened its outdoor Winter Village, a seasonal attraction for the holiday season, on Friday, Nov. 29, despite battling high winds two days before.
"We were fortunate the wind did not continue to be an issue," said Katy Gill, Amish Door marketing coordinator. "Wind is really the only thing that will keep us from opening the attractions."
Gill, a group of volunteers and staff from the Amish Door spent the better part of the morning getting everything ready for the Winter Village's first guests.
The Winter Village offers residents and visitors a unique cold-weather experience, as was the hope of Jonathan Blood of the Amish Door.
"We wanted to try something a little different," Blood said. "This is a family-friendly, safe and affordable opportunity for folks to come and have some winter fun. We received so much support from our area businesses to get this up and running."
Ticketed attractions include a 40-by-60 ice rink that features artificial ice; Snowzilla, an artificial snow-tubing experience standing more than 60 feet tall; Bouncy, with his corncob pipe and a button nose, the world's largest snowman bounce house; and Snomazing, an outdoor maze that is appropriate for even younger patrons.
The Winter Village also offers warming areas with hot chocolate and snacks, as well as fire pits to stay warm. There are no age restrictions on the attractions, although participants must be able to carry their own tube to the top of Snowzilla.
"With so few options for fun stuff to do in the area this time of year, we also like that the Winter Village gets families outside and moving," Gill said. "And there is something here for every member of the family."
Tickets and information can be found at www.amishdoor.com, by calling the Amish Door Village at 330-359-5464 ext. 421 or by emailing info@amishdoor.com.
The Amish Door Winter Village will run through Jan. 20. Hours include Fridays from 4-8 p.m.; Saturdays from 10 a.m. to 8 p.m.; Sundays from noon to 4 p.m.; Dec. 23, 26, 27 and 30 from 10 a.m. to 8 p.m.; Dec. 31 from noon to 9 p.m.; Jan. 19 from noon to 8 p.m.; and Jan. 20 from noon to 4 p.m.
Amish Door Village is located at 1210 Winesburg St. in Wilmot.
Parking is free.