Annual Back to School Sale is in a class all its own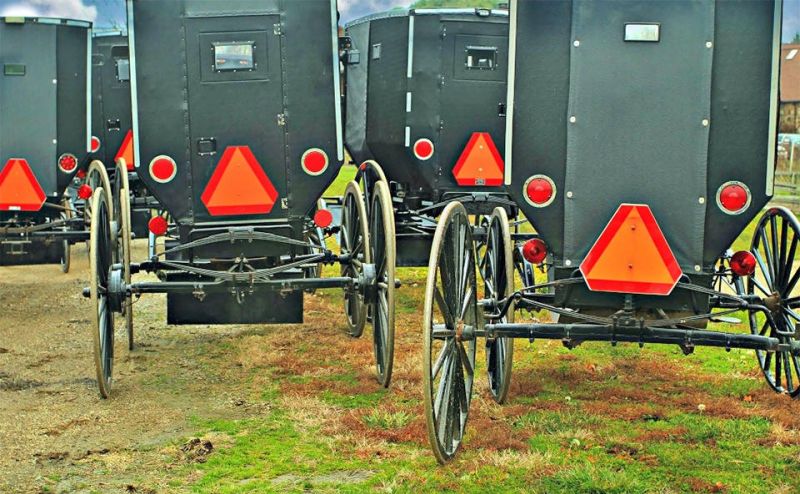 As summer begins to drift into fall, it's time to think about getting ready for another school year. Amish Country is a good place to look for needed items for your home and school needs.
Fredericksburg's annual Back to School Sale covers all the village with savings at many of the out-of-the-way shops. The sale lasts all week, beginning Monday, July 29 and stretching through to Saturday, Aug. 3. Shops will remain open for extended hours throughout the week.
Henry Miller of Fredericksburg Harness & Shoes said the week-long sales event has been a part of back to school for a very long time. "This is at least the 41st year," he said. "So it must be pretty popular with visitors and people in the area. It's always around the end of July."
A big part of the sales to be found throughout Fredericksburg are the garage sales many retailers are offering for extra-special discounts. Garage sales are to be found in front of stores and in the basements.
Family Fabrics at 8425 Township Road 601 will, in addition to tagging much of the inventory at 10 percent off, have additional bargains in the basement of the store for 15 percent savings.
Yoder Bargain Store at 7802 Salt Creek Road also is gearing up for a 10-percent-off sale throughout the store. At Yoder's you'll find items for your home, cookware, books, toys and craft materials, among many other unusual items. The store also is prepared for back to school with extra discounts in the basement and tent sale area.
Byler's BBQ will serve all day on Monday, July 29, and Yoder Bargain Store will have several representatives from vendors on hand that day as well.
Daily drawings for gift cards add an extra measure of fun to the week. Families also can enjoy free ice cream all week at Yoder Bargain Store. Special hours are Monday, Tuesday and Wednesday from 8 a.m. to 8 p.m.; Thursday and Friday from 8 a.m. to 5 p.m.; and Saturday from 8 a.m. to 4 p.m.
At Fredericksburg Harness and Shoe, 6910 Salt Creek Road, Miller said the store is ready with 10-percent-off footwear all week long with further bargains on clearance items at 40-50 percent off.
"We'll have gift card giveaways and prizes, and your entry ticket comes with your purchases," Miller said.
Miller pointed out the Wednesday addition to the village shopping schedule. "We normally aren't open on Wednesdays, but we'll be open Wednesday that week," he said.
For back-to-school shopping for discount footwear, crafting supplies and fabric, among many other items at great prices, the drive through Amish Country will deliver more than a pleasant day's outing during Fredericksburg's Back to School Sale event.
With good food, free ice cream and a full week to shop, plan to make the village your one-stop destination for your family and home as another school year is set to begin.
Fredericksburg is reached via Route 83 from the west or by Mt. Hope Road to the east, on Harrison Road.