Annual June-in-January goes through end of month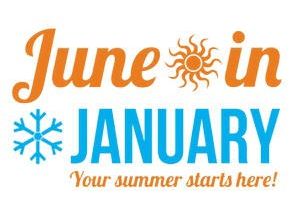 The June-in-January event hosted for the past decade at Wooster's Buchwalter Greenhouse will return in 2021 with new twists to keep both guests and exhibitors safe during the COVID-19 pandemic. This year outdoor living displays will be hosted at four different locations: Buchwalter Greenhouse at 6554 Back Orrville Road, Wooster; Family Pools and Spas at 4182 Burbank Road, Wooster; Lehman's at 4698 Kidron Road, Kidron; and Runions' Furniture at 220 W. Market St., Orrville.
Rather than focus on three weekend days, exhibits will be on display continuously through Jan. 31 during the regular business hours of the hosting stores. Additional June-in-January partners offering services ranging from landscape design to remodeling to material sales will have brochures and other info available through the four hosting sites. Guests are asked to wear face coverings when visiting and maintain social distance as per the state-mandated health precautions.
In addition, seminars and classes covering a variety of outdoor living topics will be offered Jan. 15-21 through Facebook Live and other platforms. Guests who visit any of the four locations will be eligible to enter a June-in-January drawing for $300 in outdoor living gift cards and other prizes. Multiple engagements with the event will earn multiple entries.
Because of the increased focus on enhancing the home environment during the pandemic, the June-in-January hosts anticipate a busy and exciting outdoor season ahead. June-in-January offers a chance to get a jump on the planning process and help homeowners make the most of the warmer weather ahead. For more information and business hours for each June-in-January partner, visit www.juneinjanuary.com or follow June-in-January on Facebook.