Area restaurants source local foods, support local farmers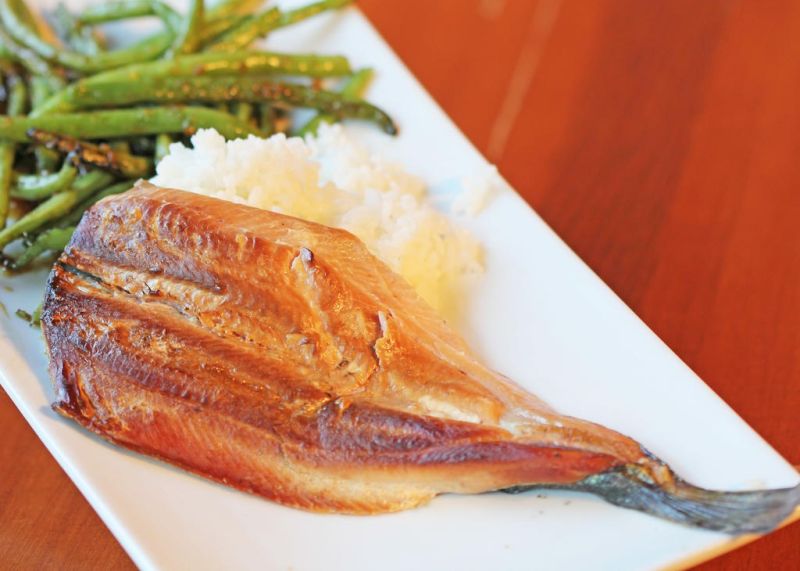 Many local restaurants have a clear strategy around sourcing local foods. Quality, freshness and supporting local farmers were three top reasons restaurants in Wayne and Holmes counties reported they purchase local foods.
"We buy local foods because it's a really strong economic issue," said Glen Grumbling, owner of Broken Rocks Café and Bakery in Wooster. "I like to say, it's like playing pinball, that money bounces around quite a few times before it settles down. But if you buy things from outside of the community, the money is just gone. So we think it's pretty vital to keep the local economy going."
Here's more information on which local foods area eateries source, why they support local and the challenges for expanding the local food options they offer.
Broken Rocks sources lettuce and other vegetables, beef, pork, and fish from local farmers. "We buy a steer at a time for our burgers. That ends up being quite a few steers a year," Grumbling said. "I get trout from a trout farm in Fredericksburg — Homestead Springs. We don't run trout all the time, but it's a really phenomenal product."
Although one reason Grumbling sources local is to support the economy, another top reason is freshness. "We find the vegetables and meat that come from down the road are fresher. People can taste the difference. Part of it is that we know the farmers and have a relationship with them and can trust the quality," he said.
Mike Mariola, founder of City Square Steakhouse, also in Wooster, features a number of locally sourced products, and for the same reasons of quality and boosting the local economy. Mariola has a long-standing partnership with Certified Angus Beef, a Wooster-based business that brands and markets Angus beef. Mariola purchases 100% of the beef for his burgers from Ohio and as many steaks as possible from local producers.
Additionally, Mariola recently started working with Killbuck Valley Mushrooms, also based in Wayne County.
"My favorites are oyster and shiitake. I can't find anything near that quality in the grocery store. It's hard to even find oyster mushrooms in the grocery store at all," Mariola said. "There's also been an explosion in local breweries and distillery options over the past few years, and the quality is first rate. Minglewood Distilling Company (in Wooster) offers bourbon, gin, vodka and cinnamon whiskey, and they even source local grain. For beer, we have a strong partnership with Millersburg Brewing. We have their pumpkin beer on draft, and that is selling well."
Another champion of locally sourced foods is the Dutchman Hospitality Group, with three restaurants in Amish Country — Der Dutchman Restaurant in Walnut Creek (their flagship restaurant), Dutch Valley Restaurant in Sugarcreek and Berlin Farmstead Restaurant in Berlin.
"Buying locally assures us of ultimate freshness, and we are able to choose high-quality products from reputable growers. Also, we want to support our local growers and our local economy," Vicki VanNatta of Dutchman Hospitality Group's marketing department said.
Dutchman Hospitality Group purchases Gourmet Greens from Chef's Harvest, Gerber's Chicken, Troyer's Trail Bologna, honey and maple syrup from local producers, and as much produce from the local produce auction as possible for their restaurants.
Chalet in the Valley near Millersburg, between Berlin and Charm, serves Swiss and Austrian cooking and American cooking with a European twist. Among the primary items they purchase locally are their veal and bratwurst from Winesburg Meats in Winesburg.
"It's very important to us to use sustainable products whenever we can and to support local farms. It has been tough for farmers recently, and it's important to support them, like they support us," said Ursula Guggisberg, the marketing coordinator of the Guggisberg Cheese Factory, which owns the Chalet in the Valley.
Because the cheese factory owns the restaurant, Chalet in the Valley uses local cheeses. The Guggisberg Cheese Factory procures their milk from approximately 130 local farms. Guggisberg explained what differentiates the quality of their cheese: It comes from the glacial history of the land, which left certain minerals in the ground, giving their cheese its special flavor.
"The local milk mirrors the quality that you would have found in the Swiss Alps. We are the inventors of baby Swiss cheese, which is celebrating the 70th year. It's used in a lot of the dishes in the restaurant," Guggisberg said.
Why aren't more restaurants sourcing local foods? A lot of it has to do with the consistency and availability of products year round. "You have to have a more flexible menu plan to be able to buy local. It's not the consistent cookie-cutter product that is always made the same every time," Mariola said.
In the end, though, it's worth the extra effort. "Buying from local farmers tells a story for our guests, and that is part of the experience of eating out, and it gives our guests a connection to the community. It feels good to give back to the community," Mariola said.