Bank on convenience at First Fed's new Uhrichsville location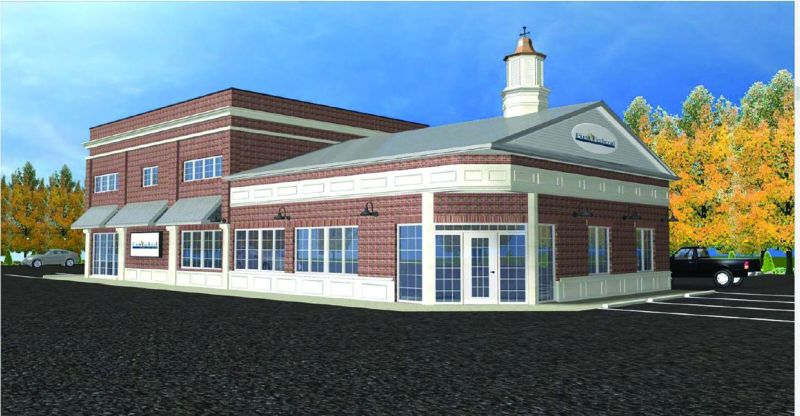 First Federal Community Bank is proud to be serving the Twin City Communities of Uhrichsville and Dennison. Last November, they opened an office at the corner of E. Third and Main in Uhrichsville. Just a short year later, they are ready to open their beautiful new building located at 302 E. Third Street.
First Federal is a full-service community bank offering residential mortgage, construction home equity lines of credit, automobile, boat and business loan services. Their lenders are flexible enough to meet with you at your convenience, and all loan decisions are made quickly and locally. To complement their many free checking and savings account options, they offer free online and mobile banking as well as Apple, Google and Samsung Pay. You can even open a new account or apply for a loan completely online at firstfed.com.
Kathy Norman, Branch Manager, is a Dennison native and resident. She is looking forward to learning how she and her team can meet your banking needs. "Stop in for a cup of coffee, learn more about our products and services and experience our friendly, professional service. You will quickly see how we make it easy to bank with us."
"While the new office will offer all the conveniences you would expect, such as a drive thru, ATM and night deposit, what truly sets First Federal apart is our employees. Our Uhrichsville team is from the Twin City area and they care about the people they serve not just because they are their customers, but because they are their neighbors as well. We strive for innovation and are proud to introduce a new teller experience with a meet, greet and serve style. This model allows us to provide the same exceptional service you have come to know and appreciate while getting to know our customers better," said Norman.
The bank has been very pleased by the warm welcome they have received. "As a bank, we are committed to being involved in the communities we serve. Our team actively participates as leaders and volunteers in more than 60 local charitable organizations, and we have been privileged to take an active role in these efforts in the Twin City area as well," said president and CEO Trent Troyer. "I've been especially impressed with Kathy Norman who is heavily invested in the community. She serves as the Dennison fiscal officer, on the adult choir at Immaculate Conception, Village of Dennison 922 days committee, 922 days food drive coordinator, St. Mary's festival chairperson, and many other ways to invest in our community," said Troyer.
The new facility represents a significant seven figure investment in Uhrichsville and was designed by Bruce Widder, an architect from New Philadelphia. Benchmark Construction owned by Tom Haugh, was awarded the bid contract and broke ground in March. The building is over 5,000 square feet and includes second floor space that houses Doug Ross's Romig Agency and Michael Oberholzer's Lifetime Financial.
First Federal will open their doors at 302 E. Third Street in Uhrichsville, Nov. 12.
Tuesdays in November, First Federal will host both Sign & Dine and Meet & Greet events with extended hours until 7 p.m. Customers who open an account will receive pizza, pop and chips. A local expert will be available 5-7p.m. each week to chat with interested customers.
Everyone is invited to stop in and register to win some great prize packages between Nov. 12 and Dec. 8. No purchase is necessary, but you must be 18 years or older. Winners will be randomly selected and notified on Dec. 9, 2019.
As a tribute to the community, the bank is offering a bonus 9.22 percent, 92-day certificate of deposit to any customer who moves their checking account to First Federal.
First Federal Community Bank is an FDIC Member and an Equal Housing Lender. They have been meeting the community's banking needs for more than 120 years and look forward to serving you.