Beechy's on the grow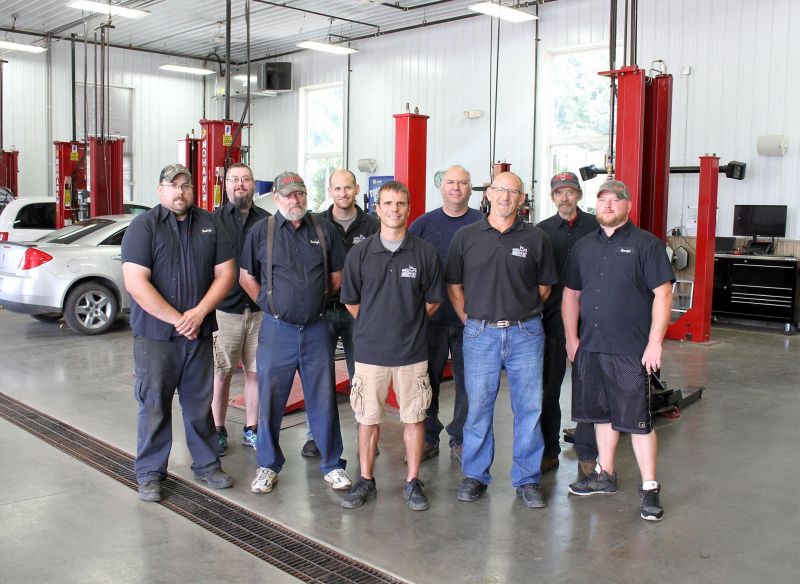 The name Beechy's is a long-familiar sight for many traveling down Route 62 in Winesburg. Now, the second location to bear the name Beechy's is on the horizon for a stretch along County Road 201 near Berlin.
So what's in a name?
It's a good deal more when considering the full-service auto repair facility has been family owned and operated for three generations since being founded by its namesake, Paul Beechy, nearly a century ago.
It's a name brothers Brian and Matt Beechy carry on today. "The second location in Berlin brings us closer to our customers," Brian Beechy said. "The name Beechy's has been around a long time, and we're blessed with a loyal customer base."
According to Beechy, keeping customers in the loop makes the shop's name. "There's less space for miscommunication the closer our customers are to talking to the person under the hood of their car," Beechy said. "Customers can better appreciate their options the more we can keep them informed throughout the process."
More than providing straight answers, Beechy is upfront about his desire to deliver value. "We'll never install parts we don't believe in," he said. "Bottom-of-the-barrel brakes are cheap and even safe, but nobody is ever going to be satisfied with brakes that squeak."
Beechy's seeks to provide quality parts that won't break the bank and advocates for preventive maintenance so its customers always come out ahead. "We fix it for the long run," Beechy said.
While Beechy's doesn't leave its reputation to chance, the decision to open a second location stemmed from a chance opportunity that came along after Jerry Anderson, the owner of Digital Dish, decided to sell his garage servicing the Dish Network fleet in Ohio.  But it was no accident Anderson reached out to Beechy.
"Jerry wanted a place for his guys to land," Beechy said. "He didn't want to tell them one day — Boom! — you're out of a job. He asked around, and several people gave him my name."
The chance opportunity came calling at the right time. Beechy explained that for two days he had been leaving messages with contractors for estimates to expand the Winesburg garage. "We were bursting at the seams, and I was waiting for one of the builders I called to get back to me. They're busy — I get that — but within five minutes of leaving another message with another builder, the phone rings."
It was the opportunity for a turn-key business in a centralized location, complete with the latest computer diagnostic and advanced tire-alignment equipment as well as experienced mechanics, office staff and a manager Beechy respects, Rob Chaney.
"I wouldn't have been excited about the opportunity if I didn't have a lot of good people surrounding me," he said.
Working together, Brian and Matt Beechy focus their energies at each location. "If Matt wasn't on board, none of this would have been possible," Beechy said.
Beechy attributes the success of the garage to the people who make it what it is. Speaking for himself, he said each day he tries to live up to the Beechy's name and treat people — whether they be customers or staff, friends or family — the way he would want to be treated.
"This expansion was all about people, about having great people in place," Beechy said. "We have the people in place in Winesburg with the talent to take on something new, and we have the people in place in Berlin with the experience to make it a success."  
Visit Beechy's Inc. at 5979 County Road 201 in Millersburg, near Berlin or 2653 US 62 in Winesburg. Berlin's hours are Monday through Friday from 8 a.m. to 5 p.m. The Berlin location's phone number is 330-674-6970. The Winesburg location's hours are Monday through Friday from 7 a.m. to 5 p.m. and overnight for fleet work. Winesburg's phone number is 330-359-5421. Ask your questions at Beechys.com for straightforward answers to everything from oil changes to engine overhauls.