Beyond the internet connection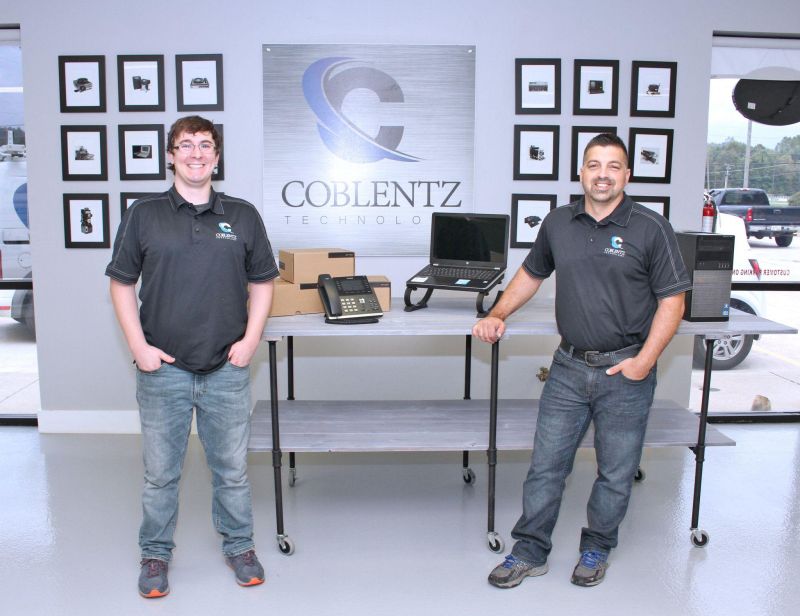 You could say the founder of Coblentz Technology has always aimed high to the clouds. Before embarking on computer repair, information technology (IT) services, cloud computing, VoIP phone systems and security camera systems, Preston Coblentz had his feet on the ground as an aviation technician.
"Working in aviation gave me a good foundation in electronics, but I found my passion working with computers," Coblentz said.
From the start, Coblentz Technology has taken off. Coblentz started by providing on-site computer repair in 2008, and, recently, he has marked the two-year anniversary of his retail and service store in Millersburg. The store sells laptops, desktops and peripherals from Lenovo, HP, Dell and other name-brand computer manufacturers and serves as his mission control. His crew includes five employees with diverse backgrounds in technology.
"There's no better place to have a business," Coblentz said, now providing service to Holmes, Wayne, and Tuscarawas counties, and surrounding areas. "There's a strong network of support that exists here, and I like being there for my neighbors. It's a good feeling to put the cape on, run out to the site, and save the day or simply be there to help grandparents connect with their grandchildren over video chat."
Coblentz has a bird's-eye view of the community as he helps local businesses move, manage and secure their critical IT infrastructure and backup their valuable data assets to the cloud.
"People don't see what I see," Coblentz said. "Threats go undetected — business data and personal information are open to prying eyes and networks are vulnerable to viruses. To a big extent, businesses can protect themselves by adhering to best practices — enabling firewalls, installing anti-virus software, and even having a rudimentary knowledge of some of the scams out there. We are here to help with that."
Every cloud has a silver lining and these risks are outshined by the benefits of new, available technologies. Cloud computing allows company's employees and clients to access business resources anytime and anywhere there is an internet connection for increased adaptability, productivity, and, ultimately, profitability.
"Life can sometimes get in the way of conducting business. But nowadays, a woman who's had a baby and needs to stay home, for example, can productively work remotely as if she were in the office," Coblentz said.
When businesses grow, with available technology options, the sky's the limit. "Businesses can expand by inter-connecting offices with different physical locations through virtual private networks (VPN), giving each location the same access to resources," Coblentz said. "A centralized, shared resource environment results in efficiency and overall cost savings to the business. And with the newer cloud VoIP phone systems, a remote worker can take a business call from the comfort of home or simply make and receive business calls rerouted to a cell phone."
VoIP stands for Voice over Internet Protocol. The technology utilizes your internet connection instead of traditional phone lines while retaining your existing phone number. VoIP software integrates with your computer allowing for video conferencing, online dashboards, advanced and easily accessible voicemail services and automated attendants that take and route calls.
"I would call it a feature-rich phone system," Coblentz said. "VoIP is as reliable as a traditional phone system, and you don't have the heavy upfront cost of a legacy business phone system that no one seems to know how to manage. With the VoIP systems the customer has the ability to effortlessly make changes from any PC or laptop."
The surge of digital technology has answered more than telephony. Coblentz Technology offers a full array of high-definition security cameras.
"We don't put out that analog stuff anymore. No more grainy footage," Coblentz said. "What's great about it is, the footage pops up right on a smartphone, and a business owner can conveniently check up on things without becoming intrusive."
When Coblentz looks out on the horizon, he sees people relying more and more on handheld wireless devices in an increasingly connected world.
Our area – with its unique cultural influence, abundance of specialty cottage industries, manufacturing base, agriculture and tourist visitors – has unique technology needs and we have become accustomed to finding creative solutions to fit the needs of our customers," Coblentz said. "We have appreciated the confidence our customers have had in us over the years and as our infrastructure grows and we rely on our connectivity more and more, together we'll find solutions that keep us moving forward."

Connect with Coblentz Technology at 1441 S. Washington St. in Millersburg, 330-473-0050, and online at CoblentzTechnology.com. Hours are Monday-Friday, 9 a.m. to 5 p.m.; Saturday, 10 a.m. to 2 p.m.