Bonifay Home Supply becomes MHS Hardware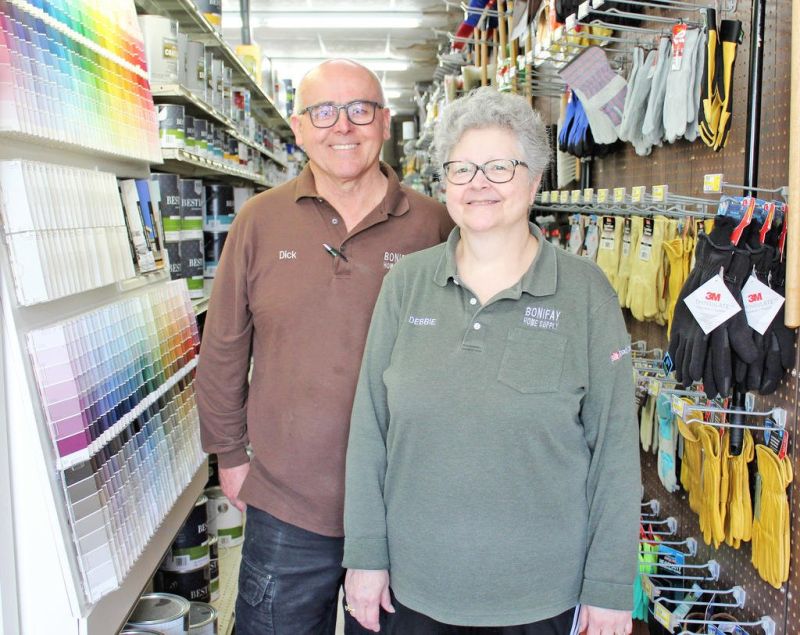 After a 22-foot-long fall from a roof while working for his father's roofing business in 1981, Dick Bonifay did not work for a year and a half. He suffered a broken wrist, a broken vertebra in his back and a crushed heel that still causes him to walk with a limp.
"The day the doctor told me I couldn't get back on a roof was the worst day of my life," Bonifay said. "But it turned out to be the best."
With his preferred job no longer an option, Bonifay decided to open a hardware store in 1983. "I had no money, no inventory and no knowledge, and somehow we made it. We've been pretty blessed," he said of setting up the shop at 314 Grant St. in Dennison.
The store has been at the same location for 37 years. "I honestly opened this place and never thought I would make it. I really look back and wonder how I made it, but it was good for me," Bonifay said.
Especially since there were two other hardware stores in the Twin Cities at the time he opened; both have since closed. In 1994 Bonifay was again uncertain of the store's future when three new big box home-improvement stores opened in Tuscarawas County. Despite the added competition, that year was the best year for the store at the time.
Some of the store's most popular services are cutting and threading pipe, filling propane tanks, making keys, mixing custom tinted paint, and screen and window repair.
The store carries a wide variety of hardware, plumbing supplies, tools, and Case Knives and Benchmade Knives. They have available about 100 items for rent including household drills, cement mixers, tillers, stump grinders, post hole augers, carpet cleaning machines and floor sanders, to name a few.
While Twin City area residents make up the majority of their customers, many of their regular customers travel from Freeport, Tappan Lake, Tippecanoe, Gnadenhutten, New Philadelphia, Dover and Bolivar to shop at the store.
Bonifay said he enjoyed being his own boss, joking that the only boss he ever had was his wife, Debbie, who helped with the bookkeeping at the store part-time. Later when their children were older, she began working six days a week.
The couple agreed the pandemic quarantine has been good for business. "(April) was the biggest month I ever had," Bonifay said. "(April 25) was the biggest customer count we've ever had in one day; 2019 was the biggest year we've ever had. In the last five years our sales have really increased."
The couple will celebrate their 46th wedding anniversary in September. They are the parents of four daughters: Emily, Christine, Lisa and Cheryl. The Bonifays recall their daughters coming to the store after school and helping with inventory when they got older.
The couple are looking forward to spending more time with their seven grandchildren, soon to be nine as twins are on the way. "We don't get to see them as much as we'd like," Bonifay said.
They also would like to travel; Bonifay has always wanted to go to Alaska.
New owners, Kevin Johns and his son, Adam, will keep the hometown feel as Bonifay Home Supply becomes MHS Hardware.
"We're not the big box store. When you come in, you know the face; you know the name. You're going to get what you need, when you need it and nothing more than you need," Adam Johns said.
Todd Popham will serve as the store's manager. He has been with the store since 2011 and has more than 30 years of experience in hardware. He formerly worked at Twin City Hardware in Uhrichsville and M & M True Value Hardware in Steubenville. He enjoys working at the store and helping people find what they need to fix a situation or problem.
The store is affiliated with Do It Best, the only U.S.-based, member-owned hardware, lumber and building materials buying cooperative in the home-improvement industry. Because of that connection, anything available at a big box store can be ordered if it is not already in stock. Aside from Do It Best, the store also carries many name-brand products.
"Do It Best has 67,000 products, and that is old," Bonifay said, pointing to a poster on the wall of the office, indicating the wide range of products available. "We have special orders every week."
The Johns family also owns Material Handling Specialists in Uhrichsville, which builds fork lifts. That company has been in business for eight years. They recognize Bonifay Home Supply has been an important part of the community.
"We were looking to expand and diversify; we had all our eggs in one basket," said Kevin Johns, who grew up in the Twin Cities. "We found out Dick's store was for sale. I've known the Bonifays for a long time and thought it would be a good opportunity to expand. And the town needs it."
The Bonifays agreed to stay for eight weeks after the sale took place to make sure the transition goes smoothly. "It's been a huge help," Kevin Johns said.
The store will not make any changes. They want to keep the old hardware feel while providing more services online for those who want them.
"We want lifetime customers; we want to be the place that you know you can go to get what you need," Adam Johns said.
The store is open Monday through Saturday from 8 a.m. to 5:30 p.m. For more information call 740-922-5422.