Book store expanding and moving to new location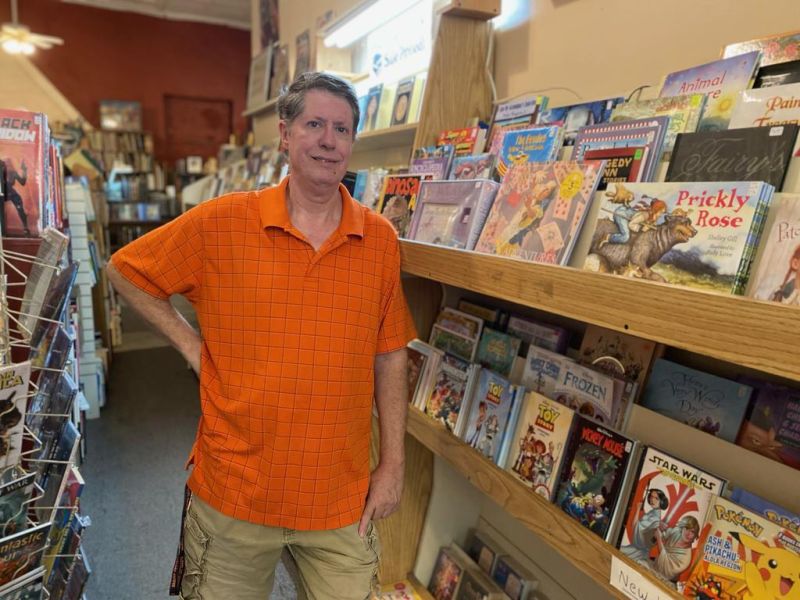 Books-N-Things, in downtown New Philadelphia for more than 15 years and in Zoar for many years beyond that, is moving once again. This time the move presents challenges and opportunities for owner David Croto and his family, who are all involved in the upcoming move.
"We started looking around for a place to move and considered several locations in and out of Tuscarawas County that might work," Croto said. "On balance, we've been doing business here in Tuscarawas County for a long time and felt a responsibility to stay here where we have had so many customers for so long."
Books-N-Things will move just a block away to the corner of Fair Avenue and East High, below the home of Craft Bistro and Lounge. The space, as Croto points out with no trace of worry, is much smaller than the current bookstore.
"We will have the chance to maybe change things up a little bit," he said. "We won't be able to have all of our inventory out all the time, so we will have to specialize a little bit in what we offer and bring some new levels of organization to what we're doing."
Croto has secured storage space nearby for inventory not currently on shelves in the new store, and he plans to increase his online reach by spending more time personally attending to the organization and marketing of books online. "It's something that requires a lot of time and attention, and we should be in a better place to do that now," he said.
The move itself will take herculean effort, as anyone who has visited the store will appreciate. To put things into perspective, the 75,000-80,000 titles that must be moved either to the new store space or into storage likely weigh somewhere around 15-16 tons.
"We're going to need a lot of boxes," Croto said, "and I've ordered more dollies. In addition to the books you see, the basement is full of books not yet out on shelves."
The target opening date is Sept. 1 with the new name, Bookman's Cafe.
Inventory will continue to be some of the most varied of any book shop in the country. "There's something for everybody, literally," Croto said.
The store has always carried rare collector copies that will never be read, along with reading copies in every segment imaginable. Art, literature, religion, cookbooks, classics, travel, history, fiction, biography and how-to are a small fraction of the kinds of books to be found at Books-N-Things. The store carries newly published works, comics and illustrated novels, and a large selection of new and old children's books among those 16 tons of hard and soft cover volumes.
Croto's wife, Shelly, and daughters, Shelby and Courtney, are all continuing to play a role in the store. Shelby Croto is constructing an arch at one of the two entrances to the new store. Protected from weather, the arch will be filled with books, leaving no doubt as to what kind of business can be found inside.
The new store will offer seating and coffee with home-baked treats available, made by Shelby Croto, who also is a pastry chef.
"We will have to be more selective in what is out on the shelves," Croto said, "and we may be a little bit more of a specialty bookstore, but we will still be able to track down just about any title you may be looking for. It will still be a great hometown bookstore, and our customers will recognize us right away. We're trying new things and have a lot of ideas for the new space."
The store is closed for the month of August to make the move. Croto said donations of time and boxes are welcome. See further information at the store's Facebook page.