Business financial impact of recent storm 'in millions'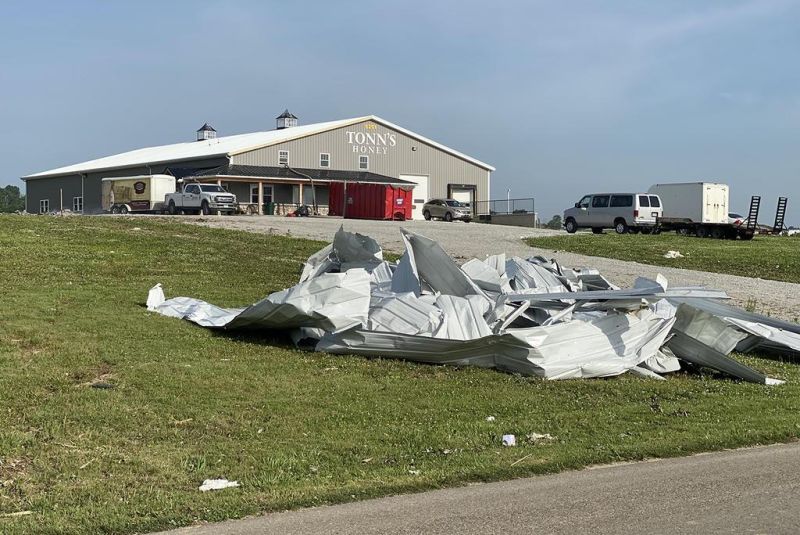 When it comes to keeping a finger on the pulse of Holmes County's economic status, few are more in tune than Mark Leininger, Holmes County economic development director.
On the heels of the derecho that hammered its way through Holmes County on June 14, the economic impact that was created because of the resulting loss of power and damage to businesses is something that will keep Leininger busy for a long time.
He said it's times like this that uncover Holmes County's ability to shine.
"It's usually when conditions are at their most trying that Holmes County is at its best," Leininger said.
Leininger said he has developed a survey for county business owners to complete to try to gain insight into just how far-reaching the damage was and how the county can address the thought of where to go moving forward.
"We distributed to the companies that we work with, primarily manufacturing companies, and we also partnered with the Holmes County Chamber of Commerce," Leininger said.
Chamber of Commerce and Tourism Bureau Executive Director Tiffany Gerber sent out the same survey to all participating chamber businesses including retail and hospitality businesses to get an even greater idea as to the financial burden placed on the county.
Leininger said they have blanketed much of the county's businesses, hoping they would receive a strong response to what he called a simple survey.
"We received a terrific response from the county business owners," Leininger said, noting the number of responses total 92 different businesses from June 15-20. "I was very pleased with receiving that many responses in a very short time period of five days. I think that was indicative of how widespread the damage was, and they wanted that to be known."
The survey was simple and didn't overburden businesses with too many questions. Leininger said what he uncovered was eye-opening.
"Roughly 95% of responses answered in the affirmative to the question, 'Were you impacted,' and I think one business was on a generator, so they were able to continue to operate. Otherwise, everyone is indicating some type of impact from the storm," Leininger said.
He said reported damage included property damage, like obvious damage to structures, trees, driveways, parking areas and things like that, to business interruptions.
While the property damages are critical, what will in the long run be more devastating to the county is the loss of revenue suffered because of the loss of electricity.
Leininger said the damage to area businesses would include loss of sales, both in store and over the internet, which continues to be a growing sector in Holmes County, and a loss of production time and loss of access to workforce.
"For many companies, even if they had power and were able to operate, they didn't have their workers to get in to the facilities," Leininger said.
He said a loss of inventory would play a role.
"We know that it is difficult to quantify the damage, especially now when many people still can't operate, but we asked for an estimate of the damage," Leininger said.
From his responses to the survey, five of the companies assessed they would suffer damage of more than $100,000. One indicated they would lose as much as $400,000 per day.
"The damage won't be measured in tens of thousands of dollars or hundreds of thousands," Leininger said. "The economic impact will be in the millions of dollars."
He said they would continue to work with businesses and update as additional information becomes available, but his consensus was that damages will soar to more than $5 million.
"Estimating the value of loss is a very difficult undertaking," Leininger said. "Loss of sales, inventory, staff production, work hours, workforce accidents and property damage are easier to figure out because they are physical numbers."
What is far less structured is the loss of goodwill from customers who may have been forced to look elsewhere to receive products they normally would have received from area businesses who were shut down and lost production and sales for a significant number of days because of power outages and damages.
Leininger said those types of damages can go on for lengthy periods of time and will require a lot of goodwill and mending fences. He said companies affected by the storms will have to work hard to regain the trust of clients who may have had to look elsewhere to fill orders.
"That's much more difficult to quantify," Leininger said. "In considering that potential loss of goodwill when customers are unable to access things they have bargained for because of the storm damages, it has the potential to create a lasting impact."
Leininger said Holmes County companies are generally very good at treating customers in a respectful manner, and customer service and care are qualities most area businesses thrive on.
Yet there remains that possibility that a business partner might have found another source during the down time, and there might be work left to do in bringing them back into the fold.
"There's an extra burden of repairing relationships that were impacted," Leininger said. "That can take time and may not happen at all if a wholesaler found another viable market that can meet its needs. It has the potential to be a loss for a business if a purchasing company realizes that they can work just as easily with some other company."
Leininger said all of that is speculation, but that makes defining the absolute damages incurred by Holmes County during the storm nearly impossible to put an exact number on.
He said what is covered by insurance for these impacted businesses remains to be seen, and federal aid is still something that has been talked about but is not yet a reality.