Celebrating 75 Years - and counting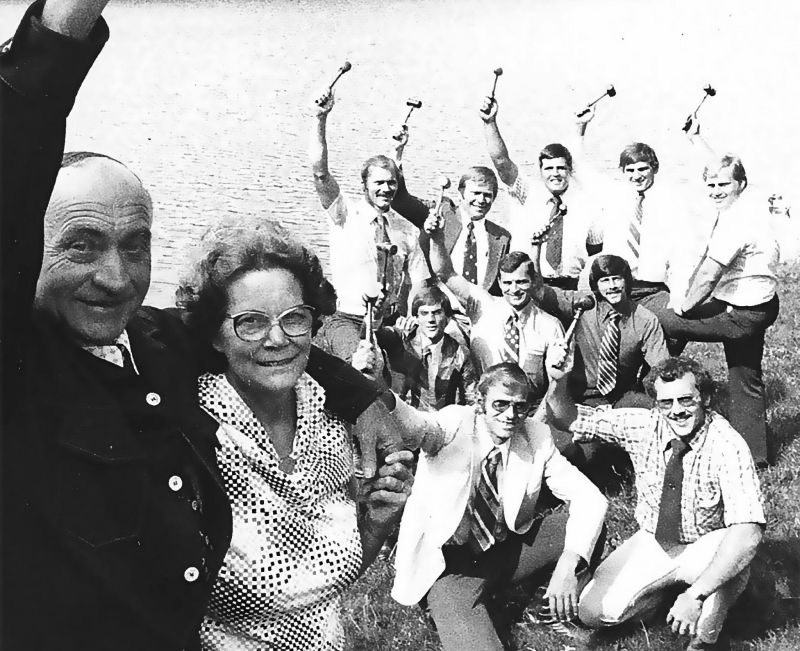 Real estate is personal. Whether you're buying or selling any type of property, the transaction involves more than just a signature on the dotted line.
"We know selling your home, building, land or any real estate is very personal," said Dick Kiko, Jr., CEO of KIKO Realtors, Auctioneers & Advisors. "That's why we hold tight to the value of offering a caring conversation based on integrity and telling our clients the truth."
It's not just about moving in or moving on, Kiko said. It's about helping people make a transition. "Whether we're selling a family estate, liquidating a business for a retired owner or helping a farmer downsize, we put our clients' best interests at the center of the process," he said.
The Last 75
Most people recognize the KIKO name as it relates to auctions. Now in its fourth generation of serving clients, KIKO was started 75 years ago by Russ Kiko, Sr., who opened an auction barn on his family farm south of Canton. A dairy farmer with turkeys on 238 acres, Russ Kiko ran the business with his wife, Coletta, and their 13 children.
Over the years, the company has grown into a full-service auction and real estate sales firm, conducting more than 1,000 auctions and 500 private for sale listings each year and selling everything from personal property and business inventory to homes, farms and buildings.
"Because our expertise includes knowing all the ins and outs of real estate, adding licensed realtors to our team was a natural part of our progression," Kiko said.
Selling by auction
"It's a common myth that only distressed property is sold at auction," Kiko said. "In reality, less than 2% of our auctions are foreclosures or bankruptcies. Our real estate sellers are people who want the power to decide how and when their properties move through the market. We give them that."
"Auctions are an excellent option for selling real estate, land and commercial properties," he said. "Our sellers choose the specific date and time their property will be sold in a public forum, which creates a fair and open transaction. Auctions offer an accelerated form of marketing that attracts anyone interested in purchasing a specific property on a stated date. The bottom line is that auctions drive competitive bidding that draws value for sellers."
Absolute auctions, Kiko said, attract the most interest and potential buyers because the public knows the property will sell to the highest qualified bidder.
"We've learned over the past 75 years that our job is to expose a property to interested buyers and get them to compete. We've figured out how to get you bidders, and we're proud of that."
Selling the traditional way
"We're a full-service brokerage with the advantage of being able to offer our clients a choice," Kiko said. "Sellers can choose to list and sell their real estate through us the traditional way or opt for the auction format. We also offer online selling and buyer representation. Our focus as asset advisors means we give our clients everything they need to make an informed decision about what's best for them and their families."
The growth of online auctions can't be denied, and the convenience of bidding from the comfort of your home is an added benefit, especially in today's environment. KIKO continues to be an industry leader in live simulcast and online only auctions."
"Our industry-leading local reach combined with national online exposure delivers successful auctions and satisfied sellers," Kiko said.
Have it your way
Whether an auction or traditional listing, KIKO meets with sellers to help determine the best way to meet their goals. "We evaluate the current market conditions and give a realistic baseline for the price you can expect to get for your property," Kiko said. "Plus, our exclusive database of bidders and buyers spans more than seven decades and is invaluable to our sellers."
KIKO's specialties include high-end real estate, recreational and agricultural property, vacant land, and commercial, industrial and income-producing properties. They also sell high-end equipment, tractors and collectibles like classic cars and firearms.
As KIKO celebrates 75 years, it remains committed to providing clients with innovative advice, proven success and trusted integrity.
"Although times and technologies have changed, our core values haven't," Kiko said. "The conversation is still important. Of all of our titles, 'advisor' really is the most important one."
Kiko is a full-service auction and real estate company serving Ohio, Pennsylvania and West Virginia. For more information, call 1-800-533-5456. The web address is http://www.kikocompany.com.