Wooster Chamber looking for 'heroes'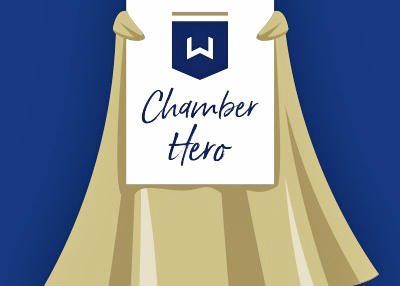 The pandemic has impacted the Wooster business community in an unprecedented way. Now more than ever, businesses need the Wooster Area Chamber of Commerce, and the chamber needs the community's support.
Through the Chamber Hero Program, the Wooster Area Chamber of Commerce is seeking to provide recognition, support and financial assistance to local businesses. Making the commitment to be a Chamber Hero means a small business will have its membership funded for all of 2021.
"The chamber is an important resource for so many small businesses," said Samira Zimmerly, chamber president. "We know that our local business community depends on us to help them, so we wanted to come up with a way to support them. These business owners are our friends and neighbors, and they need our help this year. We would love to have our local community come together to help us give them a boost so that we can continue to be a resource for them."
Chamber Heroes will ensure the community has access to the resources of the Wooster Area Chamber of Commerce, guarantee small businesses have uninterrupted membership in the area's largest business organization and help the community remain strong and vibrant, now and into the future.
The chamber will collect pledges in October with a goal of having 25 members sponsored by Oct. 21, which is Support Your Local Chamber of Commerce Day.
A silver sponsorship supports one small business membership for one year. A gold sponsorship supports up to two small business memberships for one year. Platinum will support three to four small business memberships for one year.
All Chamber Heroes will receive recognition in the Wooster Chamber's newsletter, social-media accounts, Friday letter and on the website.
"The Wooster Area Chamber of Commerce is dedicated to serving our community. If you are in a position to assist us with this, we would love to have your support in helping rise up Wooster," Zimmerly said.
For more information on this program, visit the chamber's website at www.woosterchamber.com/chamberhero.