Cool cats shop Alley Cats Marketplace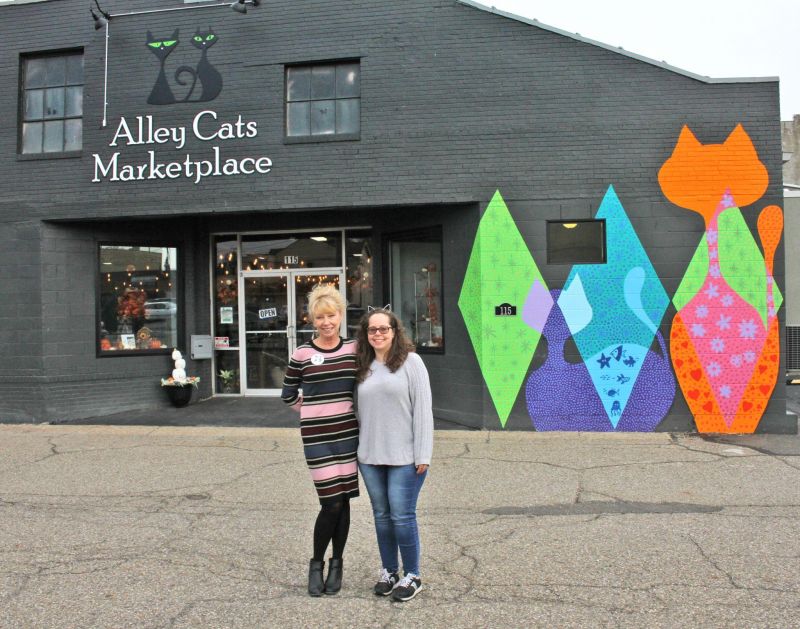 It's one thing to buy a gift with thought or meaning. It's entirely another to purchase one that's also handmade and one-of-a-kind. At Alley Cats Marketplace, you can find all of that — and enjoy a relaxing shopping environment.
"We want our customers to fall in love with the experience of shopping here," said owner Debbie Aubihl-Knisely. "Our focus is on supporting the arts in this community by offering a place for artisans to display and show their wares, and we provide a very customer-focused environment. We want people to linger and not feel rushed. Being here is as immersive as it is peaceful."
And with more than 60 artists represented in the 5,000-square-foot space, the opportunity to linger abounds. Housed within what could have been a non-descript brick building, Alley Cats lives in a modern, funky space. The exterior is painted midnight black and features bright pops of colorful abstract cats.
Inside, a contemporary, warehouse-style space features individual artisan booths highlighting everything from art and pottery to jewelry and clothing, and fresh flowers and local honey.
"The marketplace has been designed to identify up-and-coming businesses and bring them together to represent a unique shopping experience," Aubihl-Knisely stated. "We try to maintain a balance of mixed products so shoppers can find something special each time they visit."
Guests can shop then spend time visiting with friends in the social area, which also doubles as a space for special events. "The space is always open to non-profits for meetings, gatherings and presentations," she noted.
Growing up in Chicago, Aubihl-Knisely played in the alleys with friends and relatives, proclaiming themselves to be alley cats. When she and her husband, Jim, stumbled upon the old Community Hospice Browse and Buy building in a New Philadelphia alley, they decided to purchase it and launch a business dedicated to promoting the arts. The obvious name for the business, Alley Cats, is a tribute to Aubihl-Knisely's past.
"Booth spaces within Alley Cats are rented by individual artists, so you really are supporting local when you buy here," she said. "And with the hustle of the holidays right around the corner, this is the perfect place to discover something unique to take home in an unhurried environment."
Alley Cats is located at 115 Allen Lane SW, in New Philadelphia. The phone number is 330-340-6730. Hours are Wednesday and Friday, 10 a.m.-5 p.m.; Thursday, 10 a.m.-7 p.m.; Saturday, 10 a.m.-4 p.m. The web address is AlleyCatsMarketplace.com.