Crack open the feast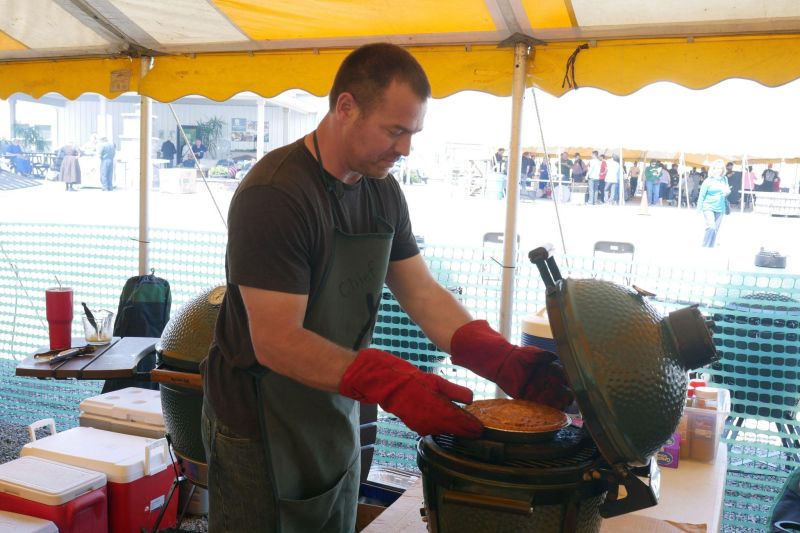 Coalway, with locations in Apple Creek and Charm, is preparing to crack open a day of fun and tasting during its annual Eggfest. This event will happen at the Apple Creek location on Saturday, May 11 and at the Charm location on Saturday, May 18 from 7 a.m. to 3 p.m. at both locations.
"Eggfest," said David Miller, co-owner of Coalway, "is our company's way of bringing together devotees of the Big Green Egg, and of barbecue in general, to share tips, explore new recipes and commune in culinary bliss. This family-friendly event, which draws around 1,000 people annually, will highlight the lifestyle that the wildly popular ceramic cooker promotes."
"If you have yet to taste delicious fare prepared the Big Green Egg way or if you are simply curious about all the hype, then you'll want to come to the Eggfest and take it in for yourself. You will get to taste foods that have been grilled, smoked, baked, barbecued or roasted," Miller said.
During the Eggfest, anywhere from 15-25 chefs with a passion for Big Green Egg cooking will convene to produce delicacies for the masses to enjoy — free of charge. These foods are donated by Kidron Town and Country and Sugar Valley Meats, the two local sponsors of the events.
"We have such a great crowd of chefs," Miller said. "A lot of them come back year after year to share their tips and tricks, and it ends up just being an awesome day for everyone involved. It is our way of thanking the community for its support."
"I have signed up to cook at both locations this year," said Andrew Barnhart, an Egg loyalist who will hold a morning baking class both weekends. "I am excited to be a part of this event once again."
Other Big Green Egg classes will be held as well, like "Breakfast on the Egg" with Leroy Yoder and "Big Green Egg 101" with Mike Anderson.
All the Big Green Eggs being used at the event will be available to buy at a very special price. "If you want one, you'll get in line. They will sell out quickly," Miller said.
However, this is not just a Big Green Egg event. "We will have demos for other products like Yoder Smokers, Meadow Creek cookers, Green Mountain Grills and many others. Our goal is to promote barbecue and a superior culinary experience. We will have a hog roasting demo at 10 a.m., a ribs and brisket demo at 11 a.m., and an open fire steak demo at noon."
The Eggfest events are a part of Coalway's "8 days of Savings," which will run from May 10-18, excluding Sundays. "This is a window of time that you can get a 10 percent cash and carry discount on anything we sell," Miller said. "This excludes coal and fuel, which will still be offered at reduced prices."
Ribs and Wings Benefit for Ohio's Hospice LifeCare
On Friday, May 17, Coalway also will host a Ribs and Wings Benefit buffet at 4 p.m. at its Charm location. This will be a nonprofit event, by donation only, with all proceeds going to Ohio's Hospice LifeCare. The buffet will feature barbecued ribs (courtesy of award-winning Iron Rail BBQ), wings, baked beans, coleslaw, pie (courtesy of Charm Marketplace) and ice cream (courtesy of The Charm Sweet Shoppe).
There also will be a benefit raffle held at the dinner with the proceeds going to benefit hospice. Raffle prizes include a large Big Green Egg as well as other items. The drawing will be held at 8 p.m. at the May 17 benefit, but tickets can be purchased at both Coalway locations anytime up to May 17, including at the Apple Creek Eggfest.

Coalway's Apple Creek location is at 11881 Dover Road (330-857-3096). The Charm location can be found at 4492 State Route 557 (330-893-1005). Store hours for both locations are Monday from 8 a.m. to 5 p.m., Tuesday from 9 a.m. to 5 p.m., Wednesday through Friday from 8 a.m. to 5 p.m. and Saturday from 8 a.m. to 2 p.m.