CSB announces its first-quarter earnings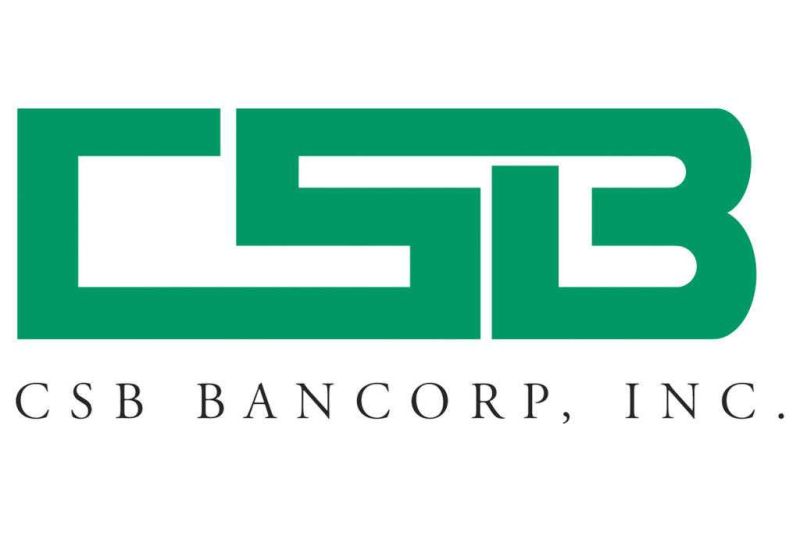 CSB Bancorp Inc. recently announced first-quarter 2020 net income of $2,483,000 or $.91 per basic and diluted share, as compared to $2,540,000 or $.93 per basic and diluted share for the same period in 2019. Income before federal income tax amounted to $3,074,000, a decrease of 3 percent over the same quarter in the prior year.
Annualized returns on average common equity ("ROE") and average assets ("ROA") for the quarter were 11.47 percent and 1.23 percent, respectively, compared with 13.20 percent and 1.41 percent for the first quarter of 2019.
"Revenue declined 3.8 percent on a linked quarter basis," said Eddie Steiner, president and CEO. "While 2020 began with increased loan demand and strong employment, the economic picture reversed sharply as coronavirus wreaked havoc and became the lead story by mid-March. A series of emergency health orders for public safety curtailed nonessential activity and had the effect of shutting down vast swaths of Ohio's economy, resulting in more than 8 percent of Ohio's active workforce filing for unemployment during the last two weeks of March alone."
Steiner said the second quarter also will be a trying period. "We anticipate the second quarter will be very difficult for many small businesses, organizations and households and are focused on working to address the financial needs within our primary market areas during this extraordinarily challenging health crisis. We will maintain and leverage our financial strength to do all that we can to help borrowers, depositors and investors through this trying period."
Net interest income and noninterest income, on a fully taxable equivalent basis, totaled $8.3 million during the quarter, an increase of $23,000 from the prior-year first quarter. Net interest income decreased $95,000 or 1 percent in the first quarter of 2020 compared to the same period in 2019.
Loan interest income including fees decreased $222,000 during first quarter 2020 as compared to the same quarter in 2019, a decrease of 3 percent. Average total loan balances during the current quarter were $10 million higher than the year-ago quarter, an increase of 2 percent. Loan yields for first quarter 2020 averaged 4.92 percent, a decrease of 29 basis points from the 2019 first-quarter average of 5.21 percent.
The net interest margin was 3.67 percent compared to 4.16 percent for first quarter 2019. The tax equivalency effect on the margin remained stable at 0.02 percent in the comparable first quarters.
Noninterest income increased 10 percent, compared to first quarter of 2019, driven by growth in bank-owned life insurance values, increases in debit card fee income and gain on sale of loans.
Noninterest expense increased 5 percent from first quarter 2019. Salary and employee benefit costs increased $126,000 or 4 percent compared to the prior-year quarter as a result of higher wages, medical costs and 401k retirement expenses. The Ohio financial institutions tax increased by $18,000 or 12 percent as a result of increased capital. Marketing and public relations increased by $10,000 or 9 percent, reflecting timing of certain electronic and billboard promotional efforts and the opening of a new banking center. The company's first-quarter efficiency ratio increased to 60.1 percent compared to 57.7 percent.
Federal income tax expense totaled $591,000 in first quarter 2020 as compared to $619,000 tax expense for the same quarter in 2019. The effective tax rate approximated 19 percent in both periods.
Average total assets during the quarter amounted to $812 million, an increase of $82 million or 11 percent above the same quarter of the prior year. Liquidity increased as average interest-bearing balances with banks increased $49 million during the quarter to $76 million as compared to the first quarter in 2019. Average loan balances of $560 million increased $10 million or 2 percent from the prior year first quarter while average securities balances of $126 million increased $15 million or 14 percent as compared to first quarter 2019.
Average commercial loan balances for the quarter including commercial real estate increased $3 million or less than 1 percent from prior-year levels. Average residential mortgage balances including home equity lines of credit increased $7 million or 4 percent over the prior year's quarter. Average consumer credit balances decreased $685,000 or 4 percent versus the same quarter of the prior year.
Nonperforming assets increased $1.2 million from March 31, 2019, to $4.5 million or 0.80 percent of total loans plus other real estate at March 31, 2020. The increase in nonperforming assets resulted primarily from the addition of one commercial real estate facility of approximately $1.5 million. At March 31, 2020, approximately $1.1 million of the nonperforming loan total is guaranteed by either USDA or the SBA. Delinquent loan balances as of March 31, 2020, increased to 0.96 percent of total loans as compared to 0.70 percent at March 31, 2019.
Net loan losses recognized during first quarter 2020 were $74,000 or 0.05 percent annualized compared to first quarter 2019 net loan recoveries of $95,000. The allowance for loan losses amounted to 1.28 percent of total loans at March 31, 2020, as compared to 1.15 percent at March 31, 2019.
Average deposit balances grew on a quarter over prior year quarter comparison by $74 million or 12 percent. For the first quarter 2020, the average cost of deposits amounted to 0.49 percent as compared to 0.55 percent for the first quarter 2019.
During the first quarter 2020, increases in average deposit balances over the prior-year quarter included noninterest-bearing demand accounts of $11 million, interest-bearing transaction accounts of $55 million and time deposits of $8 million. The average balance of securities sold under repurchase agreement during the first quarter of 2020 increased by $293,000 or 1 percent compared to the average for the same period in the prior year.
Shareholders' equity totaled $87.6 million on March 31, 2020, with 2.7 million common shares outstanding. The tangible equity to assets ratio amounted to 10.3 percent on March 31, 2020, and 10.2 percent on March 31, 2019. The company declared a first-quarter dividend of $0.28 per share, a $.02 per share increase over first quarter 2019, producing an annualized yield of 3.2 percent based on the March 31, 2020 closing price of $35.
Cares Act and subsequent events
On March 27 the Cares Act, a $2.3 trillion emergency federal relief bill, was signed into law. The relief effort included an SBA program for qualifying businesses known as the Paycheck Protection Program. At the time of this release, CSB has facilitated more than 450 of these government-assistance loans, aggregating in excess of $81 million with over 75 percent of the approved monies already in the hands of qualifying borrowers.
Additionally CSB has offered loan modifications to its commercial and consumer loan customers to deal with the uncertainty of the economy. A customer can request relief from their total payment or place their obligation on interest only for a period of three to four months. On the date of this writing, CSB has modified $50 million of term commercial loans and $3 million of consumer loans.
CSB is a financial holding company headquartered in Millersburg with approximate assets of $810 million as of March 31. CSB provides a complete range of banking and other financial services to consumers and businesses through its wholly owned subsidiary, The Commercial and Savings Bank, with 16 banking centers in Holmes, Wayne, Tuscarawas and Stark counties and trust offices located in Millersburg, North Canton and Wooster.