Driven to keep you moving forward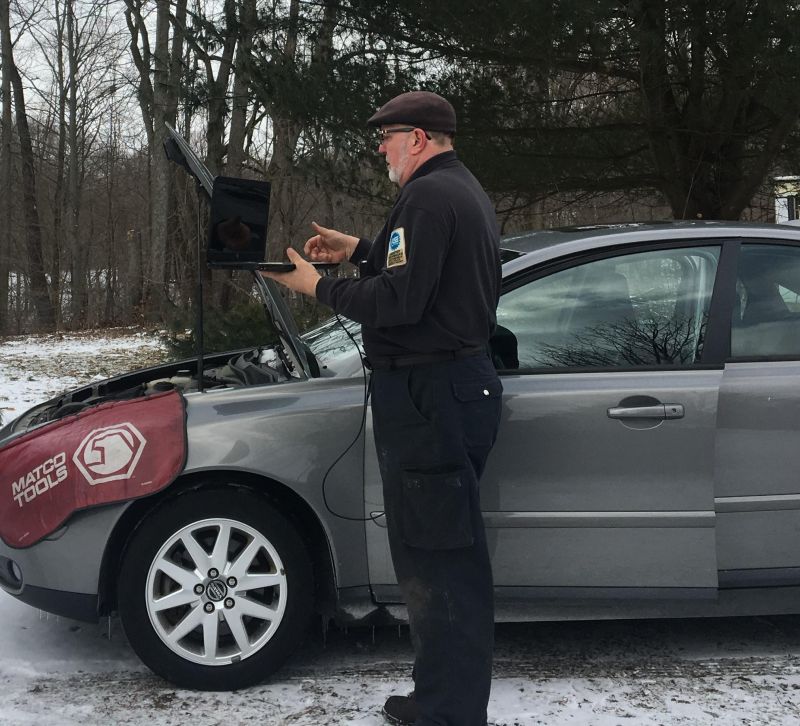 Zipping around town behind the wheel of a sweet, little import might look and feel impressive, but if your car breaks down, you could be faced with an even more striking problem: Who's going to fix it?
As one of the few shops locally with the expertise required to repair foreign automobiles, Ed Loker's Volvos and More stays pretty busy. He also services domestic vehicles.
"Not many shops in this area can do imports and do them well," Loker said from the bay of his home-based vehicle repair shop.
After 22 years in business under his current name, Loker moved away from the hustle and bustle of town last June and relocated to the quiet of the country. "It's more relaxed here but not so far that I can't get any parts," Loker said. "People appreciate the setting and have told me they feel more comfortable here, especially women. I've worked at a number of different shops over the years including the time spent at my own shop, but I like the idea of being able to keep my overhead low so I can continue to provide the outstanding service I've become known for and still offer exceptionally low pricing."
For example, Loker charges just $39.95 for his spring preventative maintenance service. That one-hour review of your vehicle includes a check of your brakes, belts and alternator, a charge of your air conditioner if you need it, any lube application required, and an oil change. It's a remarkable deal, but Loker is quick to point out he doesn't offer sales or specials.
"My prices are very competitive all of the time, and the quality of my work speaks for itself," he said. "I want to provide the very best possible service I can while being fair to my customers. I've earned the reputation I have for treating people right, and I know it's kept me in business all of these years."
And while Loker is a one-man show when it comes to the repair side of Volvos and More, his fiancé, Marcella Geiser, keeps things running smoothly in the office. "We try to please customers by offering the best parts and the highest level of service," she said. "I might be biased, but I think Ed does exceptional work."
People enjoy Loker's friendly method of doing business, but it's his strict adherence to price quoting that really revs their engines. "Nobody likes a surprise when it comes to a vehicle repair estimate," Loker said. "I work within the quoted price, and if I have a problem with that, I'll let you know upfront. I'll also give you tips on how to prevent future expenses. I treat everyone as though they were family and their vehicles as if they were my own."
And while his shop is now housed in a simpler environment, there's nothing stripped down about the equipment Loker uses or his knowledge of the industry. He still operates from a good-sized shop that's packed with the latest equipment. As a master technician, he can tune up a Toyota or rebuild the engine on a BMW.
"I work on every make and model, not just imports," Loker said. "But foreign cars really have my heart."
Geiser said Loker's preference is the face-to-face communication he enjoys with his customers. "He likes to explain what's happening with a person's vehicle so they feel completely informed about the repair he's doing," she said. "And he takes his time. There are no rush jobs here. He performs thorough diagnostics to zero in on the problem, then makes sure the repair is completed properly."
A surprise aspect of the business is the fact that Volvos and More studs tires in the winter, something nobody else offers.
Ed Loker's Volvos and More is located at 18339 Goudy Road in Dalton. You can call or text 330-466-1156 for an appointment or email him at myvolvo780@gmail.com. He services virtually every type of foreign and domestic vehicle.