Drs. VandeVelde & Marcanthony Reunite to Care for Women of our Community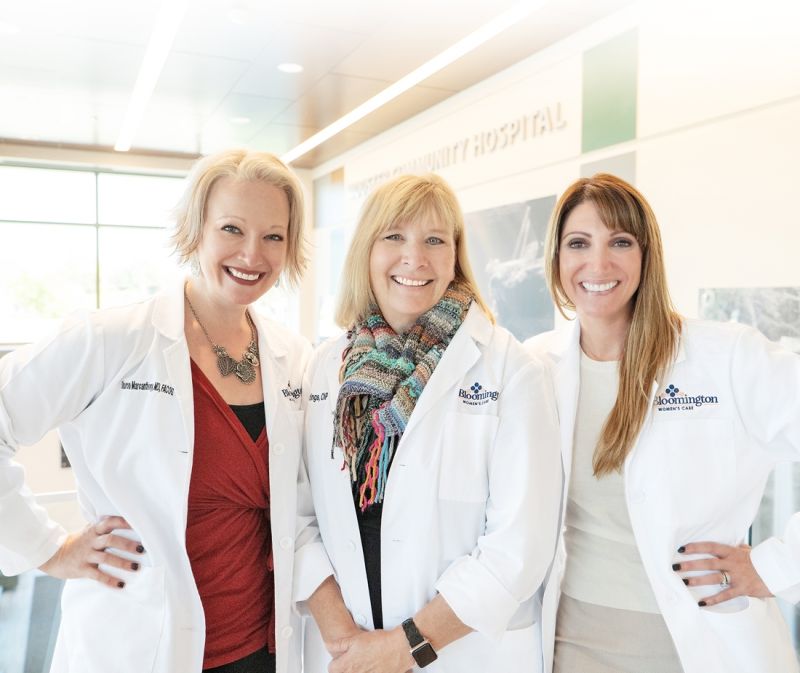 Jennifer VandeVelde, D.O., said she surprised her "best friend in the world" — Dr. Sharon Marcanthony — by accepting Dr. Marcanthony's offer to return home to Wooster.
Dr. Marcanthony was looking to add another OB/GYN to her practice at Bloomington Women's Care and phoned Dr. VandeVelde, who had left Wooster for Winter Haven, Florida four years earlier.
"She said, 'I know you're not going to leave sunny Florida, but I need another partner up here,'" Dr. VandeVelde said. "I told her I would do it, and she said, 'Wait. What?' But it was a no-brainer. All of us — my husband, my son, my daughter — wanted to go back home."
Plus, she said, the opportunity to reunite and work with her best friend made the offer too good to pass up.
Dr. VandeVelde joined Bloomington Women's Care late in October. Bloomington, an affiliate of Wooster Community Hospital, focuses on serving women's health needs for all stages of life.
Before moving to Florida, Dr. VandeVelde lived in Wooster for six years, working with Dr. Marcanthony at another family health center.
"I delivered her babies and she helped me with my health care as well," Dr. VandeVelde said. "We were there for each other for everything. Working with her is going to be like having a friend over for coffee every day."
More importantly for Bloomington patients, she said, is that she and Dr. Marcanthony share a common philosophy of health care.
"We emphasize a caring approach to patient satisfaction and patient safety," Dr. VandeVelde said. "Whether a patient is seeing Dr. Marcanthony or me, the care is going to be consistent and continuous. We are like extensions of one another, so a patient never has to be concerned that her doctor is not the one on call on a particular day. And we've definitely been best friends long enough that we know each other's quirks — when to step back and when to step in."
Dr. VandeVelde said she is excited to return to Ohio, where health care tends to be more advanced than in many other areas of the country. Wooster Community Hospital, she said offers many advantages compared to the health system she left in Florida.
"We pride ourselves on practicing evidence-based medicine, which is something that some other areas of the country might have a hard time doing because of a lack of resources," she said. "For example, where I worked in Florida, if a woman who had had a prior Caesarian section was in labor with her second baby and was seven centimeters dilated, I couldn't allow her to have a vaginal delivery. We would have to rush her back for a C-section because the hospital does not have the resources to support her prior incision. There would be too much risk for rupture. We didn't have blood products. We didn't have 24-hour anesthesia or the supporting staff to understand the risks that can go along with having an emergency that can come with a vaginal birth after C-section. Here in Wooster, we have all of the resources we would need to be able to provide that patient with the best care that is recommended by the American College of Obstetricians and Gynecologists."
Dr. VandeVelde, a native of Westfield, N.Y., went to medical school in Erie, Pennsylvania before doing her residency in Akron. That's where she met Dr. Marcanthony.
"We shared a lot of our rotations together," she said. "We've been friends for 15 years."
Around the time Dr. VandeVelde moved to Florida, Dr. Marcanthony approached Bloomington about adding women's health services to its multiple-specialty practice. The new services began in 2017.
Bloomington sees women of all ages, from adolescent up, and offers cancer treatment, high- and low-risk pregnancies, and robotic and laparoscopic surgery.
Along with the two OB/GYN physicians, Molly Hastings, Certified Nurse Practitioner, works with Bloomington patients.
Bloomington Women's Care is located inside Wooster Community Hospital, just seconds away from the labor and delivery rooms, at 1761 Beall Avenue, Suite 103, in Wooster. You can schedule an appointment by calling 330-202-5662, or learn more about Bloomington's services by visiting WoosterHospital.org, or @BloomingtonWomensCare on Facebook. This story has been underwritten by Wooster Community Hospital.