Expanding the sweet spot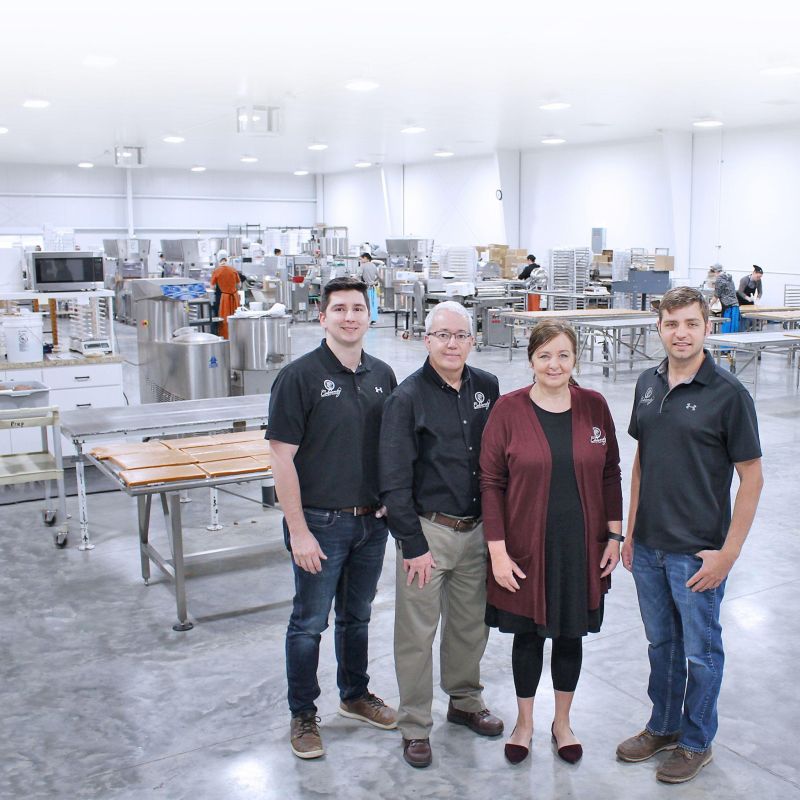 Coblentz Chocolate Co. is ready to take the wrapping off of its new production facility and share it with the community.
And nobody needs a golden ticket.
The local chocolatier is inviting everyone inside its new 25,000-square-foot facility at 2311 County Road 144 in Sugarcreek, 1 ½ miles away from its store and headquarters in Walnut Creek, on Saturday, April 27 from 8-11 a.m.
It will be the community's first and only opportunity to tour the state-of-art candy factory and warehouse and sweeten their social-media feeds with the first batches of chocolate clusters coming down the line.
During the special event, what's called an enrober line will be set in motion. A continuous curtain of chocolate will coat peanut, raisin or coconut haystack centers before the confections are conveyed to a cooling tunnel.
"Our new facility lets us keep up with demand," said Jason Coblentz, president of Coblentz Chocolate Co. "We have a store, but we're also a wholesaler. The new facility is twice as big as the space we were leasing the last few years, and since the new facility meets our exact specifications, we can control the interior temperature and climate down the line."
Coblentz Chocolates Production 2 holds four enrobing lines, one cooling tunnel and has been in the works for some time. Construction began April 1, 2018, and took nine months to complete.
After the demonstration, visitors will be enticed to the warehouse, where refreshments will be served and they'll have their pick of ample samples. Those in attendance will be treated as budding connoisseurs and taught a renewed appreciation for their favorite Coblentz chocolates — sea-salt caramels, pecan snappers, peanut clusters and chocolate meltaways, to pick a few.
"The sea-salt caramels are a salty-sweet combination," Coblentz said. "It's a very delicious, sweet caramel that we coat with chocolate. Before it dries, we sprinkle it with sea salt. It's one of my favorites, and it's one our customers come from miles around for."
And that was Coblentz's hope a little over three decades ago when he, along with his wife Mary Coblentz and brother Mark Coblentz, founded the Coblentz Chocolate Co. in 1987.
"There was nothing like it in the area at the time, and tourism was picking up," Coblentz said. "We opened a shop and produced 40 different types of candy. A couple years later, with the help of my brother, who's in the wholesale business, we were able to connect with stores across Amish Country and soon developed a name and following."
Today, Coblentz Chocolate Co. has grown from three employees to 80 and carries over 100 varieties of candy.
"Quality-wise, we're up there," Coblentz said. "It's good, creamy chocolate, and our dark chocolate is not overly bitter, but it still has a good cocoa flavor."
Coblentz Chocolates has gained a reputation for putting the local touch in business. "We can do customized candy bars for businesses, and we can even do custom molds like centerpieces with a company logo," Coblentz said. "It takes about two to three weeks to make a custom mold and another week to pour the chocolate."
Coblentz Chocolates also does customized party favors for weddings and other events, and gift wrapping is always available.
Three new employees have been hired since the completion of the new facility.
"We have a great workforce in the local community — they're conscientious," Coblentz said. "Over the next few years, we expect to continue to grow in the area. The new facility has room for a sixth line and another three or four employees."
Coblentz Chocolates hopes the community joins the celebration on Saturday, April 27 to mark the occasion with the start of a new line, and if history is any indication, it won't be its last.
Celebrate with Coblentz Chocolate Co. and tour Production Facility 2 on Saturday, April 27 from 8-11 a.m. at 2311 County Road 144, Sugarcreek (near Walnut Creek). Visit the store and headquarters at 4917 Walnut St. in Walnut Creek Monday through Saturday from 9 a.m. to 5 p.m. The phone number is 800-338-9341. Find your sweet spot online at CoblentzChocolates.com.