Feeling tired? Exhausted? Bioidentical Hormone Replacement Therapy at Babbs Family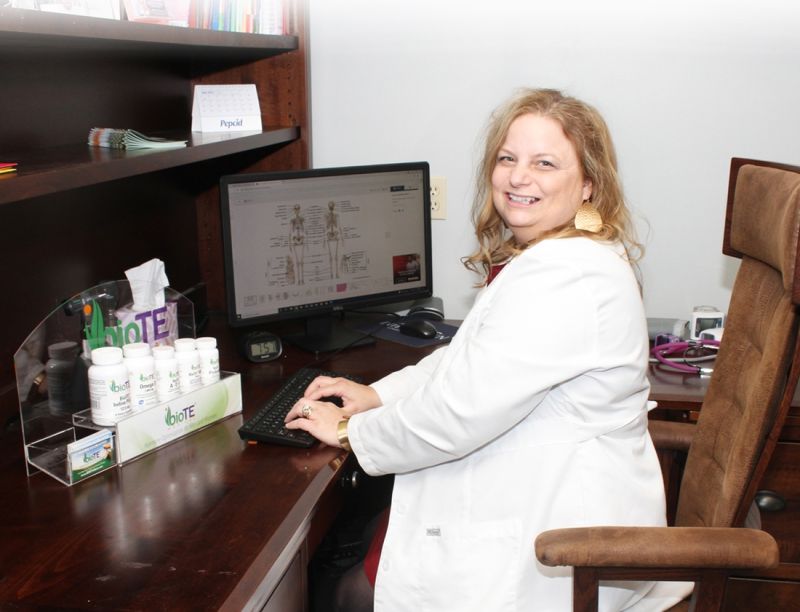 Grace Family Practice is now Babbs Family Practice. The primary care practice is still there for all your aches and pains, especially those we eventually all come to know, the aches and pains of getting older.
In July, Christina Babbs, a family nurse practitioner, picked up where her retired predecessor left off and is now delivering the primary medical care in Millersburg longtime patients have come to expect.
"We don't like to see a symptom and then treat a symptom," Babbs said. "We like to view the patient as a whole — all of their symptoms — and then find a solution."
Even as she renews relationships with existing patients through her Christian-based, person-centered practice, the unique approach to treating the symptoms associated with aging Babbs Family Practice brings is piquing interest in Holmes County and beyond.
Many patients come from out of state for state-of-the-art advancements in bioidentical hormone replacement therapy.
Senescence is the fancy medical term for getting older. As the vitality of youth fades, hormone levels decrease, creating an imbalance. We feel off kilter, sluggish — physically and mentally not as sharp as we used to be.
For whatever ails you, there's a pill out there. While these medications seemingly work miracles, there's only one natural remedy that goes beyond the symptoms to the root of the problem.
Bioidentical hormone replacement therapy is an individually tailored therapy that restores your body's unique chemistry so that you can feel like yourself again.
"It's transformative," Babbs said. "You might want to relieve joint pain, often a symptom of a hormone imbalance, which is likely causing other symptoms, like joint pain, low libido, and brain fog. Soon after starting the therapy, you'll also find that you have more energy since your body can function better."
Hormones regulate interrelated processes in the body, like sleep and mood.
"With bioidentical hormone replacement therapy, you wake up in the morning feeling refreshed," Babbs said. "When you get a better, more restful night's sleep, that affects your mood, which in turn can affect how well you sleep."
Babbs uses the BioTE method to place rice-sized pellets under the skin. Female patients typically receive a treatment every three to four months, while male patients typically only need a treatment every six to seven months.
For some, it's a natural alternative to antidepressants and a range of other synthetic medications, such as those used to treat high blood pressure or cholesterol.
"It's bioidentical, meaning God makes it from what He decides to put in the ground," Babbs said. "Babbs Family Practice uses old-fashioned, time-tested, true ways to deliver state-of-the-art medicine to the community, and reduce some of the need for synthetically manufactured meds."
Babbs makes it her mission, and that of her four-person staff, to treat the whole person with person-centered care.
"Each patient has an individual plan of care," she said. "We don't say your cholesterol is high, write a script, and send you on your way. We take our time to get to know each patient and work with them to create a plan that's best for them. We might prescribe synthetic medicine, such as Lipitor, and suggest a natural medicine and discuss diet and exercise. We bring it all together."
With BioTE, existing patients and new patients have the opportunity to age gracefully.
"I take it, and everybody in the office takes it," Babbs said. "It's remarkably effective, and there are minimal side effects."
Married with four grandchildren, she reported no signs of slowing down.
"Recently, I bungee jumped off the tallest building in Las Vegas," Babbs said. "I love to travel and go zip lining, parachuting, spelunking, scuba diving…anything adventurous. At my age, it's a credit to a good diet and exercise. With BioTE, I plan on staying in action."
Bungee jumping might not be for everyone, but we should all do everything we can to live our best life.
"We're here to serve you and give you the highest quality of individualized, personalized attention," Babbs said. "We treat the whole person with person-centered care. We're ready to create your customized medical plan with you for your best life."
Call 330-473-6314 to reach Babbs Family Practice, located at 7368 County Road 623, Unit B, Millersburg, and BabbsFamilyPractice.com. This story has been underwritten by Babbs Family Practice.