Leadership Holmes class focuses on future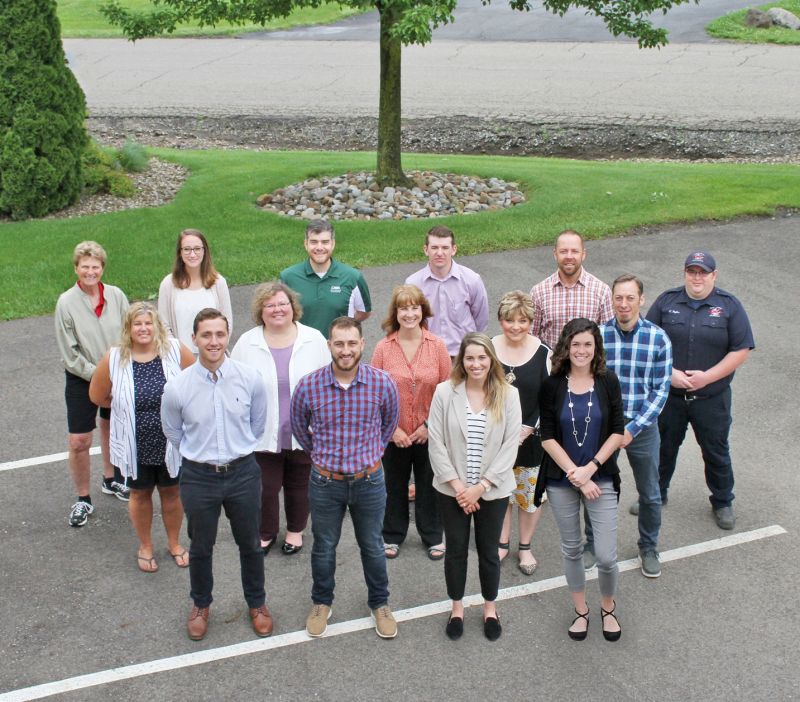 High school seniors weren't the only ones in the area who missed out on a traditional graduation ceremony this year.
The Leadership Holmes County Class of 2020 had its year-long program cut short in April due to the pandemic.
But the 23-member class of locals is still taking the leadership lessons learned back to their businesses and communities.
"This program allows you to see all the sectors of business in Holmes County and gives you a glimpse into what makes this county run," said class member Andrea Miller, category manager at Walnut Creek Cheese. "Getting to meet leaders in all different industries is an aspect of this class that I don't know that you would get anywhere else. You get to hear new ideas and perspectives and get to learn from others."
Miller explained some of its benefits. "It's a great way to network and learn about the community you work in," she said. "It also gives you a new appreciation for this area and the hard-working people that make this county so successful."
Leadership Holmes County began as a project of the Holmes County Chamber of Commerce and Ohio State University's Extension office back in 2000 with the primary goal of promoting overall leadership development in the county.
Each year a new class is selected to meet monthly with local leaders of business, industry, nonprofit organizations and government participating as mentors or guest speakers. The group meets monthly for an entire day, and class formats include lectures, group discussions, field trips and community-service projects.
Leah Miller, who was on the original steering committee when the program was formed, is now its director, a role she's served in for most of the program's existence.
"During the first class meeting, I listen for their interests and why they want to take the class," said Leah Miller, who is assisted by Jan Fuchs. "Then I often introduce materials based on those concerns and interests."
"The amount of resources given to us to read, I really enjoyed all the assignments," said class member Mimi Patterson, supervisor of service and support at Holmes County Board of Developmental Disabilities. "When I'm in a situation to make important decisions, I hope that I can reflect on what I have learned and apply it to the daily operations of our team."
Along with the classroom discussions, members also take a variety of trips around the county. This year's schedule included a trip to Killbuck for lunch at Pizza Parlor and a conversation with owners Jen and Rance Wilcox, who shared about their business and Killbuck; a visit to Mt. Hope and a talk with David Kline, an Amish bishop and editor of Farming Magazine; lunch at Walnut Creek Cheese and a talk with CEO Mark Coblentz; and a roundtable conversation with bankers Eddie Steiner (CSB), Bob Boss (First Knox) and Craig Lawhead (Killbuck Savings).
"Each day has a different focus, and we pack a lot into the day," Leah Miller said. "The classes don't go to the same places every year. We mix it up from year to year. It's a way to share with businesses and organizations about the leadership program too. They are not always aware of the opportunity in the county for this type of program."
Tiffany Gerber had a unique perspective of Leadership Holmes County. Not only is she the Holmes County Chamber of Commerce executive director, but also a member of this year's class.
"Definitely a new or better understanding of the area's heritage, workforce and government and the opportunities and challenges that are both short- and long-term," Gerber said when asked what she took away from the program. "When we, as a community, plan for future retention and growth in population, manufacturing, education, etcetera, it is important that the leadership alumni are armed with a broad-based knowledge of Holmes County in order to help lead."
The Leadership Holmes County Class of 2019-20 included Brandee Alexander, Wayne College; Jonathan Beam, Holmes County Dog Warden; Karl Bear, Cassel Bear; Ray Borell, Dutch Creek Foods; Andrew Brower, Miller, Mast & Mason; Rod Cheyney, AC-WH Career Center; Missy Davis, Holmes-Wayne Electric; Tiffany Gerber, Holmes County Chamber of Commerce; Conner Lee, Weaver Leather; Mike McKelvey, CSB; Andrea Miller, Walnut Creek Cheese; Eric Miller, First Knox Bank; John Miller, Keim Lumber; Mimi Patterson, Holmes County Board of DD; Jen Rangel, Comfort Suites of Berlin; Jason Rohr, Pomerene; Brock Ross, KSB; Moriah Schmidt, White Law Office; Caleb Taylor, Millersburg Electric; Elizabeth Timas, Wallhouse Hotel; Jan West, AloNovus Corp.; Jordan Yoder; Hummel Group; and Wayne Yoder, Keim Lumber.
Leah Miller has already seen many Leadership Holmes County graduates use what they've learned in their respective communities.
The Class of 2020 may not have been able to have a graduation ceremony like in years past, but the impact each member makes will last much longer.
"The success stories are when we see individuals stepping up and volunteering to serve on boards — from hospitals, to banks, to libraries, to school boards and a number of church boards and community organizations," Leah Miller said. "Often, different people will share that they volunteered to be on a board or felt empowered to create a new group to address an issue or problem either at work or in the community. We are part of their journey to grow personally and to stretch themselves."
Candidates for the Class of 2020-21 should have a demonstrated commitment to the community, an interest in assuming greater responsibility, the intention to remain in the county, the full support of their employers and the ability to attend all sessions.
To learn more, email Tiffany Gerber at tiffany@holmescountychamber.com or Leah Miller at leahw.miller0@gmail.com.