For all that moves you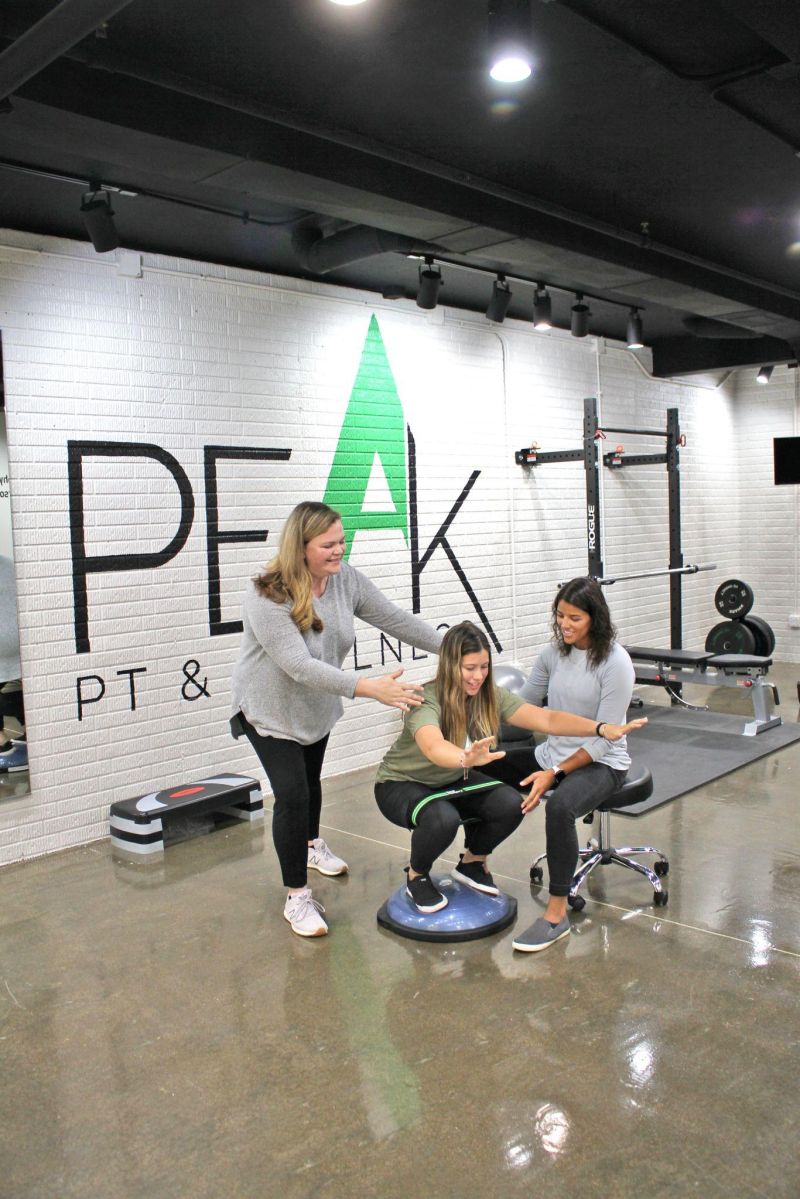 Physical therapy is a field of health care that utilizes exercise to help people move and feel better. Peak PT & Wellness strives to do that and more. The new physical therapy clinic and health and wellness center specializes in "all that moves you," said co-owners Laurel Nippert Miller, PT, DPT, and Schuyler Jones Snyder, PTA.
Peak PT & Wellness opened in late April in downtown Berlin. Its founders took a leap of faith when they returned home and discovered an opportunity to venture into something new.
"Space opened up in the lower level of Tekton Engineering, and we decided to take a leap of faith," Miller said. "We share the same values and have similar visions for what health care can be in our community, and we had to make it happen."
The longtime colleagues share a close friendship along with the experience and special skills to help others reach their physical potential. Miller earned a doctoral degree in physical therapy from The Ohio State University in 2011 and Snyder earned an Associates degree in Applied Science as a physical therapist assistant in 2015 as well as a Bachelor of Science degree in exercise science and kinesiology in 2016 from Shawnee State University.
"It's hard to get one-on-one quality time with your health-care practitioner," Miller said. "For us, service means a friendly face, compassion and developing the best plan to fit a person's needs in their life."
Physical therapists study movement. For many of us, the image of inching along parallel bars in open hospital gowns comes to mind. While the work physical therapists do in hospital settings is nothing short of miraculous, physical therapy works miracles in people's day-to-day lives too.
Physical therapy can alleviate back and shoulder pain and knee and ankle pain brought on from aging or youthful exuberance. Its purpose is to promote functional independence, whether you're recovering from major surgery or feeling minor aches and strains.
"Physical therapy is for everyone — student-athletes, people with Parkinson's disease, and people who want to get on the floor and play with their grandchildren," Miller said.
Miller and Snyder established Peak PT & Wellness for "all that moves you" and used their combined knowledge and expertise to create a one-of-a-kind health and wellness center. Additional treatment options include trigger point dry needling, cupping, RockTape therapy, ultrasound, ThermoStim and NormaTec compression therapy. It's a source for custom orthotics as well.
In short, they can put together a personalized action plan for whatever gets you out of bed in the morning.
"We encourage any sort of movement, and one of our passions is developing individualized exercise regimens," Snyder said. "We base the prescription not only on what people can do to build strength and alleviate pain, but also on what they like to do."
You won't need to wait for a doctor's referral to start toward your personal goals and aspirations under Ohio's direct-access laws.
"With the exception of Medicare, we do not directly submit claims to insurance companies, but we do provide our clients with detailed receipts to submit to their healthcare providers," Miller said."Health care is at a breaking point — premiums are going up, and the coverage is going down. We set affordable rates to provide our patients with the best care."
Physical therapy can help people recover from surgery, and sometimes it can even save them from the need for surgery at all. For some, it's a non-invasive treatment option. One thing is for sure, though: Physical therapy helps prevent injury.
The Sportsmetrics ACL Injury Prevention program is clinically proven to reduce the rate of knee injuries by 70 percent, a record of success that Miller and Snyder proudly and passionately share with their community.
"Kids are never going to start slowing down when it comes to sports, and if there's a way we can implement a decrease in injuries, we're going to bring that to them, instead of pushing them to step out of sports," Snyder said.
Both the founders of Peak PT & Wellness believe in giving back to the community, and for them, it's an act of faith that starts young athletes off on the right foot.
Schedule an evaluation by calling 877-791-PEAK (7325). Peak PT & Wellness is located at 4805 E. Main St. in Berlin and online at PeakPTWellness.com for "all that moves you."