Get back on the road today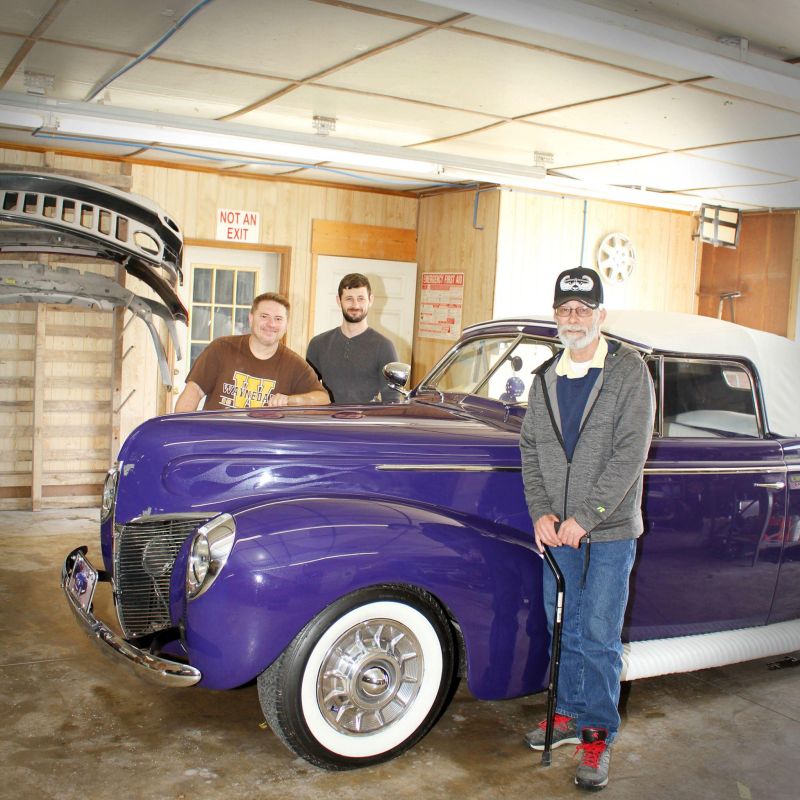 If you're involved in an auto accident, your insurance company will likely veer you to a DRP, a "direct repair shop," where the insurance company gets a lower rate in exchange for sending more volume to the shop. It's a ploy that most vehicle owners are not aware of.
But the truth is, you get to decide who repairs your vehicle, not the insurance company.
"It's a myth we fight every day," said Tom Conley, who founded Millersburg's Winning Edge Body Shop along with his son, Andrew, both military veterans. "Even if the insurance company says you must use their DRP, it simply isn't true. We're here to save you money, not the insurance company."
Tom and Andrew are so committed to helping their customers that they'll even pay your deductible up to $500. "We understand that many people just couldn't get their car fixed if they had to pay the full deductible," Tom Conley said. Contact the body shop for program details.

Brakes and More
The Conleys started Winning Edge three years ago. Tom was a steel structural specialist in the U.S. Army, which gave him valuable training and experience that put him on his 34-year career path. He's an auto body man, straightening steel frames that seems impossibly contorted. Plus, he's raced motor cross, dragsters, and East Coast Modified racecars, but he no longer gets behind the wheel himself. While in the Army, Tom was injured in a parachute jump.
His son Andrew, is a combat vet who was stationed in Germany, then Iraq and Afghanistan. Together, the father-son duo has made their new body shop a success to the point that they've added a new mechanic, Brian Hensel, and are now offering mechanical repair, including brakes, wheel bearings, oil changes, electrical, suspension, timing belts, alternators, starters and radiator leaks.
With the addition of Hensel, Conley said, "We can even provide same day car repairs in a lot of cases, depending on the job."
But they don't do everything, including front-end alignments. They've elected instead to save their customers money by not investing in insanely expensive alignment machines or scanning consoles that drive up overhead.
"We're really just downhome boys," Tom Conley said. "We're not trying to make a bunch of money. We try to help people out as best we can. We're cheaper than most places. We fix rust when others won't touch it. And we try to save people money. Our customers trust us."
Full-service Body Shop
The shop, however, does feature all of the necessary collision repair equipment—including a hydraulic frame machine—to repair even significantly damaged vehicles. And they use all PPG products, one of the nation's top brand of paints, and a computerized mixing machine to achieve the perfect color. And whenever possible, they insist on Original Equipment Manufacturer (OEM) parts.
Tom is certified in paint, collision, structural repair, air conditioning and more, and he and Andrew regularly attend additional training to stay on top of the industry.
Know Your Options
At Winning Edge, you can actually talk to the technicians working on your car so they can give you insight into what's going on. "We allow our customers to have input in how their car is repaired," Tom Conley said. "We show you everything, discuss your options, including how much you want to spend. There are almost always different options. Some folks come in and say, 'I just want brakes.' Well, there are variations even in that, depending on how you drive, how long you plan on owning the vehicle and the vehicle's age. We see our customers as our friends and we'll do anything we can to save them money."
Expert Deer Collision Repair

Have you or someone you know hit a deer recently? In the past 12 months, the staff at Winning Edge Auto Body has repaired dozens of vehicles that were involved in collisions with deer. Get your vehicle repaired and save up to $500 off your deductible.


Winning Edge Auto Body does auto body, paint, collision work, restorations and more. Find them at 374 South Mad Anthony Street, in Millersburg. For a free estimate, call 330-674-1687. For more info, visit WinningEdgeAutoBody.net.