Guggisberg honored with Small Business Award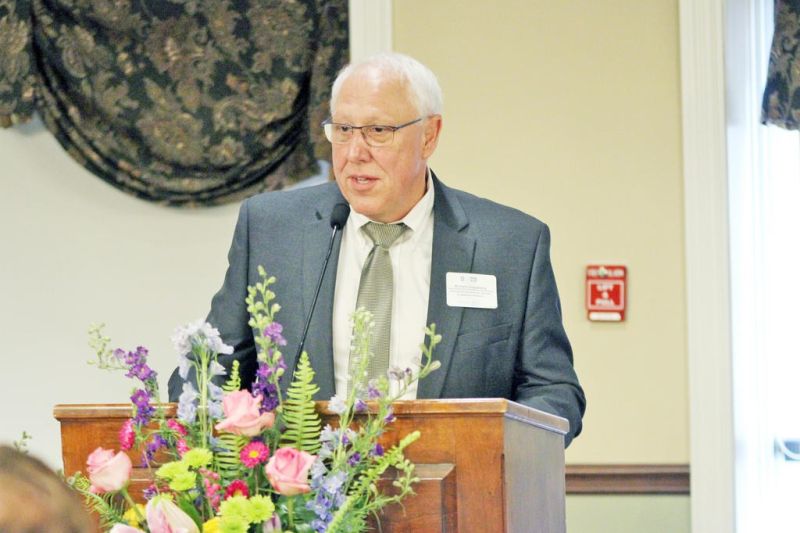 Guggisberg Cheese keeps producing award-winning cheese, and the honors continue to come in for the Holmes County business.
The most recent honor was the Eastern Ohio Development Alliance Small Business Award that was presented to owner Richard Guggisberg on Friday, April 26 at the annual EODA meeting at Carlisle Village Inn at Walnut Creek.
Guggisberg Cheese was nominated for the award by Mark Leininger, executive director of Holmes County Economic Development Council.
With 16 counties from which to choose, the committee that picks the annual EODA awards has its work cut out for it.
Among the divisions up for the awards are manufacturing, small business, technology and tourism.
"It is a very tough task to cut it down to our winners," said Jim Schock, EODA executive director. "In respect to Guggisberg Cheese, Mark Leininger nominated them, but we were so impressed with the awards they have won. They are number one, not only in the United States, but in the entire world. They have won international honors, and that puts them in very rare competition."
Schock said a member of OMEGA and Buckeye Hills joined him to pick the winners.
"We were fortunate again to come up with some very unique and worthy winners," Schock said. "This is such an uplifting meeting because we do get to honor some incredible businesses."
Joining Guggisberg Cheese as a Small Business Award winner was Battle Horse Knives in Guernsey County, and the Manufacturer Award was given to Ludowici Roof Tile of Perry County. The Technology Award was presented to Stewart Glapat Corporation of Muskingum County while the Tourism Award was awarded to Historic Roscoe Village of Coshocton County.
Since the turn of the century, Guggisberg Cheese has amassed more than five-dozen awards that range from local, to this year receiving the first-place ribbon for Baby Swiss and Premium Swiss at the U.S. Championship Cheese Contest, to its crowning achievement of a first-place finish in 2016 in Premium Swiss at the World Cheese Championship.
"It is an honor to be nominated, and to receive the award is humbling," said Ursula Bennett, Richard Guggisberg's daughter and marketing coordinator for the company. "I think the biggest reason we continue to be so successful is that we aim for quality, from the 100 percent grade-A milk that we use to make our cheese to our hard-working, dedicated employees who pour themselves into their work to continue to create quality cheese. Their commitment makes these awards possible, and we are grateful for each and every award because they spur us on to strive to continue to make great cheese."
Leininger said Guggisberg Cheese is difficult to categorize because of its diversity. He said it could be considered retail, perhaps a tourism business or even a manufacturing company.
"The company's iconic Doughty Valley facility, fashioned after a Swiss chalet, has been a favorite tourist destination and a prized thread in the fabric of the local community's identity," Leininger said.
He went on to note that the company's generosity in the local community has made it a great example of giving back.
"If the hallmarks of business excellence are innovation, longevity, growth and quality, then it can be said without hyperbole that Guggisberg Cheese epitomizes excellence in all aspects of business," Leininger said as he welcomed Richard Guggisberg to the podium to accept the EODA award.
No stranger to speaking after accepting an award, Guggisberg took the opportunity to specifically address U.S. Sen. Rob Portman, who was the keynote speaker for the event.
Guggisberg told Portman he appreciates his zeal for the many great businesses in Northeast Ohio and in Amish Country in particular, but he hoped he would take this opportunity to deliver a message.
"I hope you take this opportunity to remind your esteemed colleague from Wisconsin that although they make the most cheese, we make the best cheese," Guggisberg said.
He then took on a more serious note in thanking EODA and the committee members who selected them for the honor.
"It is an honor and a privilege to accept this award on behalf of all of the hands and hearts who produce our products," Guggisberg said. "It is wonderful to be a part of this community and experience the growth throughout these years."