Holmes Chamber aggressive in leading county forward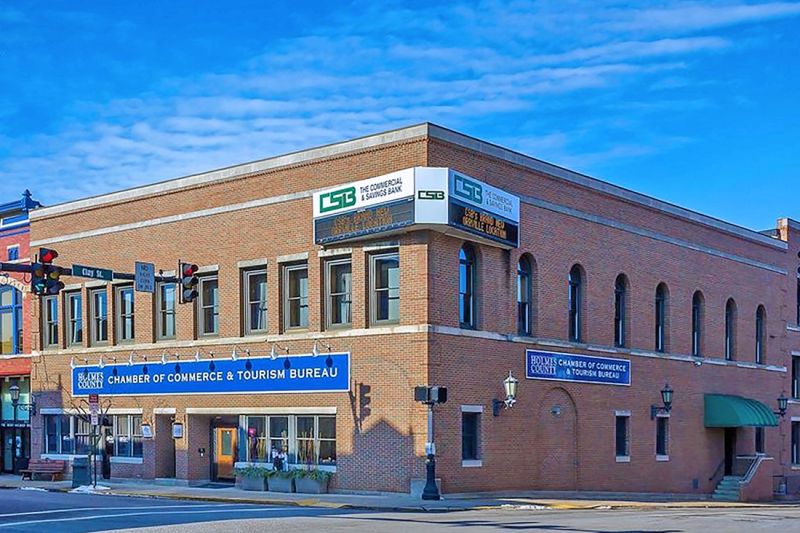 The Holmes county Chamber of Commerce and Tourism has taken on a key role in leading the county's people, businesses and organizations into each new year. The chamber has taken on the mantle of promoting the many positives Holmes county has to offer to those within its own borders, throughout the state and beyond, helping the county's economy flourish.
As chamber executive director Tiffany Gerber begins her second year after taking over for long-time director Shasta Mast, she and her staff have taken a four-pronged approach to pursuing their goals for 2021 and beyond, and that approach is big and bold.
"We had our visioning session with our board last year, and we are planning some very big things," Gerber said.
What came out of that vision created by the board was a four-pillar approach to 2021, including include tourism, leadership, incubation and membership.
"It was a good way to compartmentalize some of the things we wanted to accomplish," Gerber said.
The tourism focus includes a new website that allows chamber members to log on and continually update their own personal information as it becomes readily available. That allows the site to contain the most current versions of each of its members.
"It is going to give the website a fresh look," Gerber said.
Gerber said they are also increasing the marketing buys for the county and the chamber. She said 2020 did allow them to experiment on advertising during a time when many advertisers were dormant, including radio in the Columbus market.
The chamber is retooling its newsletter and Gerber said Shannon Carter, the chamber's brand manager, is committed to bolstering the chamber's social media presence.
"These are big steps forward for us," Gerber said. "We are creating video content for our website and YouTube channel and we're putting a lot of eggs in the social media basket."
The second pillar of creating leadership within the county is something the chamber has been involved with through Leadership Holmes County, but Gerber said they have a far more extensive goal moving forward, including connecting with the schools, creating a bridge from LHC graduates to the community at large and helping them build a rapport with community members.
"Developing leadership continues to be a crucial part of the growth of Holmes County, and we want to take a bigger role in developing that leadership," Gerber said.
The third pillar is incubation, which is growing partnerships between the chamber and the many businesses of Holmes County. Gerber said working together, developing relationships and building brand marketing will be beneficial for everyone involved.
"Our goal is to bring similar industries together to create some broad branding that focuses on Holmes County as a whole," Gerber said.
Other focal points will be education and infrastructure, and other areas that will help the county grow and prosper.
The final pillar will be developing membership. Gerber said that included connecting with business leaders to figure out what programs are needed to support the county and what programs and services are currently offered that could be updated or replaced.
"Much of that is simple interaction with the members to get their input," Gerber said. "That will include current, past and potential members. We want to be there for them so their voice can be heard."
She said this pillar also included educating the members as to what types of opportunities are out there, including tourism and manufacturing.
Gerber said investing in the community is something they believe will be a big part of their mission.
"We spend a lot of time talking to people outside the area about all of these great things we have to offer here in Holmes County," Gerber said. "We want to remind folks of who we are and what we have set as our goals moving forward. Shasta did so much so well, that she set this platform for us to just keep moving forward."
Gerber said she had grand plans heading into 2020, however COVID-19 put an end to many of the priorities. Some of the projects the chamber did complete included creating new websites for both the chamber and the tourism bureau, hiring staff to complete a well-rounded team and increasing marketing outside the area. Those objectives have set the table for what she hopes will be a prosperous and effective 2021.
The Holmes County Chamber of Commerce and Tourism is located at 6 West Jackson Street in Millersburg. To learn more call them at 330-674-3975 or visit the website at holmescountychamber.com.