Holmes County Chamber Medium Business of the Year: Mast Farm Service built a dream on a foundation of faith, family and hard work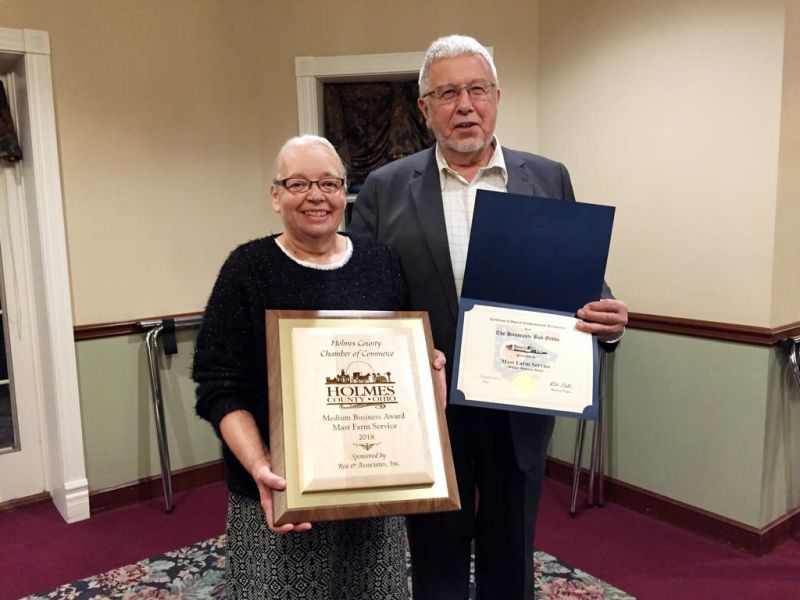 While tractors, parts and fabricated metal are littered throughout Mast Farm Sales of Walnut Creek, it isn't the metal that makes the company a success, but rather the flesh and blood and the spirit of the people who make up the company that have allowed Eli Mast's dream to become a reality.
"Eli's passion for design and fabrication stimulated visions of a future beyond the farm," said Brian Kempf of Rea & Associates, who presented the Holmes County Chamber of Commerce and Tourism Medium Business of the Year award at Carlisle Inn at Walnut Creek on Thursday, Nov. 8.
Mast and his family accepted the award, and Mast humbly gave credit to his family, his employees and most of all to God.
"It has been a privilege to be a businessman in this community, where we can exercise our faith, our values and many other areas in the marketplace," Mast said.
Kempf said Mast, who grew up on a farm, bought his first welder at the age of 14 and began working at Horrisberger Implements soon after. That was just the beginning of the story for Mast, who in 1985 started Mast Farm Service as a one-man farm equipment repair business, which achieved his dream of owning and operating his own business.
Well, make that a two-person business because Mast's wife Arie joined him in his new endeavor, and the two worked together to make their ascent to what is now a company that employs 40 people.
"For four or five years we were a small business of two people," Mast said. "Arie's duties were that of secretary. She did accounts receivable, accounts payable, dispatching, customer service, was the go-fer and was also the collecting agency. There were rough times and good times. There were failures and rewarding times."
Kempf said in 1990 Mast recognized the need to create an opportunity for area farmers to purchase custom-made tractor parts, and with encouragement from business colleagues, he took that next step in the evolution of his business by expanding his operations to include custom fabrications. He continued to grow, and in 2002 he purchased Horrisberger Implements and moved his main store to the site located just west of Walnut Creek.
Growth has continued to be a big part of the success story for the Masts and their employees. The company now supplies local and national businesses with custom metal fabrications, equipment replacement parts, loader attachments, hydraulic overhead doors, commercial building material, rails, steps and steel components for furniture. In addition the company also produces tractor parts for John Deere, International Harvester and Oliver tractors.
"Mast Farm Service continues to thrive through diversified production, partnerships with local industries, [its] reputation for quality and commitment to a faith-focused, family-run business," Kempf said. "For Eli faith and family are the most critical components of his success. He said the success of Mast Farm Service is a blessing, and he extends that blessing into his mission work abroad in areas including Haiti, Australia, China, India, Thailand and Laos."
That venture into mission work has included drilling wells for clean water, the construction of churches and schools, and agricultural projects, all of which include an outreach into sharing God's word.
Kempf also said while Mast's joy of designing continues to shine, he has already put in place a plan to bring in the next generation as he transitions the business to his children.
"The most value I would place in the business is our family," Mast said, "but then also the management and sales team. I put a lot of confidence in our team, and that has been a key to the growth of our business. A business is never built by one person but by a team, and that has been the success of our business."
Mast said his skilled employees and leadership team do things he could not dream of doing, and he trusts them to do what they do best.
Finally Mast said he was grateful to the many people in the community who have stood by him and his family, utilized their services, and been loyal to them throughout the years.
"Thank you all for your backing and helping us all these years," Mast said.