Holmes County man puts creative ideas into action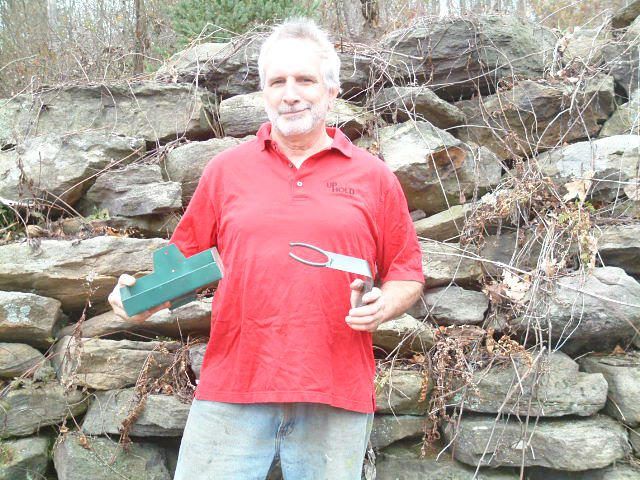 Mark Tillack knows a thing or two about usefulness. The originator of the popular Repair Café, on hiatus as of now in Holmes County, he finds caring for things makes them last longer. He also knows proper storage and functionality of an item makes for less stress. When an idea strikes him, he doesn't sit on it; he puts it to work.
Not long back Tillack bought a weed whacker from a local Holmes County business. When he unpacked it and looked for a place to hang it up in his barn, he found he couldn't find a way to store it that wasn't bulky and awkward. Always creative and looking for solutions, the wheels in Tillack's brain started to turn into an idea he couldn't lay down.
Getting down to business, he first fashioned a hanger that would accommodate the string trimmer and its shape. Seeing it worked beautifully, he created a tray to hang that would hold the extra string and accessories. He knew the hanger and caddy would save much time and frustration for any owner of a string trimmer. The kicker was he knew people needed this.
Tillack researched and found there was no custom bracket like the one he had designed, so he refined the details, and after working to form a business plan, he researched local manufacturing options. Finding an excellent local manufacturer was very important to him. Local companies thrive when they look to each other for solutions and ways to keep growing. Finding a manufacturer to take on his product, the new e-commerce business Markmade Products was born. It offers its very first item to the public, The Uphold Hanger and Caddy System. Tillack also will find and use a local Holmes County company for order fulfillment.
Tillack found many people say things break too easily. To combat this, his design is made from indestructible solid steel, allowing the Uphold Hanger and Caddy System to put everything in one place. This will allow efficiency and less time wasted searching for things that are scattered throughout storage areas.
When asked if he has always been an inventor, Tillack said he has a passion for design, having built his own semi-underground solar-powered home using earth-friendly, recycled materials. A woodworker by trade, repairing and inventing creative ways to live have always been important to him. He enjoys taking ideas he has and bringing them to life.
As far as plans to expand to other products in the Markmade brand, he said he has ideas in the pipeline. For now he plans to focus on getting the message out far and wide about the Uphold Hanger and Caddy System. He believes in the simplicity and usefulness of a well-made product, a Markmade product, and in passing it along to the public.
You can find the Uphold Hanger and Caddy System at www.getuphold.com, where there are several variations of hangers to choose from along with the caddy.