Holmes Manufacturing bends the industry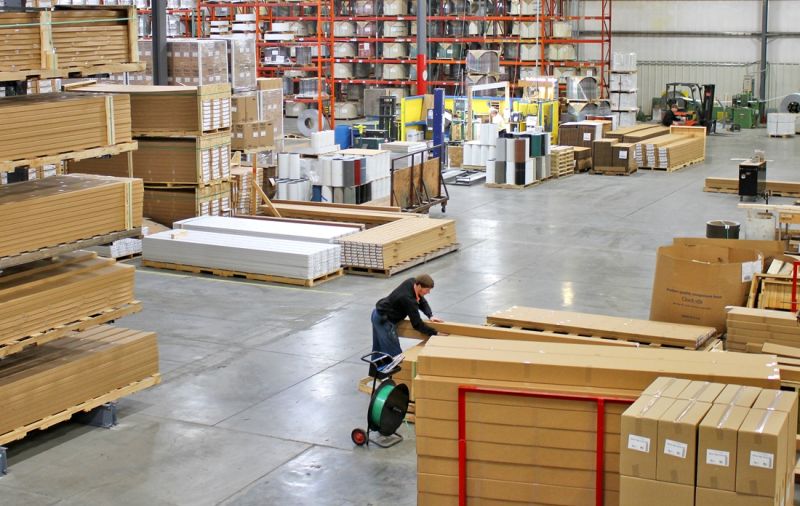 James Coletti recalled the days when employees at Holmes Manufacturing hand-bent long aluminum strips into trim, drip edges and other home exterior products to be installed on the next day's siding jobs. Using pre-bent pieces, instead of bending on the job site, made siding installation more efficient and saved time for Holmes Manufacturing's sister company—Holmes Siding Contractors.
Today, Holmes Manufacturing's bending shop uses machines to produce most of their products while still hand bending the custom bent aluminum products for customers as far away as Florida and Colorado, said Coletti, the company's national sales director.
The company's rapid growth has created new career opportunities as Holmes Manufacturing is looking to add positions to its Killbuck manufacturing plant.
"We're looking to bring in some people who share our community values and want to grow with a company that they can eventually retire from," Coletti said. "We provide some really nice benefits, like health insurance, 401K matches, paid vacations, and a paid day off on your birthday. Community and family are very important to us, so we like to do little things like bringing in pizza to celebrate the birthdays of the month. Although we are very concerned with, meeting our customer's deadlines and producing the best quality products, we are also concerned with our workers' personal lives. We want them to be able to provide for their families and live meaningful lives."
Holmes Manufacturing evolved from what started 31 years ago as a three-man siding installation crew and a truck. The manufacturing business was formed to supply aluminum pieces to the installation company that became known as Holmes Siding Contractors.
Coletti said part of what makes Holmes Manufacturing unique is that many of its products were designed by installers to be installer-friendly. "We use all H28 aluminum, which is a harder aluminum than most manufacturers use, and many of our products have unique features," he said. "For example, we're one of the very few companies that make an aluminum JF channel for the vinyl siding industry. We also have a lot of colors that coincide with the metal roofing industry."
At the beginning of the installation business, Coletti said, the goal was to be able to side a house per day.
"As business expanded, the need for pre-bent materials began to grow and grow," he said. "At first, farmers and other people were hand bending the materials in their own barns, but there came a time where it was no longer feasible to have it offsite. So, we moved the hand bending in-house to our own warehouse. As we continued to get busier, we brought in roll formers that produced the pieces a lot quicker."
About six years ago, Holmes Manufacturing moved into a leased 30,000 square foot building in Holmesville. The company outgrew that facility within a couple years and moved into its present 60,000 square foot plant in Killbuck.
While the strong construction market in recent years has been essential in driving demand for Holmes Manufacturing's products, Coletti credits God for the company's success.
"There is no such thing as a Christian company, but we like to strive to be a company that creates an environment where people can be gainfully employed while maintaining their convictions and values," Coletti said. "When you live by certain principles in this world, things work better for you. We live by a hard work ethic, integrity and service."
Anybody interested in learning more about starting a career at Holmes Manufacturing can call 330-231-6327. Holmes Manufacturing is located at 110 Straits Lane, in Killbuck. You can learn more by visiting HolmesManufacturing.com. This story has been underwritten by Holmes Manufacturing.