Honey Bee Café celebrates the seasonality of food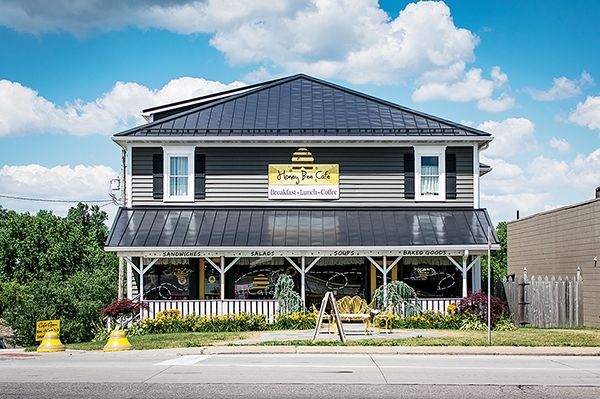 Sugarcreek's Honey Bee Café offers made from scratch, healthy, mid-western inspired fare and is open for breakfast and lunch.
The Honey Bee is a gathering place for friends and families. Settle in for a satisfying meal or come by for a cup of great coffee and a piece of Honey Walnut Baklava, a house specialty.
Whether you have time to stay and relax for a while or if you need a dozen meals to go, the Honey Bee family will be ready with exceptional service and the freshest food.
"I think consumers are more health conscience these days," said owner Kathy Kimble. "With so many dietary allergies and people wanting to be healthier I think they want to know what's in the food they're eating. Using fresh, local ingredients isn't just a trend. People have been growing their own produce and shopping at farmers' markets for years. I think what's trendy is people are talking about it now. We strive to source as much of our ingredients from local suppliers as possible.
Honey Bee offers only homemade soups. "We get a lot of compliments on our soups and we're very happy we can say we know everything that is in them," Kimble said. "We make our own bone broth and that allows us to offer more of our soups gluten free as well because there's no artificial ingredients or added thickeners."
Honey Bee features a variety of fresh salad choices including Walnut Cranberry Chicken Salad, Beet and Feta Salad and Barbecue Chicken Salad all made fresh and served with Homemade Strawberry Bread.
"We also offer a variety of sandwiches and wraps ranging from a half pound cheeseburger to a turkey club," Kimble said. "If you're in the mood for something a little more unique we have our Chicken Panini or a Bacon Apple Grilled Cheese. And we just can't wait for peaches to be in season for our new Honey Peach Grilled Cheese Sandwich."
The Honey Bee opened for business in July 2015 with a focus on farm to table casual cuisine that celebrates local farmers and producers and the seasonality of food.
"We get all our meats and cheese from Swiss Village Bulk Foods, and our produce comes from Sweetwater Farms and Boltz Family Farms," Kimble said. "Our raw honey is produced locally by Bosler Honey. It's important for us to stay loyal to our vendors and to support them."
Other local suppliers include Buckeye Country Creamery and Alyssa's Healthy Donuts.
While the Honey Bee closes briefly each year in late fall, their baklava is always in season and is available year-round to be shipped anywhere.
The Honey Bee Café is located at 993 W Main St., Sugarcreek. Reach them at 330-852-3663. Café hours are Monday-Friday, 10 a.m. to 3 p.m. and Saturday, 9 a.m. to 3 p.m.