Huntington Insurance makes move to Crawford Place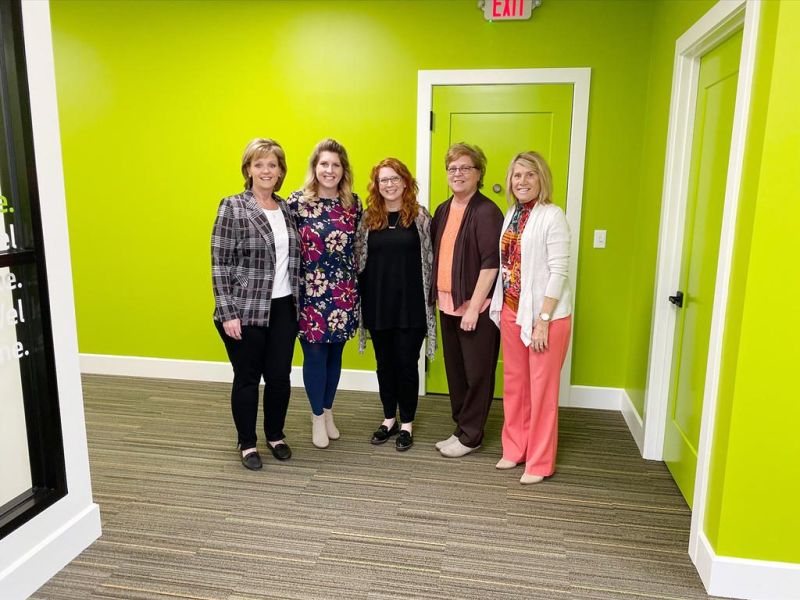 When Kaufman Realty & Auction built its new Crawford Place building in downtown Millersburg, the hope was the new facility would entice other area businesses to join them in creating a hub of successful businesses to call Crawford Place home.
It didn't take long to entice one such area business into the fold.
For many years Huntington Insurance has resided at 212 N. Washington St. in Millersburg. However, when the opportunity arose to settle into a new building at Crawford Place, located just east of the courthouse in Historic Downtown Millersburg, the company relished the chance to design part of that building to suit its own needs.
On Tuesday, Nov. 9 during the official ribbon-cutting ceremony welcoming Crawford Place into Millersburg, the staff of Huntington Insurance was there to celebrate.
"We are super-excited about the move," Sasha Taylor-Smith said. "We are in the downtown area right now, but we are a bit off the beaten path. With our new facilities here, we have a lot more visibility, and the brand-new space is beautiful."
Taylor-Smith said they knew their lease at their current place was going to be up at the end of this year, and they started to search for available space. She said they knew they wanted to stay in Millersburg, and while they sought a new landing spot, Taylor-Smith said they kept hearing people tell them to check on a new opportunity to move in at Crawford Place, which was in the process of being built by its trio of investors: Dave Kaufman, Anthony Kaufman and Curt Yoder.
While Crawford Place was created as a new home for Kaufman Realty & Auction, the plan was to build a facility that would become home to other prosperous downtown Millersburg businesses. Taylor-Smith said discussions began, and it soon became apparent Crawford Place was going to be an ideal fit for Huntington Insurance.
"A number of people kept telling us about this new building, and we were fortunate to get in on the front end, and we are excited about being a part of the Crawford Place family," Taylor-Smith said.
She said Huntington Insurance's corporate team handled all the design work connected to creating the new look for the company's portion of Crawford Place and had a project manager who worked directly with the Crawford Place building manager from Ivan Weaver Construction.
Holmes County Chamber of Commerce and Tourism executive director Tiffany Gerber said seeing the growth taking place in the downtown area amidst what has been a rebirth of Historic Downtown Millersburg in recent years is exciting and shows Millersburg and Holmes County continue to present opportunities for businesses.