Innovation in serving customers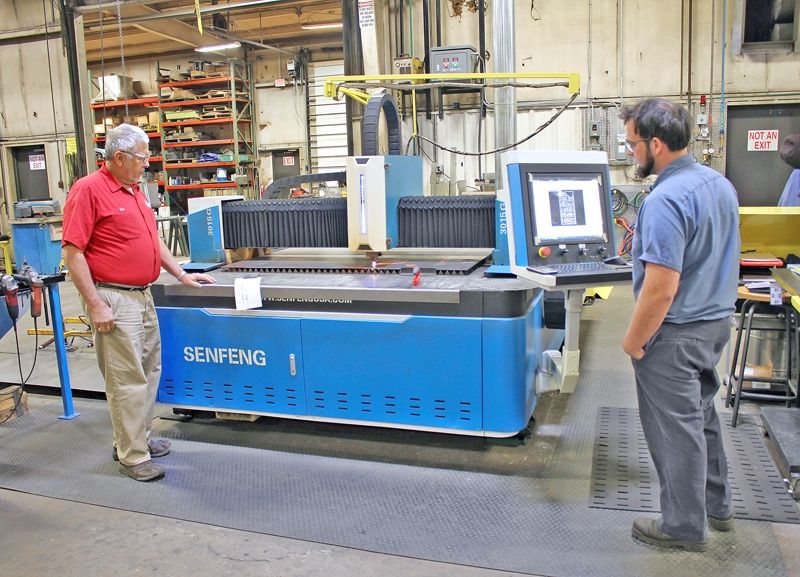 Eli Mast was a young teen when he witnessed the benefits of farm machinery.
"I was farming with horses," said Mast, owner of Mast Farm Service, a family-operated business that is celebrating its 35th anniversary this year. "I watched my neighbor go up and down with his little Massey Ferguson tractor, doing four times as much work as I did with my horses. That didn't really take too well. So I decided that I wanted to get involved with designing and making machines like that. I bought my first welder when I was 14, took some welding classes and went from there. I was always mechanically inclined, and welding fulfilled a passion that I had."
Mast Farm Service in Millersburg offers custom metal fabrication, skid-steer attachments, metal building materials and overhead doors to customers in Northeast Ohio and beyond. Mast said he is now "semi-retired" and has generally left the company in the capable hands of his sons-in-law, Mike Yutzy and Leon Hershberger.
"Turning the business over to the next generation will give me more time to do mission work," Mast said.
Along with Mast's passion for design and fabrication, he and his wife, Arie, share a passion for missionary work. The couple, he said, has been spending most winters spreading the Gospel, drilling wells for clean water and helping to build churches and schools in Asia, Australia and Haiti. They weren't able to schedule a trip this year. Mast said he believes that was a part of God's plan.
"I guess the Lord had a reason for us to stay home," he said. "It turns out that with the coronavirus, we're fortunate that we didn't get stuck in another country."
Currently, Mast said, he continues to work on a project to help modernize farming in Laos, where crops like rice, corn and beans are primarily planted and harvested by hand.
"A couple of us are trying to come up with some kind of mechanical harvester that is in their price range," Mast said.
That inclination to help farmers to be more productive was the focal point of the business Mast started in 1985. At first, he was a one-man farm equipment repair business. By 1990, recognizing local farmers' need for custom-made tractor parts, Mast expanded into custom fabrications. He continued to grow, and in 2002 he purchased Horrisberger Implements and moved his main store to the site located just west of Walnut Creek.
During a November 2018 ceremony that recognized Mast Farm Service as the Holmes County Chamber of Commerce Medium Business of the Year, Mast recalled the early years of the business that now employs more than 40 people.
"For four or five years we were a small business of two people," he said. "Arie's duties were that of secretary. She did accounts receivable, accounts payable, dispatching, customer service, was the go-fer and was also the collecting agency. There were rough times and good times. There were failures and rewarding times."
Among the products Mast Farm Service manufactures for local and national businesses are:
• Equipment replacement parts.
• Loader attachments.
• Oversized hydraulic overhead doors for farms and airports.
• Commercial building material like rails and steps.
• Steel components for furniture.
• Steel beams for residential construction.
In addition, the company produces tractor parts for John Deere, International Harvester and Oliver tractors and metal table components for Five Guys and Wendy's restaurants.
"I give the Lord all of the credit for our success," Mast said. "The Lord has blessed us in a marvelous way. When I started the business, my main aim was to be independent and also to provide employment within a Christian environment."
Mast Farm Service is located at 3585 State Route 39 in Millersburg. Hours are Monday through Friday from 7:30 a.m. to 4:30 p.m. You can find more information by visiting MastFarmService.com or calling 330-893-2972.