Joining Forces for elevated dental care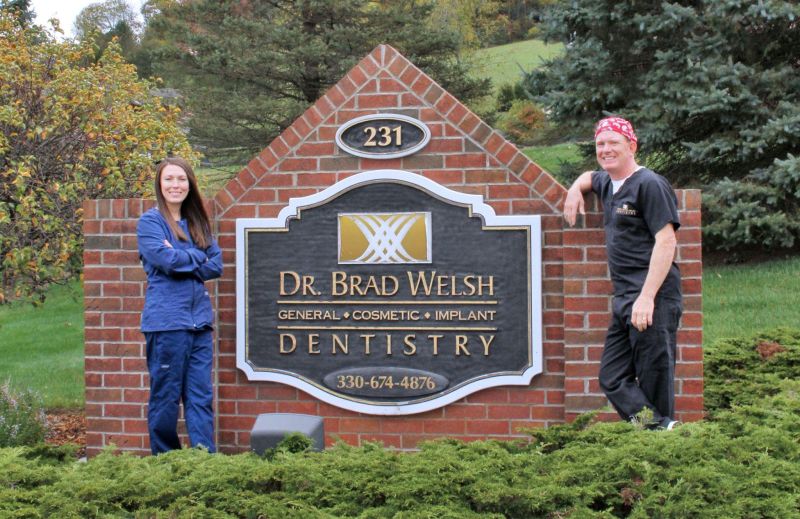 After 26 years as a solo practitioner, Brad Welsh, DDS, said he has found the perfect partner to help care for his dental patients.
Dr. Emily Reusser, a Shreve native, joined Dr. Brad Welsh Dentistry in August.
"The community will love Dr. Reusser," Dr. Welsh said. "The similarity between my career path and hers — 20 years later — is astounding."
Like Dr. Welsh — a West Holmes High School graduate — Dr. Reusser grew up in the area, graduating from Triway High School. Both dentists graduated from the Ohio State University School of Dentistry and received advanced certificates in sedation dentistry from Miami Valley Hospital.
"Dr. Reusser has been practicing for four years and was fortunate to qualify for the National Health Service Corps., which provides healthcare services in underserved communities," Dr. Welsh said.
Dr. Reusser's expertise in sedation dentistry is one of the many benefits she will bring to the office, he said.
"Sedation dentistry is one of the things we have been known for," Dr. Welsh said. "We now have two dentists who are licensed to provide a wide variety of surgery and other procedures for patients who prefer to have them done while they are under sedation. Sedation dentistry is becoming increasingly popular."
Dr. Brad Welsh Dentistry offers a full array of services that includes everything from routine examinations and preventative dental care to oral surgery and braces to emergency care.
"Our goal is for our patients to have healthy, beautiful, functional and pain-free mouths," Dr. Welsh said.
The addition of Dr. Reusser has allowed the practice to see more patients, with less wait time to schedule an appointment, Dr. Welsh said.
"We're now open Monday through Friday, eight to five, straight throughout the year, except for holidays," he said.
Adding a dentist also has allowed Dr. Welsh to remain independent, bucking the trend of corporate dental practices whose volume-based business models may conflict with the personal care that he said his patients deserve.
"We're not on a quota that requires us to see a certain number of new patients every month," he said. "We're only here to provide people in our community with the dental care that they need."
Dr. Welsh said that has been his goal since he began to serve the community 26 years ago. A year after joining his father's practice — which had served the community since 1962 — he took over upon his father's retirement. In 2003, Dr. Welsh built his current office, which combines the latest technology with extensive continuing education training in TMJ, dental implants, crowns and bridges, periodontal therapy, endodontics, dental radiology and dental practice management.
"I have invested heavily in the best technology, such as 3-D imaging that provides better diagnosis, planning and predictable treatment of root canals, extraction of wisdom teeth and implant surgeries," he said. "We have 3-D scanning and milling technology that allows us to provide crowns and bridges in a single appointment, which is beneficial to somebody who wants to be sedated. In the past, we would prepare a tooth for a crown or a bridge and have a temporary made, then the patient would have to come back and get it cemented. Somebody who is sedated doesn't really want to come back a second time."
Dr. Welsh said the addition of Dr. Reusser to the practice followed an extensive search.
"I was adamant about bringing on somebody who our current and new patients could trust as much as they trust me and the rest of our staff," he said. "Dr. Reusser has already built an excellent reputation in her career, and I'm looking forward to collaborating with her — and mentoring her about what I've learned over nearly three decades in practice."
Dr. Welsh and Dr. Reusser both are Aultcare providers for surgeries.
You can schedule an appointment or find more information about Dr. Brad Welsh & Associates by calling 330-674-4876 or by visiting DrBradWelsh.com. The office is located at 231 Parkview Drive in Millersburg. This story was underwritten by Dr. Brad Welsh & Associates.