Keeping Trucks Road Ready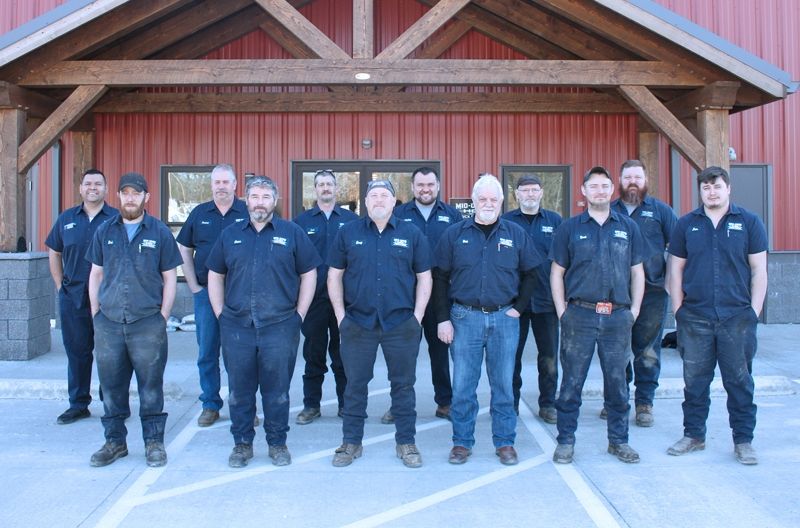 In the trucking business, time is money. That's why drivers and operators need to keep their trucks running at top performance and ready for the road at all times.

Phillip Botha said he understands the importance of reliable, skilled diesel mechanics. After starting his bulk hauling business, Botha Trucking, in 2013, Botha trusted Greg Opliger and Duane Troyer, owners of Mid-Ohio Diesel, to keep his fleet running.
In September 2020, Botha purchased Mid-Ohio Diesel, which has been renamed Mid-Ohio HD Truck Repair — the HD stands for "heavy duty" — and moved the operation into an expanded new facility in Fredericksburg.
"We are a small, family-owned company where everybody is treated like family," Botha said. "We have a new location, but we still have the same familiar faces inside. Greg is still running the shop and continues to provide the same outstanding service that customers have come to expect. Duane is running the parts department."
The new 24,000-square-foot facility has 10 service bays and 10 skilled technicians. Mid-Ohio HD specializes in medium- to heavy-duty truck repair of all makes and models.
"We do everything from simple service to engine rebuilds and everything in between," said Mary Opliger, Greg's wife, who has joined the company.
After working at another diesel shop, Greg Opliger and Duane Troyer started Mid-Ohio Diesel in 2014. Botha Trucking became their largest customer.
"I started as a one-man show working from my house, and the business gradually grew into a fleet of about 80 trucks," Botha said. "Mid-Ohio Diesel did an excellent job for us. They maintained our fleet very well and kept us running."
When Botha purchased a property to build a new headquarters for his trucking business, it made sense to bring the repair service into the fold.

"It's a good fit," Botha said. "Greg and I both worked hard to build our businesses. I made him an offer, and we went from there. We're just normal people who understand the needs of smaller companies and people who are out there trying to make a living. The bottom line is that we're here to help. We want to provide good service, maintain good relationships and make sure our customers are happy with what we do."
Mid-Ohio HD services fleets as well as individual trucks, Mary Opliger said.

Mid-Ohio HD has mobile service trucks to take care of drivers who break down on the road, and the company partners with Rigs Towing & Recovery of Millersburg to provide tow service. Although Mid-Ohio HD services drivers who have emergencies while passing through the area, the bulk of its customers are local, Botha said.
"We try to get involved and support our community as much as we can," Botha said. "We sponsor Little League Baseball and support the schools. The fire department has come to use our pond for training exercises. My wife (and co-owner) Josie helps out at the Waynedale High School on a weekly basis. It's important to do what we can for the kids and the service men and women of the community."
The company's services include:

• Fleet service.
• Engine overhauls.
• Computer diagnostics for semis and pickup trucks.
• Transmission replacements.
• Brakes.
• Oil changes.
• Alignments.
• King pins and differentials.
• Driveline work.
• Suspension work.
• Exhaust work.
• Electrical work.
• Forced regenerations. DFP cleaning.

Mid-Ohio HD Truck Repair is located at 8140 Fredericksburg Road, 4 miles south of Route 250 on County Road 501 in Fredericksburg. You can schedule maintenance or repair by calling 330-695-2445. This story has been underwritten by Mid-Ohio HD Truck Repair.