Kropf Title & Escrow at new location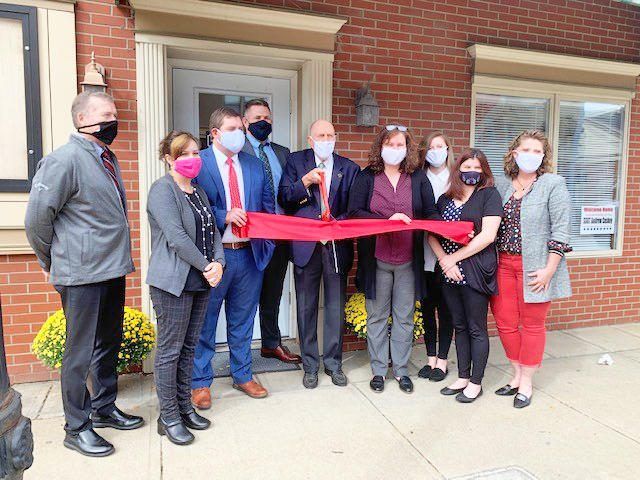 Kropf Title & Escrow has relocated to a new location at 133 N. Main St., Orrville. The Orrville Area Chamber of Commerce and Mayor David Handwerk celebrated with law firm partners, associates and the title office staff in a private ribbon cutting on Sept. 30.
Kropf Title & Escrow is the title agency for Kropf Wagner Law Firm LLP. The partners of the law firm are John Kropf, Cheryl Kirkbride and Melissa Craemer Smith, with over 87 years combined legal experience. Jason Groh and Joe Reed are associates with the firm.
Kropf Wagner Law Firm LLP was established in 1940 and has actively provided real-estate services and a full menu of legal services since its inception. In 2008 the firm decided to rebrand its real estate closing business as Kropf Title & Escrow. The title office was previously located on West Market Street.
Earlier this year Brown's Furniture had an opportunity to expand its footprint in Orrville. To support the growth of another local business, Kropf Title & Escrow relocated its office from West Market to North Main.
"We love our new space," Craemer Smith said. "Don Downs provided construction services for us, and he did a wonderful job. Adam Hanzie of Wiles Hanzie Realty also helped us to locate our new office. We invite clients to stop in and see us."
Elizabeth (Liz) Ubelhart and Stacy Safarik serve as escrow officers. Services offered include real-estate title and escrow services to buyers, sellers and lenders. Specifically, Kropf Title & Escrow performs and provides title searches, escrow services, purchase agreements, real-estate closings and various other real-estate services.
Learn more about services provided at www.orrvillelaw.com.