Lifelong friends open Soul Sisters Cafe in Zoar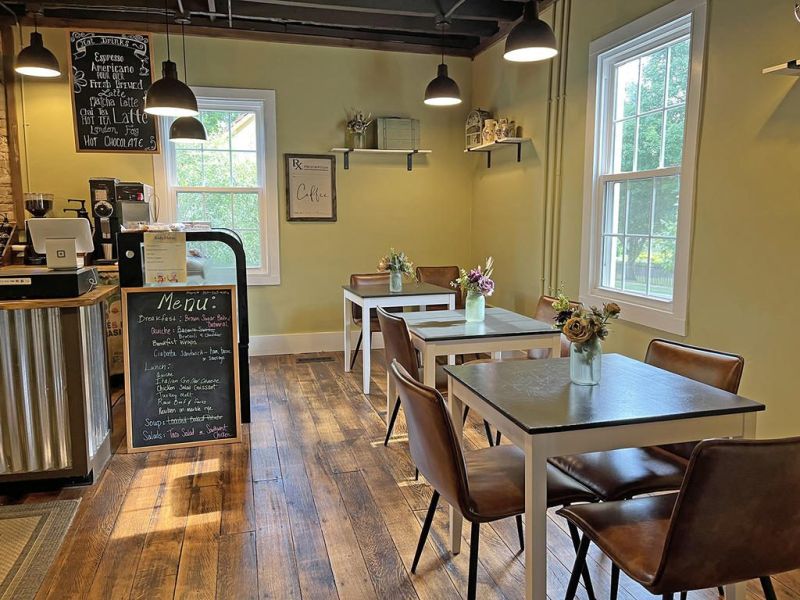 Kelly Walker-Gill and Brenda Eberly are not sisters, but they may as well be. The longtime friends have opened Soul Sisters Cafe in Zoar in the same house that was previously occupied by the Tin Shop Coffee House.
"Brenda and I have been friends since first grade," Gill said. The two attended different schools but met in Sunday school at the Grace Brethren Church in Wooster.
Gill grew up in town, and Eberly grew up on a farm. "I would stay at her house in the summertime, sometimes a week at a time," Gill said. "She loved it because she would get to sleep in. I loved it because I got to milk cows with her parents and bottle-feed the calves and ride horses, four wheelers and tractors."
"And when I went to her house," Eberly said, "I got to do girl things. She'd curl my hair, and we'd take bicycle rides or go to the lake and water ski. We just had very different lifestyles."
Both women were adopted. "Hence, our name, Soul Sisters," Eberly said. "We're not biologically related, but our faith, our families and our similar humble beginnings make us sisters."
As they grew older, the two went on to live separate and very different lives. They reconnected when Eberly asked Gill to help her with her parents' 60th wedding anniversary, in which Gill served as the master of ceremonies.
A life's dream
"I had always thought I either wanted to run a bed and breakfast or a cafe," Gill said. "My first thought was to find a vintage camper we could convert to a food trailer. We found one in Eastern Pennsylvania, and I hauled that sucker home in a blizzard last year. But when my husband and son were helping clean it up, we took off the For Sale sign, only to find it was hiding a huge hole."
Fortunately, the Tin Shop Coffee House in Zoar was for sale, and the soul sisters moved in. The cafe offers breakfast and lunch and has just introduced a kids menu. Various baked goods are always available including scones and baked doughnuts, prepared from scratch at the cafe.
"We always have yogurt parfaits with fruit and granola as grab and go items," Gill said. "We've also done overnight oats, and the pecan pie baked oatmeal is very popular."
The coffee
In addition to attending barista classes, Gill and Eberly tasted a number of coffees available from local bean roasters before settling on Baltic Coffee Company.
"We liked that they are Christian people and they are confident about putting their story of faith out there," Gill said. "They also have amazing coffee."
The cafe also offers a variety of specialty drinks including chi lattes, matcha, tea and lemonade.
"We've had several ladies luncheons in the gathering room," Gill said. "Other people come here just for the quiet and to do work on their computers."
"We want this to be the place where people come tell us about the good news and let us listen to the bad," Eberly said. "The food is just a medium."
Both women said they have experienced a warm welcome in Zoar. "We've had nothing but open arms from people here," Gill said. "There are people I get hugs from and those that stick their heads in the kitchen, and you develop those relationships with people."
Soul Sisters Cafe is located at 395 Main St. in Zoar. Hours are Tuesday through Saturday from 7 a.m. to 3 p.m.