Local Roots celebrates 9 years in the community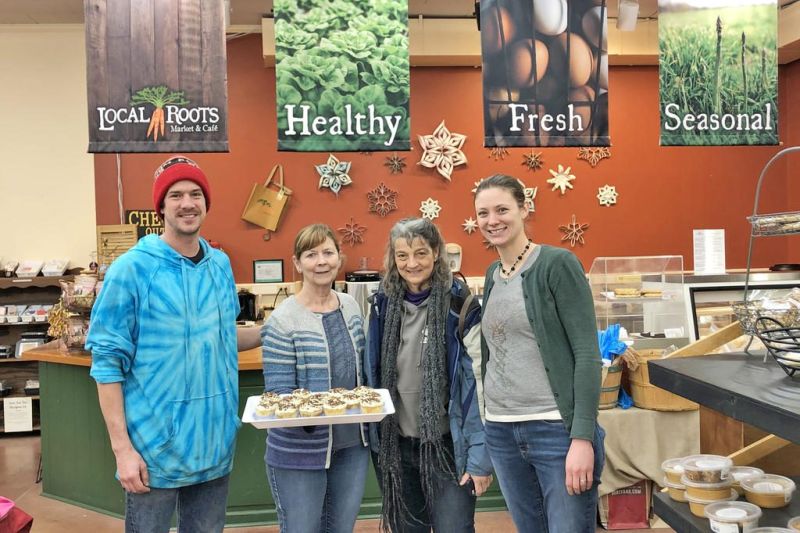 On Saturday, Jan. 26 Local Roots Market and Café will mark nine years of connecting Wooster's consumers with seasonal and sustainable foods and crafts from more than 275 local farmers, bakers, cheese makers and artists from its South Walnut location.
The Birthday Party at Local Roots will feature free carrot cake baked by Betsy Anderson, founding member of Local Roots and owner of Betsy's Bake Shop, one of the many local food producers that sells at the market.
The day also will feature lunch prepared by Friends in the Kitchen, a mix of friends of the market and cooks working together to make dishes using seasonal ingredients from the market.
Other events include live music and singing a special birthday song written by board member and musician Susan English.
Local Roots volunteers will have a special card-making station where friends can make a handmade card to be displayed in the market in honor of the occasion.
The market will be open regular hours, and most activities will take place starting at 11 a.m.
Part indoor farmer's market, part grocery store, part artisan's gallery, and part café and kitchen, Local Roots has become a mainstay in downtown Wooster.
"We really believe we've created a vibrant community space," Local Roots board member Tiffany Leeper said. "For years people have been asking, 'What exactly is it you do there?' I think word has finally gotten out."
Leeper said Local Roots supports more than 500 active members. Members pay a $50 annual fee and get a 10-percent discount on purchases. Hundreds more patronize the store as casual shoppers.
"We do about a half a million dollars in sales annually," Leeper said. Operating costs come out of that total.
Local Roots is a food co-op, a food distribution outlet organized as a cooperative as opposed to a public or private company.
Leeper said Local Roots has a 13-member board of directors that hires the minimal paid staff and oversees all the day-to-day operations in addition to working as volunteers.
"We're not very big on titles," Leeper said. "It's very much a group effort. We hope people realize the difference between shopping here and Wal-Mart. We keep the money in the local economy."
Local Roots is a member of the Wooster Chamber of Commerce, Main Street Wooster, the Small Farm Institute of Millersburg and the Wayne County Sustainable Energy Network.
The business model used by Local Roots is fairly simple.
Producers — who are generally one- or two-person entities — label and price their items and place them for sale on Local Roots shelves.
"We get a small commission for marketing them," Leeper said. "We're a great outlet for people who want to share the fruits of their labor but also stay out in the field producing. The reality is that without being able to sell here, they might not be able to sell at all."
Leeper said the main criteria for its vendors are whether it's local, sustainable, environmentally friendly and organic, although organic certification is not needed.
The idea that this kind of endeavor might work in Wooster originated with a small group of friends who thought it would be nice to extend the idea of the Wooster Farmers Market to more than just one day a week, one season a year.
"In 2009 they started brainstorming this idea, in 2010 they had a presence at the Saturday Farmers Market and in 2011 we were in our location and open two days a week featuring lunch with local chefs using local ingredients," Leeper said.
The building at 140 S. Walnut St. that houses Local Roots had become available because it was owned by the county and had been sitting empty since the Revere Corningware store left.
Leeper said one of Local Roots' biggest steps forward was the opening of its community kitchen.
"We secured a USDA grant to build in 2011, and the kitchen opened in 2014 as the final piece of the original vision for the Local Roots project," Leeper said. "The kitchen gives entrepreneurs a place to process, preserve and add value to products or to start or expand a food business."
The 2,000-square-foot onsite kitchen facility houses the equipment and has the licensing needed to make food for sale at Local Roots or around the country.
Board member Adam Schwieterman started using the kitchen for his business, Umami Bites, in 2014 and now does 45 festivals a year. "I could never have done it without the kitchen," he said.
Some other producers using the kitchen make hot sauce, hummus, dried fruits and nuts, and Wootown Bagels.
Katie Balas uses the community kitchen two times a week to make pierogis for her business, Pierogi People. "I started when I lost my job," she said. "At first it was just for friends and relatives; now I have over 30 flavors."
Another essential part of Local Roots is as a community social hub.
"We have all sorts of community events taking place here all the time," Leeper said. "We have anything from yoga and kindermusic classes to plant pathology workshops. We've had experts from ATI and the College of Wooster come and speak, and their students volunteer as well."
Marketing for Local Roots mostly consists of word of mouth, social media and some select advertising around the holidays.
"We've had lots of people contribute over the years with the logo, the website, e-newsletters and so forth," Leeper said. "Like everything here, it's one big group effort."
Local Roots is open Monday through Friday from 10 a.m. to 6 p.m. and Saturday from 10 a.m. to 5 p.m. Lunch is served between 11 a.m. and 2 p.m.