Lone Star celebrates 40 years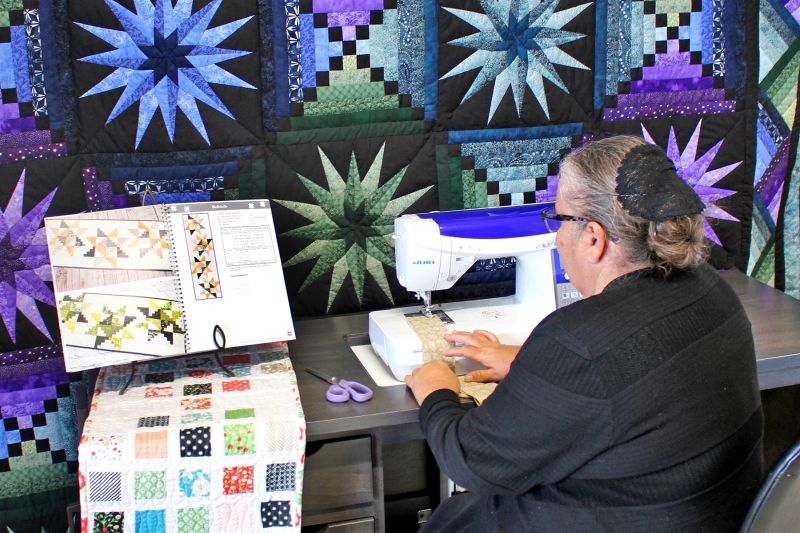 When Sara Yoder wanted to find something for her girls to do with their time, she started a quilt store on the family's front porch. Yoder designed and pieced together different quilt patterns, but the Lone Star became her favorite. It was the inspiration for the Lone Star Quilt Shop name. Forty years later, daughter Ada Miller owns and operates the store that's become as popular among locals as it is with Amish Country tourists.
Today the shop is located in Mount Hope. The 15-foot sewing needle sticking out of the roof has become a photo-op novelty as much as a hallmark letting visitors know they have arrived.
Inside, Lone Star Quilt Shop lives up to its name by housing all things sewing and quilting, including Juki sewing machines and handcrafted cabinets, Amish dress fabric, fabric kits, patterns, and notions.
"We have close to 4,000 bolts of fabric on the main floor," Ada Miller said. "We also carry over 800 bolts of Amish dress fabric, including the fabric for wedding dresses, on the lower level."
And while many of the visitors to Lone Star Quilt Shop are skilled sewers in need of the perfect fabric with which to compile their quilts, Miller and her highly skilled team are thrilled to help novices learn the art.
"We can do as much or as little as a person wants done to their quilt project," Miller said. "We're experts at helping people pick out the right fabric and color combinations to sew on their own, or we can create a custom quilt from start to finish. We also sell complete quilting kits that take all of the guesswork out of the project but leave plenty of room for enjoyment."
The store also handles the finish work for completed quilts.
"We welcome beginners to stop in and ask questions about quilting or sewing," she said. "People come here to be inspired by sewing. There's a lot of color in this store."
Some visit to purchase finished quilts or to have quilts custom made to match their home decor. Whatever your reason for visiting Lone Star Quilt Shop, an environment of warmth and community awaits. "We have people come here from all over the world," Miller said. "One couple from Australia comes back to the store every year. We're thrilled that guests find our environment so welcoming."
If you're feeling inspired enough to take up quilting at home, the shop is an authorized Juki sewing machine dealer and carries products exclusive to Lone Star from the manufacturer. Miller said they also sell treadle machines and sergers to cater to the Amish sewer and quilter. When you purchase a Juki machine, included is a free sewing class to get you started.
To celebrate 40 years of providing outstanding service to the area, Lone Star Quilt Shop is hosting an Anniversary Sale on Monday, May 3 through Saturday, May 8. Guests will be treated to refreshments and discounts throughout the store, and the first 40 customers through the door each day will receive a free gift. For every $100 purchase made, you'll get a ticket to enter to win a Juki serger.
The sale features 20% off fabric, notions, patterns and kits; 10% off Amish dress fabric; and $4-a-yard clearance fabric and more.
When you visit, ask about Lone Star's first quilt retreat, to be held Monday, May 17 through Thursday, May 20. You also can call for details.
Lone Star Quilt Shop is located at 7700 County Road 77 in Mt. Hope with a Millersburg GPS designation. Hours are Monday through Friday from 8 a.m. to 5 p.m. and Saturday from 8 a.m. to 4 p.m. The phone number is 330-674-3858. This story has been underwritten by Lone Star Quilt Shop.